Hurricane Spin Scrubber is a cordless power scrubber which takes the hard work out of scrubbing. Read our Hurricane Spin Scrubber review.
Sponsored Links
About Hurricane Spin Scrubber
Hurricane Spin Scrubber is a power scrubber which "does the work for you." The official product website is spinscrubber.com, which was registered in March 2016. Originally, the domain hurricanespinscrubber.com was used, but that now forwards to spinscrubber.com. The screen capture below shows the official website as it appeared in July 2016.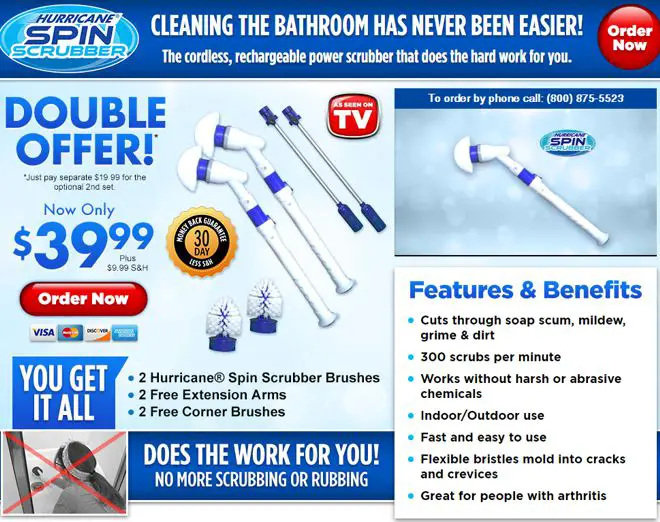 Claims & Features
Cordless, rechargeable power scrubber
300 scrubs per minute
Doesn't use abrasive chemicals
Indoor or outdoor
Works on soap scum, mildew, grime, or dirt
Bristles fit into cracks and crevices
Cost
Hurricane Spin Scrubber costs $39.99 + $9.99 shipping. You can add a second unit for another $19.99. This brings your total to $49.98 for one, or $69.97 for two.
We found it at a local Bed Bath & Beyond for $39.99.
Hurricane Spin Scrubber Review
Most As Seen on TV aficionados clearly recall the Hurricane Spin Mop which heavily advertised on television for nearly two years. Now the brand is back with another spinning cleaner, the Hurricane Spin Scrubber.
With this product, we have an electronic scrubber that is designed to take the hard work out of cleaning the bathroom. Its 300 "scrubs per minute" spinning action is powered by a rechargeable NiCad battery. Although our tests found that a competitor (see below) outperformed Hurricane Spin Scrubber in some basic battery tests, a representative explained that the decision to go with a NiCad battery over an NiMh battery was to avoid potential overheating issues found with NiMh batteries, which could potentially damage the unit. Thus, there could be a slight tradeoff in performance for what the company considers a more stable battery.
Using Hurricane Spin Scrubber is as easy as attaching your desired brush head and pressing a button. The spinning action at the end of the handle can be used to clean a variety of bathroom surfaces with far greater ease than scrubbing manually.
Sponsored Links
Hurricane Spin Scrubber features flexible bristles which can get into cracks and small crevices in order to help break up dirt and grime. You will probably have to apply some pressure to facilitate the cleaning process, although you shouldn't expect to press as hard as you might with an old-fashioned hand-held scrubber. In fact, you'll want to apply some pressure or the head may bounce as it spins against the surface.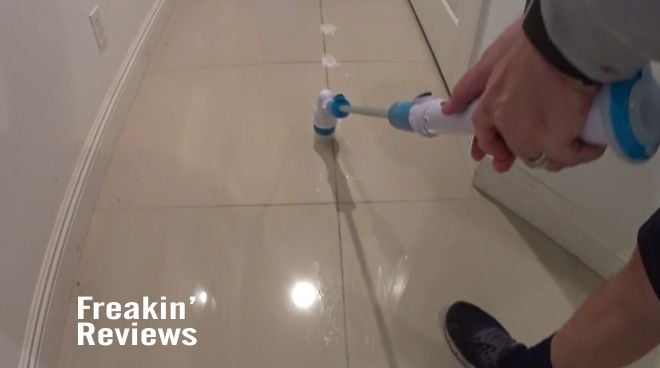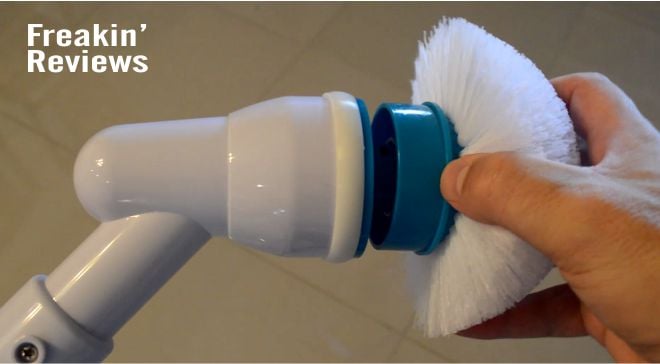 This device is better suited for some cleaning jobs than others. Mildew may still be problematic even when using this scrubber, but dirt and soap scum are easily removed. Overall, my tests found that the Hurricane Spin Scrubber removed most buildup rather efficiently.
The handle and extension arms allow you flexibility to work efficiently in a variety of spaces. It's not just beneficial to those suffering from arthritis (as the website notes), but those with knee or back problems who find traditional scrubbing to be difficult. My wife and I disagreed as to whether the handle was useful or not. I found it to be "wobbly" while she preferred the additional length. I do like the addition of a special corner brush which helps tackle those problematic areas. That brush, however, was the fastest to fray of the bunch.
It will take a full 20 hours the first time you charge it, and then 8 hours per charge after that. Each charge should give you about an hour of cleaning time. I've had a few comments on YouTube that stated the red light stayed on past the 20-hour charge window. If that happens, you should be able to unplug it and use it as normal, and then charge for 8 hours after that.
The television offer gives you an opportunity to buy two, although one unit should be sufficient for most consumers.
Overall, I like the Hurricane Spin Scrubber, as it makes bending and scrubbing easier, and who wouldn't want that? If you have realistic expectations, you'll probably find this to be a helpful tool that you'll use regularly.
Now that it's widely available in stores, I recommend picking it up locally to avoid excess shipping times and costs.
Alternatives
As much as I like the Hurricane Spin Scrubber, it is only fair to point out that its design is very close to the Tub N' Tile Power Scrubber by Quickie. The similarities are so stark that it may not be unreasonable to call the Hurricane Scrubber a knockoff of the Quickie product.
That item features regular scrubbing brushes and corner brushes that look nearly identical to Hurricane's brushes. The Quickie scrubber currently holds a solid 4 star rating on Amazon. You can find the Quickie scrubber – and replacement brushes – in some stores such as Lowe's or Walmart.
Turbo Scrub and Clorox Scrubtastic are other power scrubbers that seem to borrow somewhat from the Quickie design. Read my Turbo Scrub review here, or my Clorox Scrubtastic review here.
My Video Reviews
Watch my video review and demonstration in the video below.
You can also see a head-to-head comparison of Hurricane Spin Scrubber and Turbo Scrub.
Your Hurricane Spin Scrubber Reviews
If you've used Hurricane Spin Scrubber, tell us what you thought by leaving a comment below and a star rating above.
Updated May 2017.