Mighty Groom is a small cordless shaver with a motor that is powered via smartphone. Does it really work? Here is my Mighty Groom review.
Sponsored Links
About Mighty Groom
Mighty Groom is a portable shaver that gets it power from a cell phone and does not require charging, batteries, or an outlet. The official product website is buymightygroom.com, which was registered in October 2017. The screenshot below shows how the product website looked in December 2017.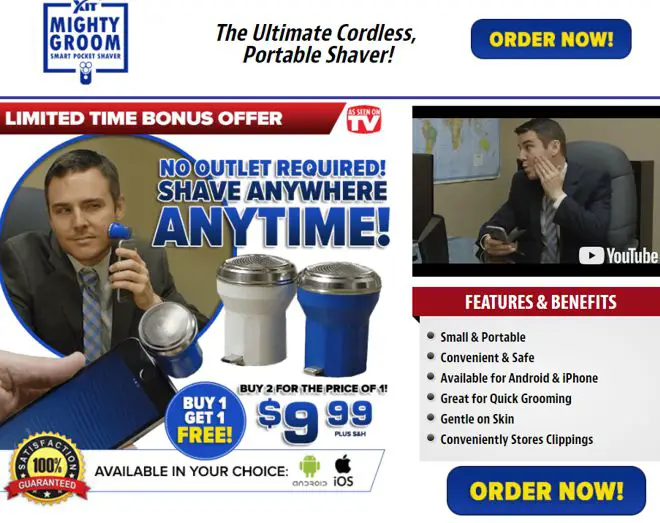 Claims & Features
Compact and convenient to carry
Safe to use
Compatible with Android or iPhone
Easy on skin
Stores trimmings
Cost
Mighty Groom costs $9.99 + $4.95 shipping for a total of $14.94. You can add a second unit for an additional $4.95 shipping which would raise the total to $19.89. As of this writing, Mighty Groom isn't available in stores.
Mighty Groom Review
If you were to ask me what my razor and my iPhone have in common, I would be hard-pressed to provide an answer. Enter Mighty Groom, a product that actually merges these two technologies together for a convenient shave on the go.
Mighty Groom is a single-head electric shaver that is powered by your smartphone. You simply plug it into your device (separate versions are available for Android or iPhone) and use your phone as a handle while you glide the Mighty Groom across your face. Admittedly, when I first saw the commercial I thought it was a satirical video being passed around on social media. I soon realized, however, that Mighty Groom is, in fact, a real product.
Sponsored Links
This isn't the first single-head shaver advertised on television in recent months. Finishing Touch Flawless (see below) has also been marketed as a "hair removal device" rather than a razor, but it is essentially a single-head electric razor, just like Mighty Groom. Shave Bullet was another As Seen on TV single-head razor that was advertised several years ago.
Mighty Groom's head is larger than other single-head razors I've seen in the past. Despite being larger, the fact that there is no battery compartment makes this smaller than even the most compact razors I've seen.
I wouldn't expect miracles from Mighty Groom, but it will probably be an excellent way to touch up on the go or provide a compact shaving solution for the overstuffed travel bag. You can't really use this to fine-tune the edges of a beard, but it can remove stubble. As someone who likes to travel several times a year, I'm not sure I would pick this over something like the Philips Norelco OneBlade, which gives me a "close enough" shave and also allows me to trim and edge.
Mighty Groom is a relatively new item, possibly being test marketed. Thus, it isn't available in stores, and may take a little longer to ship than more established products. Test marketed items also tend to change name, price, or design, so I'll update this space if anything changes about Mighty Groom.
Alternatives
I've seen a few multi-purpose razors like this one that functions similarly to Mighty Groom, but can also be used as a phone charger, car fragrance, and escape hammer – and only costs $13. Perhaps even closer in design is this $12 razor (for Android) that also uses your smartphone for power.
Below are my video reviews of two other highly-advertised products: Finishing Touch Flawless and the Philips Norelco OneBlade.
Television Commercial
Your Mighty Groom Reviews
Have you used Mighty Groom or something like it? Leave a comment below and a star rating above to let us know your thoughts.