Power Multi-Cooker is a multi-function slow cooker. Read our Power Multi-Cooker review plus additional product information.
Sponsored Links
About Power Multi-Cooker
Power Multi-Cooker is a slow cooker which has ten cooking features, offering many meal possibilities.
The official product website is powermulticooker.com, which was registered in September 2015. The screen capture below shows the official website as it appeared at the time of this writing in May 2016.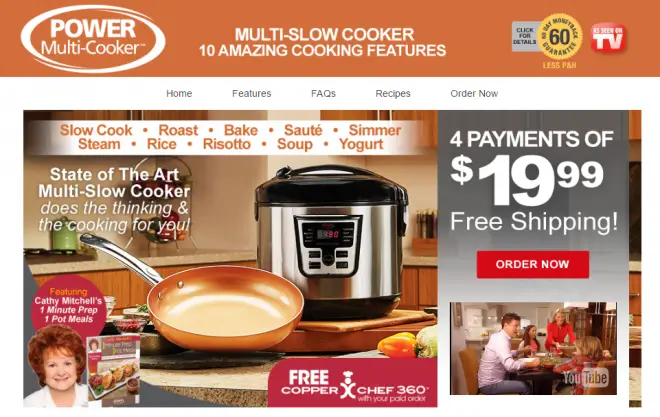 Claims and Features
Can slow cook, roast, bake, sauté, simmer, and steam
Automatically stops cooking when done
Dishwasher safe inner pot
Can cook 3 whole chickens in one pot
Cost
4 payments of $19.99 + Free Shipping or 1 payment of $79.96 + Free Shipping. The website used to cite a shipping cost of $14.99, which has since been removed.
A Copper Chef 360 pan is also included at no extra charge with each order.
We have not yet seen this item in stores. If you have, let us know in the comments below.
Power Multi-Cooker Review
Television pitch-person Cathy Mitchell lends her name to this pressure cooker marketed by Tristar, a major player in the As Seen on TV industry. The advertising tells us that this one-button cooker adjusts itself for whatever meal you are cooking.
Sponsored Links
The advertised benefits of Power Multi-Cooker mirror those with any slow cooker. It allows you to quickly prepare meals which simmer throughout the day and are kept warm when the sensors decide the food is ready.
Power Multi-Cooker's features are comparable with those found on better slow cookers, such as preset times, adjustable time control, and delay timer. It includes a self-locking hinged lid and an inner lid which can be removed for cleaning. There is an inner aluminum pot and outer stainless steel body.
It appears that this product is in the same brand family as Power Pressure Cooker XL (review), which is also marketed by the same company. Thus, the brand offers a pressure cooker and now a slow cooker.
Overall Power Multi-Cooker seems to touch on most of the basics that the general public would want in a slow cooker. The typical As Seen on TV kitchen product tends to suffer from durability issues, but we have not seen or heard of any as of this writing.
Although it is said to be a "large capacity," it seems to be more of a mid-sized appliance, which should still be adequate for a wide range of cooking needs.
In short, Power Multi-Cooker is a slow cooker with sensors that allow it to keep your food at a proper temperature – a feature that is not unique to this product. You may want to compare it against an Amazon best-seller in this category, the Crock-Pot 6-quart slow cooker, with a solid 4.2 star rating with over 2,500 reviews. That unit is programmable and also automatically shifts to warm setting. It retails for about $60 but can be found as low as $41.
It pays to shop around with this type of item.
Note: Some older reviews online still cite the old shipping costs, which have since been been removed. You may also read some misguided reviewers refer to this a pressure cooker, which it isn't. The commercial below even uses the term "slow cooker" at the 16-second mark.
Television Commercial
Your Power Multi-Cooker Reviews
If you've used Power Multi-Cooker please give us your opinion by leaving a comment below and a star rating above.