Bowl Light is a motion-activated light for toilets. Does it really work? Here is my first-hand review.
Sponsored Links
About Bowl Light
Bowl Light converts any toilet into a motion-activated night light, which provides gentle light for trips in the middle of the night. The advertised website was buybowllight.com, which was registered in January 2016 and is no longer associated with that product. The screen capture below shows the official website in February 2016.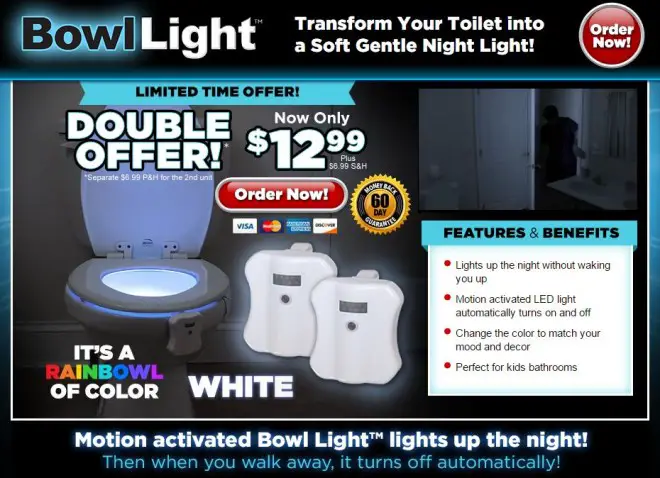 What They Claim
Lights up automatically
Motion activated
LED light
Color can be changed
Good for kids' bathrooms
Colors available are blue, yellow, red, white, green, aqua, and purple
Bowl Light Cost
Bowl Light originally cost $12.99 plus $6.99 shipping for a total of $19.98. As of this 2020 update, I have seen it for about $9 online.
Sponsored Links
Reviews
Bowl Light is a simple idea in which a light is hung from the side of a toilet bowl to provide motion-activated light when you enter the bathroom. It turns on and off automatically.
Obviously, you'll need to place Bowl Light in a position so that it will detect you when you enter the bathroom. It provides soft, ambient light which is preferable to stumbling in the dark, or turning on a blinding bathroom light in the middle of the night.
The outside of the device is a motion detector, while the inside is a multi-color LED light that switches on whenever movement is detected. Because the light is the only part of the device that resides inside the bowl, cleaning will only be minimally necessary. The only real problem I found was that the lid would not always close all the way, and the arm would require some adjustments before it would close flush (pun intended).
The inclusion of multiple light colors is a nice touch, as you can match it to the decor of your bathroom.
Toilet bowl lights seemed to be a fad around 2016, and Bowl Light was the head of its class. You may want to peruse the many toilet bowl lights which are available on Amazon, with hundreds of customer reviews. Keep in mind that the primary complaint with competitors is regarding suction cups – which is not part of Bowl Light's design.
Battery life was acceptable, lasting several months before requiring replacement. Eventually the novelty wore off and I stopped using all of these devices, but they were pretty enjoyable while they lasted.
I compared Bowl Light to Illumibowl and Bowl Brite in the video below.
Your Bowl Light Reviews
Have you used Bowl Light or one of the other popular toilet bowl lights? Tell me what you think in the comments below.