Pump Perfect is an electronic siphon that runs on batteries. Does it work as advertised? Here is our Pump Perfect review.
Sponsored Links
About Pump Perfect
Pump Perfect is a portable liquid transfer pump that features a battery operated impeller, an auto stop sensor, and a clip-on hose. The official website is buypumpperfect.com, with a registration date of April 2017. The screen capture below was taken of the product website in September 2017.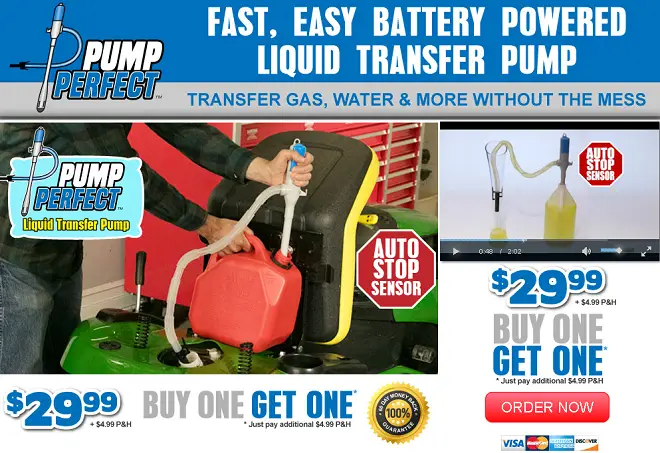 Claims & Features
Electric liquid pump
Simple to transfer gas, water, or other liquids
Quick, secure, and clean
Moves 2.5 gallons each minute
Pump automatically stops and beeps when full (auto-stop sensor)
Stops spills and over filling
Pliable clip-on hose
Also use to drain clogged sinks and tubs
Compact and light
Battery powered (requires 2 AA batteries)
60 day money back guarantee (less P&H)
Cost
There is a mandatory double offer when ordering Pump Perfect that costs $29.99 + $4.99 P&H + additional $4.99 P&H for a total of $39.97. At the time of this writing, Perfect Pump is not available in stores.
Sponsored Links
Pump Perfect Review
Some As Seen on TV products have a very wide appeal, while others (such as Pump Perfect) seem to have a more limited scope. Pump Perfect is an electric liquid transfer device that can move up to 2.5 gallons per minute. To use Pump Perfect, you simple place the nozzle into the liquid you want to transfer, and the other end wherever you want the liquid to go. With a press of a button, liquid will automatically transfer in seconds.
Pump Perfect is ideal for use with a gas can, washer fluid, clogged sinks, fish tanks, or anywhere you need to move liquid. A sensor will tell you when your target is full so you can avoid spillage. There is not much to using it other than placing the two ends in the proper location and pressing the switch. I would take some of the claims of speed with a grain of salt, however. There are factors that could affect this, so you may be better lowering your expectations regarding transfer speed.
If you're moving a large amount of liquid, you may have to let the unit cool off before you're done. I'm not a fan of batteries, and would prefer to have a rechargeable option. I realize that there are people who would rather switch batteries than wait for a recharge, so that may be a pro or a con, depending on which side you take.
There is a mandatory double offer, which is an unfortunate reality with many of these As Seen on TV products. I don't think most people want two, but they are forced into the second unit in the current offer. Of course there are those who may want to use it for such things as a fish tank and a gas can, and in those cases you may want two units. Otherwise, you may have a few floaters in your aquarium if you use this to transfer gas the day before you clean your fish tank.
Pump Perfect appears to be a new item and may still only be in a test marketing phase. If your order quickly goes into back order status, then that probably means it's being test marketed and it could be a few months before it arrives.
Alternatives
You may be surprised to find that electric siphons like this are quite common. This $16 model by Sierra Tools looks and performs similarly, and holds a 4 star rating among over 1600 consumer reviews. This $18 model also holds very high consumer ratings. It may pay to shop around.
Your Pump Perfect Reviews
What are your thoughts about Pump Perfect? Drop a comment below and a star rating above to let us know what you think about it.