Scrubtastic is a 300 RPM cordless rechargeable scrubber that makes cleaning easier. Does it work? Read our Scrubtastic review.
Sponsored Links:
About Scrubtastic
Scrubtastic is an electric scrubbing tool that allows you to effortlessly clean your bathroom without effort. The official product website is buyscrubtastic.com, which was registered in August 2016. You can see a screenshot below of the official website taken in October 2016.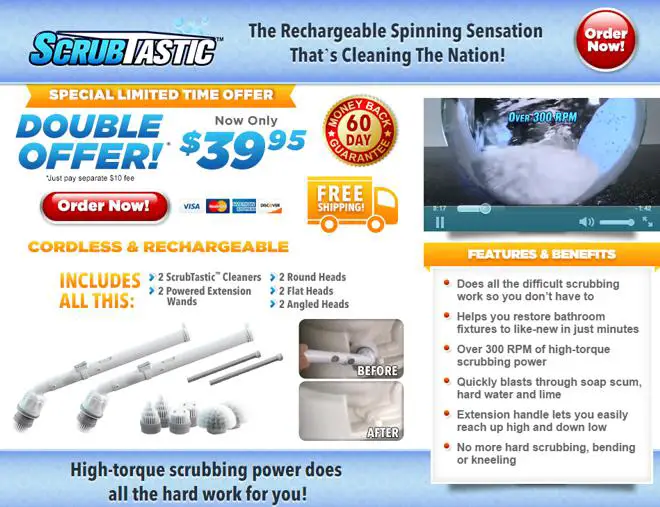 Claims & Features
Does all the difficult scrubbing for you
Helps restore fixtures to like-new
300 RPM scrubbing power
Works on soap scum, lime, and hard water
Extension handle
Round and angled heads
Cost
You can get Scrubtastic for $39.95 with free shipping. A second unit can be added for another $10. There is a 60 day money back guarantee, minus P&H.
Sponsored Links:
Scrubtastic Review
Scrubtastic is a cordless, rechargeable bathroom cleaner. Its 300 RPM spinning action and extension handle will allow you to tackle troublesome cleaning tasks around the bathroom. Several different cleaning heads are included, giving you the opportunity to fine-tune your cleaning job.
To use Scrubtastic, you simply choose your desired cleaning head and press a button. You can use it as a smaller handheld cleaning device, or use the extension wand to stand while cleaning.
It should generally work as advertised, although you should probably keep your expectations realistic. Most powered handheld scrubbers like this do a pretty good job for mild to medium cleaning jobs, but require significantly more pressure on tougher areas. The extension wand is a nice touch, although it can be awkward while exerting pressure on places like the wall of a bathtub.
Bathroom scrubbers are a perennial favorite among As Seen on TV advertisers and the buying public. In recent months we've evaluated several such products, including Hurricane Spin Scrubber and Turbo Scrub, which offer many of the same features found in Scrubtastic.
Overall, we think consumers will generally like Scrubtastic. Those will realistic expectations will likely be the most satisfied customers. For mild to moderate cleaning jobs, Scrubtastic should be more than sufficient. Harder jobs may require some elbow grease to make a dent.
Alternatives
Perhaps the most popular alternative to Scrubtastic is the Quickie Tub N Tile Power Scrubber. That product also features a rechargeable design, extension handle, and two different heads. It currently holds about a 4 star rating among hundreds of consumers.
Television Commercial
Your Scrubtastic Reviews
Have you used Scrubtastic? Let us know what you think by leaving a comment below and a star rating above.