Steel Force Mug is a 15 oz. stainless steel cup that retains the temperature of your drink. Does it work? Read our Steel Force Mug review.
Sponsored Links
About Steel Force Mug
Steel Force Mug is dual walled vacuum insulated mug made of stainless steel. The product website is steelforcemug.com, which was first registered in February 2017. The screen shot below shows how the product website looked in April 2017.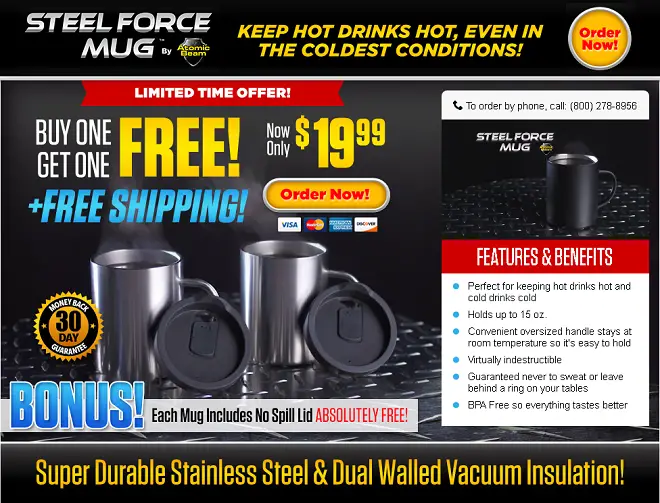 Claims & Features
Keeps hot drinks hot & cold drinks cold
15 oz. capacity
Over-sized handle stays at room temperature
Composed of durable stainless steel
Guaranteed to never sweat or leave a ring
Free of BPA
Cost
A mandatory buy one get one free offer for two Steel Force Mug costs $19.99. Shipping is apparently free. It comes in black or silver, and each mug comes with a no spill lid. As of this writing, Steel Force Mug isn't sold in stores.
Sponsored Links
Steel Force Mug Review
You've probably seen ads for Atomic Beam, Atomic Beam Lantern, and Atomic Beam Headlight. Now the makers are back with a "virtually indestructible" mug under the name Steel Force Mug.
This dual walled stainless steel mug holds 15 ounces of liquid and offers many of the benefits found in the current generation of tumblers, but in the convenient size of a coffee mug.
I've found that vacuum insulated mugs and tumblers do an excellent job of keeping hot beverages hot and cold beverages cold. The advertising probably stretches the bounds of reality by showing the mug keeping liquid hot while submerged in liquid nitrogen, and keeping another beverage hot while frozen in a block of ice. I realize that the extreme examples in the advertising are used to convince people to buy the product, but it can also set some consumers up for disappointment who may expect it to live up to those unrealistic demonstrations.
Those who approach Steel Force Mug with realistic expectations will probably find it to be a competent insulated mug. I wouldn't expect it to outperform products of a similar design, but it should certainly hold its own against the competition.
The addition of a no-spill lid is a nice touch, as the lack of a spillproof lid can be a deal-breaker to some consumers. Price-wise, the current $20 double offer with free shipping makes Steel Force Mug competitively priced compared to similar models. Of course, not everyone wants two mugs, so the double offer could also be overkill to many potential customers.
Steel Force Mug has only recently began advertising, and there is virtually no consumer feedback at this point. I'll keep monitoring this product and update this space when I get more information.
Alternatives
There is no shortage of dual walled insulated coffee cups on the market. This dual wall stainless steel spill-proof travel mug, for example, is about the same size and costs $7.
Your Steel Force Mug Reviews
What do you think of Steel Force Mug? Tell us what you think by leaving a comment below and a star rating above.