Sweet Scented Pets are scented plush animals which convert to a pillow. Read our Sweet Scented Pets review.
Sponsored Links
About Sweet Scented Pets
Sweet Scented Pets are plush stuffed animals which can be converted to a pillow and offer a different scent for each character.
The official product website is sweetscentedpets.com, which was registered in February 2016. The screenshot below shows the official website in June 2016.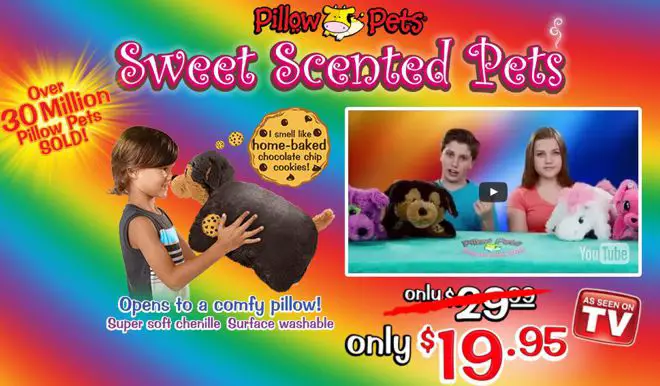 Claims and Features
Made of soft chenille
Stuffed animal opens to a pillow
8 pets, each with their own scent
Hand washable
Cost
Sweet Scented Pets cost $19.95 with free shipping. As of this writing, it is not available in stores.
Sponsored Links
Sweet Scented Pets Review
Sweet Scented Pets could be described as a next-gen version of the popular Pillow Pets stuffed animals. The original Pillow Pets are simply plush animals which can be converted to a pillow and then back to a stuffed animal. The new version adds a scent to each of the eight new characters.
Aside from the scent and new character designs, there is little difference between Sweet Scented Pets and Pillow Pets – and that is actually a good thing. Pillow Pets have proven to be a popular item among kids and parents due to excellent durability and having the functionality of a pillow. Converting to and from a pillow is simple and can be easily done by a child, while the material is soft and comfortable.
The idea behind Sweet Scented Pets (and Pillow Pets) is the ability to convert the toy to a functional pillow and back. This is done by means of a basic Velcro strap.
With Sweet Scented Pets, you have the same features as Pillow Pets with the added scent. Current options include:
Unicorn (Cotton Candy), Puppy (chocolate chip cookie), Puppy (cupcake), Ladybug (watermelon), Panda (popcorn), Penguin (fruity ice pop), Cow (strawberry milkshake), Puppy (gummi candy).
The scent isn't overpowering, yet it is rich and enjoyable. Keep in mind that you will want to extend the life of the scent by not washing it in a washing machine. A rep on the product's Facebook page suggested hand washing these toys to avoid removing their scent.
Overall, we think that Sweet Scented Pets is an excellent addition to the Pillow Pets line, and customers who pick these up will be satisfied. Once they become available in stores, they will be a more compelling investment without shipping delays or costs.
You may be interested in perusing the Pillow Pets Amazon storefront to find some of these along with other Pillow Pets characters for sale.
There are also other scented stuffed animals on the market, such as the Cozy Plush heatable scented toys, which run about $12 and have relatively positive reviews.
Television Commercial
Your Sweet Scented Pets Reviews
If you've used Sweet Scented Pets, please give us your opinion by leaving a comment below and a star rating above.