Tac Shaver is an As Seen on TV electric razor that is compact and can work wet or dry. Does it really work? Read my full Tac Shaver review.
Sponsored Links
Where to Purchase
There are three primary places to buy Tac Shaver, with Amazon (purchase here) being your best bet online. And while you're there, I suggest perusing the 300+ comments about the product. You can also pick it up in some stores in the As Seen on TV aisle, or at the official website, tacshaver.com. You should expect to pay about $30 at any of the above locations.
About Tac Shaver
Tac Shaver is an electric razor under the "Tac Brand" umbrella of "tactical" As Seen on TV products, typically pitched by Nick Bolton. The official product website is tacshaver.com, which was registered in March 2019.
Claims & Features
Compact and convenient
Wet or dry operation
Twice the power of old electric razors
Waterproof
Tac Shaver Review
Tac Shaver is advertised as a compact electric razor that is completely waterproof. It's marketed under the "Tac Brands" umbrella, which begs the question how an electric razor can be called tactical, but that's for another discussion. Although the As Seen on TV industry has not been nearly as active over the past couple of years, it's still nice to see a new offering hit the airwaves on occasion. I purchased my Tac Shaver directly from the official website, and it arrived the next week, so delivery times does not appear to be a problem.
Tac Shaver has been advertising heavily in 2020, and I've had numerous requests for it. Upon opening the box, I immediately noticed that the razor differed slightly in appearance from the model shown in the ads. My assumption is that this was a prototype used in the commercial versus the final version found in retail packaging. Tac Shaver is advertised as waterproof – as demonstrated in the commercial by a man using it underwater in a swimming pool – and smaller than a credit card. While it may be smaller length and width wise, it certainly isn't thinner than a credit card. Tac Shaver is rechargeable and takes approximately eight hours (per their instructions) to fully charge. I found that my unit came pre-charged, despite the instructions which indicated to charge it before the first use.
Sponsored Links
There is an on/off button to activate the razor, and a lever which engages the trimmer on the opposite side. I found the trimmer to be quite weak compared to a dedicated trimmer such as those produced by Wahl. In fact, when I went to shave my beard off using the Tac Shaver's trimmer, I gave up after several passes and used my Wahl instead. Once my beard was trimmed down to stubble, I decided to use the Tac Shaver on one side of my face, and a Philips OneBlade on the other. I did this because the OneBlade is a proven trimmer that can be used for shaving, although it not designed to provide a close shave.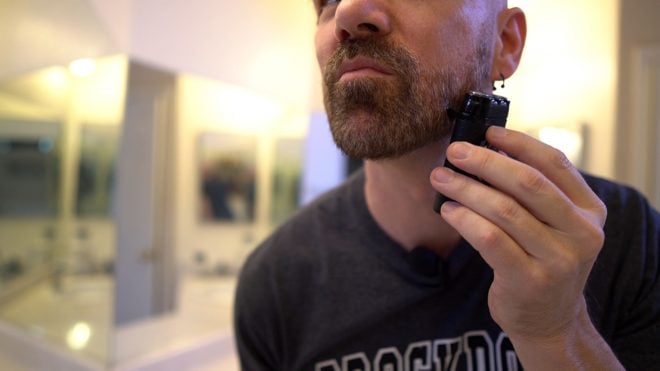 Tac Shaver's instructions state to move in a circular motion and pull the skin tight, which I did. I found that did a satisfactory job of shaving, although nowhere near as close as a cartridge or safety razor. The closeness was quite similar to that of the Philips OneBlade. Over the period of a week, I used the Tac Shaver on one side of my face and the Philips OneBlade on the other. In the end, I determined that the two products were about equal in terms of closeness and speed.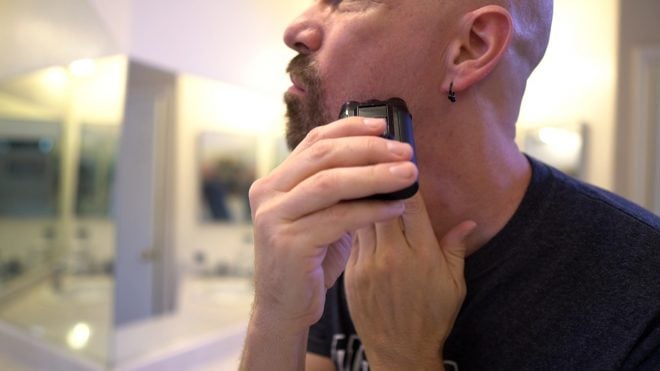 Regarding the claims that Tac Shaver can be used underwater, I did in fact confirm this to be accurate. In fact, I took it to a swimming pool and actually shaved underwater. To my surprise, my "underwater shave" was actually superior to the dry shave I had achieved a day earlier. I continued to use the Tac Shaver and the Philips OneBlade (each on one side of my face) and used both with plain water and shaving cream. After each shave I compared the stubble remaining on my face, and it was usually about even on both sides, meaning the OneBlade and Tac Shaver continued to perform about equally, even though the OneBlade is not technically a shaver.
The night before finishing my video review, I noticed that the Tac Shaver was not turning on, so I chalked that up to a dead battery. After charging it all night, it still wouldn't turn on. I opened it up to clean it, although there was not much hair to clean out. To be fair, I wonder if the shaving cream may have somehow negatively affected the unit, although there is nothing in the instructions to dissuade users from this practice. After cleaning it and letting it dry, the Tac Shaver did turn on again, although it no longer turns on every time, and the motor's power seems to fluctuate.
Even before the intermittent problem with the motor, I would not have recommended Tac Shaver. It requires charging far more often than the Philips OneBlade, and does not deliver a close shave as advertised. If you're looking for a good electric razor, you'll probably have to spend more than $30.
Be sure to read some of the comments on Amazon to see that my experience is not unique. Reviews are mixed, but I believe there are sufficient complaints to warrant exploration of other options.
Below you can watch my full review of Tac Shaver.
Alternatives
I still recommend the Philips OneBlade, which is an excellent all-around grooming tool for $35. I've only had to replace the head once after two years (they say 4 months). If you're set on an electric razor, you might want to take a look at this model, which runs only $40 and holds high consumer ratings.
Your Tac Shaver Reviews
Have you used Tac Shaver? Tell me what you think in the comments below.