Wonder Roaster is a multipurpose roaster with a nonstick surface that has 9 different uses. Does it really work? Here is my Wonder Roaster review.
Sponsored Links:
About Wonder Roaster
Wonder Roaster is a versatile roasting pan that can be used in the oven, on a stove top, or on a grill to roast, bake, fry, or grill. The official product website is buywonderroaster.com, which was registered in November 2017. The screenshot below shows how the product website looked in November 2017.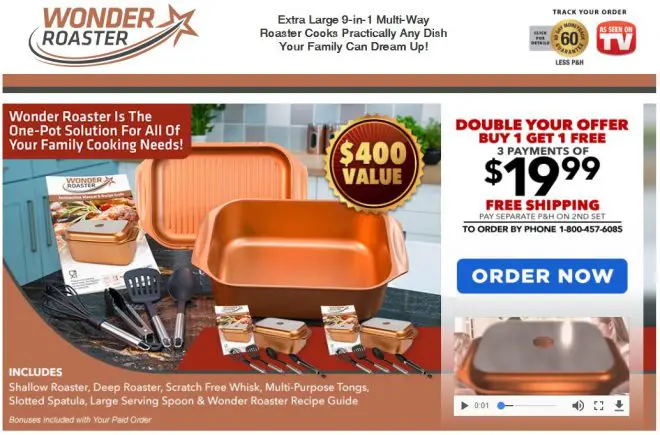 Claims & Features
Surface has a nonstick coating
Compatible with oven, stove top, or grill (gas or electric)
Lightweight and simple to clean
Consistently gives perfect grill marks
Ideal for indoor or outdoor usage
Large 9-liter capacity (can hold 60 chicken wings)
Dual roasting surfaces
Keep food warm and seals in flavor with the dome
Cost
Wonder Roaster costs $59.97. Payment can be made in full or split into three monthly installments of $19.99. There is an optional double offer for a separate fee of $19.99 which would raise the total to $79.96. Shipping is free on both offers. Each Wonder Roaster includes a shallow roaster, deep roaster, scratch resistant whisk, multipurpose tongs, slotted spatula, large serving spoon, and a recipe guide.
Wonder Roaster Review
The commercial for Wonder Roaster is compelling: a 9-in-1 roaster than can be configured in multiple ways to cook a wide variety of food. At first glance, Wonder Roaster appears to be an ordinary cooking pot, but upon closer inspection you'll find that it sports a design that allows it to be used in several different ways.
Sponsored Links:
Wonder Roaster's unique feature is that its lid and bottom can be used interchangeably, meaning the "lid" can also be its pot, while its "pot" can also be its lid. So if you want to use the deep 9 liter dish with a lid, or a shallow dish with a deep lid, you'll have both options available to you. You can also put the shallow lid upside down and dual-roast multiple dishes at once. For those reasons, Wonder Roaster is an incredibly useful and versatile kitchen item.
I do think the design and the multitude of uses (even if a bit inflated) make this a compelling product to consider. There are, however, a few points of concern.
It seems that the marketers stretched a bit trying to come up with a nine-in-one description, however. They current list those 9 uses as: oven roasting, slow roasting, dual roasting, grill or roast vegetables, rotating action, use on the stove, use on the BBQ, baking, and as a cook pot. To me, several of those uses overlap to the point of not really being different uses, but that's perhaps a minor point.
We aren't told exactly what comprises the nonstick surface, but it does appear to be one of those next-gen nonstick surfaces that I've had considerable experience using. The new generation of "copper" nonstick cookware works well as long as you take some precautions, one of which is avoiding very high heat. If you plan to use this on the grill, be prepared for the possibility that the nonstick surface won't hold up very long. Your mileage may vary, but that is a common complaint with these newer nonstick items.
Wonder Roaster is marketed by Tristar Products, Inc., a major player in the As Seen on TV industry. Oddly, the Wonder Roaster website design highly resembles another line of Tristar cookware called Copper Chef. I'm surprised this item wasn't marketed under that popular name with Eric Theiss promoting it because those have fared quite well. Additionally, due to its November 2017 website registration date, I believe Wonder Roaster is being test marketed, which sometimes means shipping takes longer than more established products. Check out my video below for more information about test marketing.
Alternatives
If you're just looking for a solid rectangular oven roaster, this $40 model sports a 4.2 star rating among about 600 reviews. If cost is a factor, you could always look at a more basic model, such as this $28 VonShef Cast Iron roasting tray.
Related Videos
Below are a couple of related videos from my YouTube channel. The first is a 4-minute description of how test marketing usually works with the As Seen on TV industry. The second is a playlist of all of the As Seen on TV kitchen products I've reviewed. You may want to peruse that playlist to see how some of these nonstick surfaces have held up under scrutiny.
Your Wonder Roaster Reviews
Have you used Wonder Roaster or something like it? Leave a comment below and a star rating above to let us know your thoughts.