WowBacon is an unusual-looking bacon cooking device for the microwave. Today I offer my full review of WowBacon after giving it a try myself.
Sponsored Links
Where to Purchase
You can find WowBacon on Amazon for about $25. It can also be purchased direct from the official website (discussed below) for the same price.
The giveaway mentioned in my YouTube review of this product ended on July 8, 2020.
About WowBacon
WowBacon is a microwave bacon cooker that includes racks onto which six slices of bacon are draped, and a large cup that prevents splatter and collects grease. The official product website is wowbacon.com, which was registered back in 2008.
Claims & Features
No grease burns
Cooks all types of bacon
No splatter
WowBacon Review
If there is one thing I have learned in my decade of reviewing products is that people love kitchen gadgets and they love bacon. Thus, anything that combines these two is determined to spark considerable interest.
WowBacon came across my radar in May 2020 and my initial thought was how strange looking it was. And in my world, strange is a good thing. I finally obtained a unit in June 2020 and put it to the test.
WowBacon isn't a particularly complicated appliance, with a cup, rack, and lid comprising the detachable parts. I can tell, however, that there are nuances likely overlooked by the consumer that serve vital roles. The depth of the rack, for example, does not extend to the bottom of the cup. This, I believe, is to prevent grease from burning the rack itself. There are clips that keep the lid in place, along with a simple spin-to-lock mechanism that attaches the lid to the rack.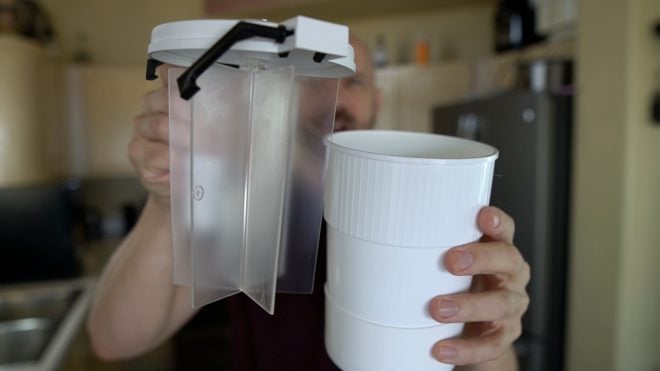 After washing the unit off, it was time for my first test. All that is required is to simply drape a slice of bacon over each of the 6 racks, attach the lid, and then insert them into the cup. I contacted the company with several questions related to this product and was reminded that attaching the rack to the lid was a vital step that some consumers (and reviewers) have missed. This omission can lead to damage to the unit, so be sure to do this if you decide to pick one up.
Working on my next video. Bacon anyone? pic.twitter.com/H3ejjml4ME

— Freakin' Reviews (@freakinreviews) June 28, 2020
After inserting the lid/rack into the cup, you merely lock the lid and place it in the microwave. Microwave times will vary, but I went with the suggested starting point of four minutes for six slices.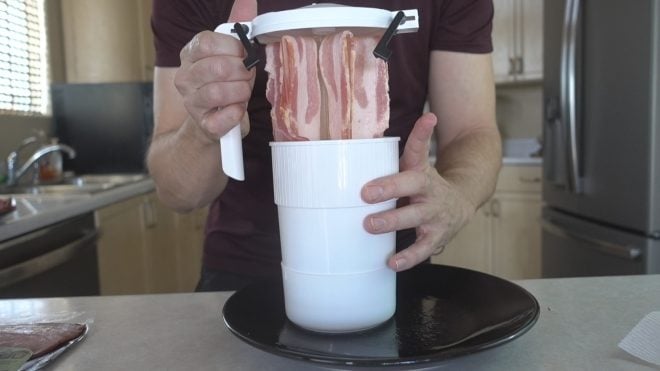 In my case, four minutes was just about right and the bacon turned out perfectly cooked to my taste. There was several ounces of grease collected at the bottom, which I dumped out (per the instructions) before trying another batch.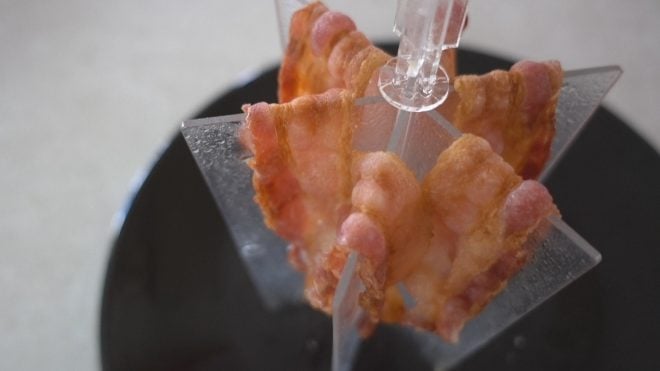 Next I wanted to try turkey bacon, but the company suggested I back the time off a little since it tends to cook faster. I tried three minutes, and it was cooked evenly, albeit still a bit flimsy.
For my third batch, I tried six more pieces of regular bacon, but increased the time to five minutes to see if I could get an even crispier batch. It wasn't significantly crispier, but there was a discernible difference between four and five minutes.

Sponsored Links
After completing my video review, I cooked several more batches of regular and turkey bacon, and found that I liked my turkey bacon cooked a little longer than what is shown in the video.
Overall, I have been satisfied with WowBacon's performance. I realize that there are numerous schools of thought regarding bacon and what constitutes the perfect batch. While six pieces at a time may not be enough for some people, I do feel that the majority of consumers can achieve an acceptable end result with this product.
Be sure to check out my full WowBacon review below.
Alternatives
I've reviewed my share of bacon devices, and admittedly none are quite like WowBacon. There have, however, been a few with similar features such as the Bacon Wave, which cooks more slices, but takes more prep to set up and also creates splatter. Here is another effective bacon cooker, which works well but also doesn't prevent splatter like the WowBacon.
Your WowBacon Reviews
Have you used WowBacon or something like it? Tell me what you think in the comments below.