Zap Pro is a cleaner that is advertised as a way to easily eliminate stains. Does it actually work? Read our Zap Pro review.
Sponsored Links
About Zap Pro
Zap Pro is a said to be a restorer that can bring old fixtures back to life, and penetrate below the surface to remove stains. The official product website is tryzappro.com, which was registered in December 2016. The screen shot below was taken of the product website in January 2017.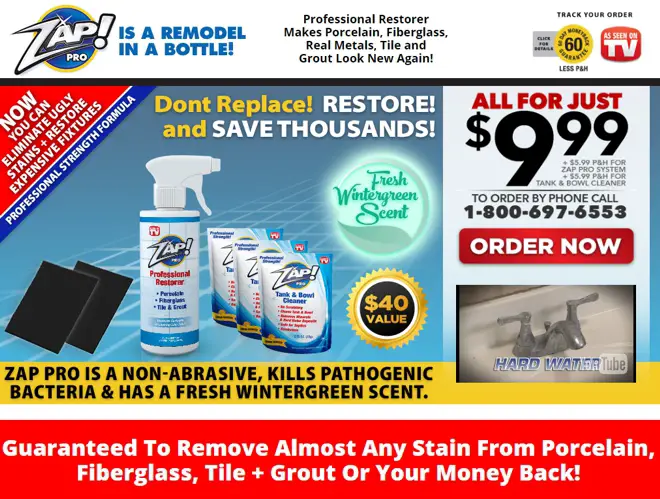 Claims & Features
Ideal for porcelain, fiberglass, tile, and grout
Restores metals like brass, copper, chrome, and cast iron
Removes rust, hard water stains, limescale, and calcium
Eliminates stains
Penetrates below the surface
Cost
Zap Pro costs $9.99 + $5.99 P&H. You can also add a tank & bowl cleaner for another $5.99 P&H.
As of this writing, Zap Pro isn't available in stores, although the regular Zap can be readily found locally.
Sponsored Links
Zap Pro Review
Zap Pro is a new version of the Zap! restorer which has been around for many years. Touted in commercials by pitchman Brian Hyder, we're told that Zap Pro is a "remodel in a bottle." Does it really work as advertised, and is there any difference between this product and the Zap which is readily found in stores?
Note that this is a preliminary review until I can get my hands on a bottle of Zap Pro. It appears to be a very new product, based on its December 2016 website registration date. I doubt that any customers have actually received Zap pro as of this writing, as the website has only been live for a couple of weeks.
I do know that the "regular" Zap that is currently sold in stores contains Phosphoric Acid (7.1% by weight, 4.9 gram per use), and it isn't clear if this new incarnation contains a higher concentration or a completely different formula, although I suspect it is probably just a different concentration.
Reviews for the regular Zap run the gamut, and there is little consensus as to whether it not it really works. On Amazon, it holds a 2.8 star rating, with a rather high percentage of 1 star ratings. That's probably because no two cleaning jobs are the same, and results for any cleaner will vary greatly.
The Zap line of products could best described as a phosphoric acid cleaner that possesses no real advantage over products using the same ingredients. Reviews for the regular Zap are quite mixed, and I suspect that will be the case here.
I'll update this space when I get more information on Zap Pro.
Zap Pro is promoted by TriStar Products, Inc., one of the big players in the As Seen on TV industry.
Alternatives
You can find numerous cleaners comprised of phosphoric acid. For example, Krud Kutter is a cleaner that also contains phosphoric acid and is sold in a gallon jug for about $17. It may pay to shop around.
Television Commercial
Your Zap Pro Reviews
Have you used Zap Pro? Let us know what you think by leaving a comment below and a star rating above.