Welcome to another kitchen gadget review! Today, I'm diving into the world of handy kitchen gadgets to see if they live up to the hype or if they're just nifty clutter you'll shove in your kitchen drawer and forget about. In today's review, I take a look at the Gravity Electric Pepper & Salt Mill Set, Adjust-A-Cup, and the Adjust-A-Tablespoon. So, let's jump into it and find out if these gadgets are worth your time and money.
Sponsored Links
Where to Purchase
Below are the exact Amazon listings where I purchased the products for this review. I've seen numerous brands selling nearly identical mill sets, but the one I bought is the current #1 Best Seller on Amazon by Sweet Alice.
Gravity Electric Pepper & Salt Mill Set
Price I paid on Amazon: $23.96
The Gravity Electric Pepper & Salt Mills are designed to bring modern convenience to the age-old task of seasoning your food. Operated by a simple tilting motion, these mills promise to effortlessly grind your pepper and salt without requiring any manual twisting. Ideal for one-handed operation, these battery-operated mills aim to make your culinary experience smooth and hassle-free.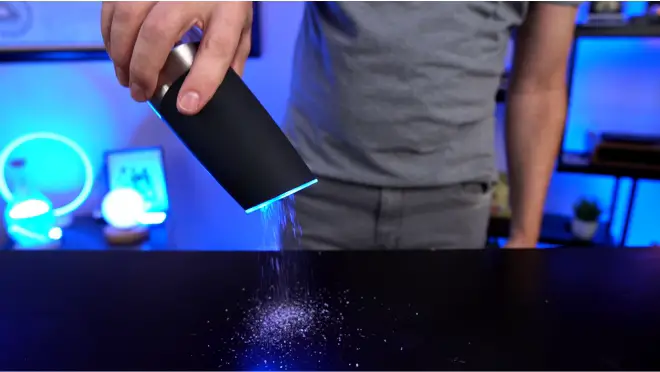 The Good:
One-Handed Operation: I have to admit, it's kind of fun just tipping the mill over and having it grind your salt or pepper without even pressing a button.
Multiple Grinding Levels: Adjusting the coarseness is as simple as turning a dial, although, I will say, a clear indicator of the coarseness level would have been nice.
Aesthetically Pleasing: They are sleek and add a touch of modern convenience to your table setting. The blue light is a nice touch, too. Perfect for impressing guests at Thanksgiving or any dinner party.
The Not-So-Good:
Battery Hog: Each mill requires six AAA batteries, which seems a bit excessive.
Longevity: Some users have reported that the salt grinder broke or got stuck after a few months. Time will tell if these hold up.
Overall, these mills bring a touch of sophistication to your table and are genuinely fun to use. I was surprisingly taken by them and will be featuring them at my Thanksgiving table this year.
Adjust-A-Cup
Price I paid on Amazon: $17.76
The Adjust-A-Cup is billed as a one-stop solution for all your measuring needs in the kitchen. Touted as a space-saving and convenient gadget, it claims to replace an entire set of measuring cups with just one adjustable cup. By simply twisting its base (which functions more like a plunger or stopper), you can measure both wet and dry ingredients in varying amounts, supposedly making your cooking and baking processes more streamlined.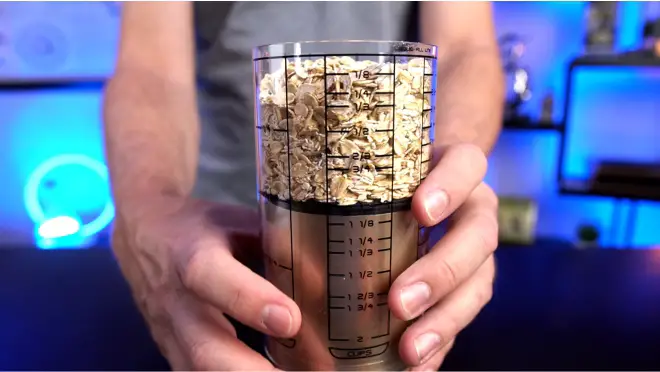 The Good:
Versatility: It's great for both dry and wet ingredients and can measure from 1/8 of a cup all the way up to 2 cups.
Space Saver: Say goodbye to juggling multiple measuring cups.
Accurate Measurements: My tests confirmed that it's pretty much on point.
The Not-So-Good:
Build Quality: Some users find it flimsy and it's advised to hand wash only.
Measurement Markings: While they held up for me, other users have reported that the markings wore off after a while.
The Adjust-A-Cup is a useful tool for those who want to minimize clutter and maximize functionality. It's not a game-changer but a solid addition to your kitchen toolkit.
Adjust-A-Tablespoon
Price I paid on Amazon: $16.45
The Adjust-A-Tablespoon takes the concept of the Adjust-A-Cup and scales it down for smaller measurements. Designed to eliminate the need for multiple measuring spoons, this gadget offers an adjustable sliding scale to measure anything from a pinch to a tablespoon. It aims to be the perfect companion for precise seasoning, saving you time and reducing clutter in your kitchen drawers.
The Good:
Convenience: Another space saver! Measures from 1/2 teaspoon up to 1 tablespoon.
Accuracy: My tests showed that it's fairly accurate when compared to regular measuring spoons.
Cleanable: The slider comes right off, making it easier to clean.
The Not-So-Good:
Stiff Adjustment: Even after oiling it as suggested, it remained a bit stiff to adjust.
Cost: Over $15 for a measuring spoon seems steep to me.
This tablespoon won't revolutionize your kitchen, but it's a nice-to-have gadget that can make measuring ingredients a bit simpler.
Final Thoughts
I'm not sure any of these gadgets are must-haves, but they each offer their own unique conveniences. The Gravity Electric Pepper & Salt Mill Set is my favorite for sheer innovation and the geek factor. The Adjust-A-Cup and Adjust-A-Tablespoon, while not revolutionary, are practical for those looking to save space and streamline their kitchen tasks. I worry how those two will hold up over time, but I'll update this space if and when anything changes.
If you've tried any of these gadgets, let me know what you think in the comments below.