Pillow Pad is a tablet stand with a tri-ledge design that can be viewed from three different angles. Does it really work? Here is my Pillow Pad review.
Sponsored Links
Where to Purchase
You can pick up Pillow Pad on Amazon for about $30. It can also be purchased from the official website (see below) or in stores such as Walmart, Target, or Walgreens. Available colors include gray, blue, or burgundy.
About Pillow Pad
Pillow Pad is a multi-angle tablet stand that allows consumers to view their device at three different angles. The official product websites are buypillowpad.com and pillowpad.com. The screenshot below shows how the product website looked in October 2019. Both websites still work as of this June 2020 update.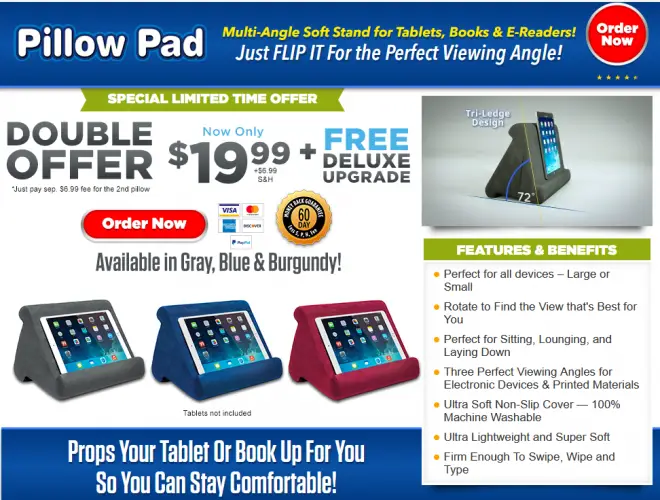 Claims & Features
Compatible with almost any tablet
Hands-free usage of device or book
Comfortable, durable, and compact
Angle can be adjusted for viewing
Alleviates tightness in neck and hands
Contains pocket for storage
Ideal for traveling (it also has a carrying handle)
Removable suede cover is machine washable
Pillow Pad Review
Pillow Pad is a multi-angle tablet holder, marketed by Ontel, one of the largest As Seen on TV marketers in the world. It offers three viewing angles (72-degrees, 62-degrees, and 42-degrees, according to their commercial) and a small ledge on each of the three faces which will hold a phone, tablet, or e-reader. It comes with a removable, washable cover and in three colors.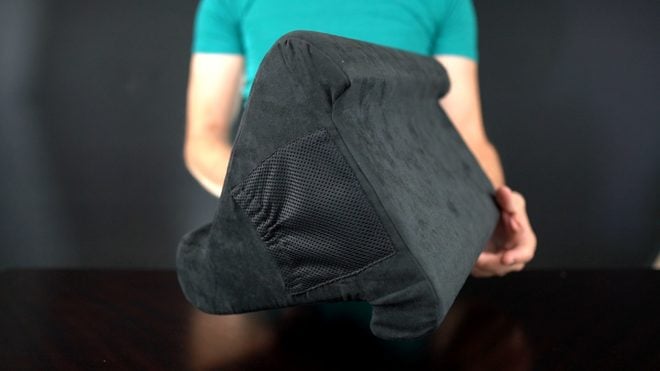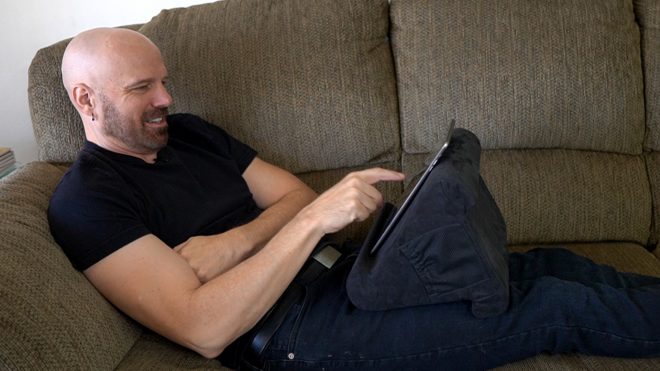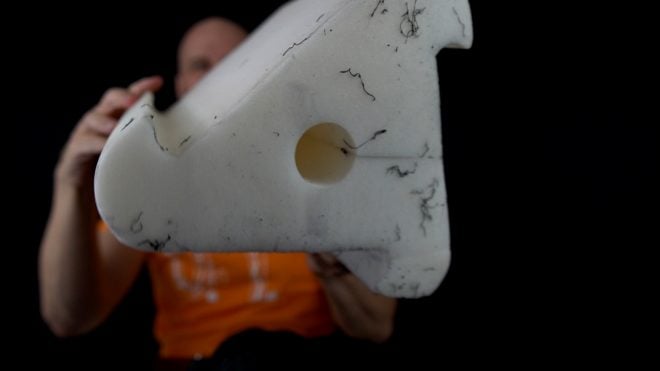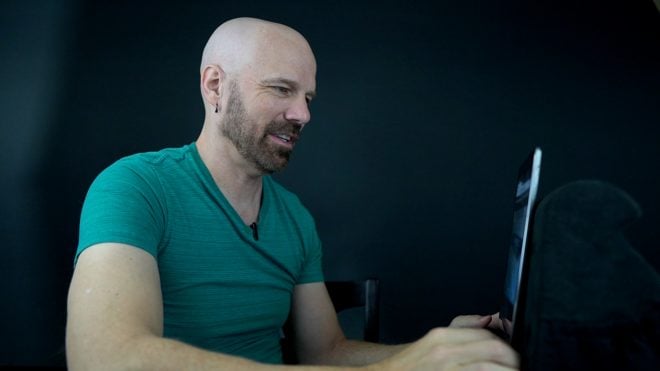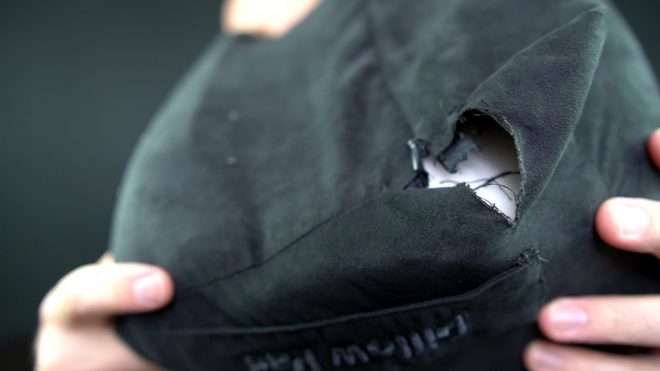 To use Pillow Pad, you simply place your device on the desired face to provide the optimal angle. If you are sitting, laying, or lounging, you can choose from the three angles to get the right viewing vantage. It's a rather simple design and works quite well. Removing the case reveals that Pillow Pad is just a large piece of shaped foam, which is why it is so light.
I found that the Pillow Pad delivered an acceptable viewing angle when I was sitting at a chair, laying on the couch, or reclining. I also tested it in the back seat of a car and found that the 42-degree angle seemed to be the best of the three.
Sponsored Links
What struck me while researching this product was how many similar competing products are already on the market. The most notable of these is Flippy, which is slightly more expensive at around $34, but holds an impressive 4.8-star rating among over 1300 reviews on Amazon as of this writing. I also found similar models as cheap as $8 (see below).
The only real con to the Pillow Pad is the removable cover and its zipper. When I took the foam out of the cover, it was a rather difficult task. After being washed  (which went smoothly), getting it back into the cover proved to be nearly impossible. I ended up ripping the opening twice while putting the foam back into the cover. Even after the cover was back on the foam, it didn't seem to fit quite right. I recommend not removing the cover, but wiping it down should you need to clean it.
Overall, I believe that if you like what you see in the advertising, you'll probably like Pillow Pad, as long as you don't remove it from the cover. You may want to check out some of the alternatives below, as there are many.
8-Month Update
Although I didn't find much use for the Pillow Pad initially, I have been using it on a daily basis as a phone holder when I'm on my bed, so I'm pleased to have found a use for it. I'm not sure Pillow Pad is as versatile as the advertising would have you believe, but if you only have one use for it then it could be a worthy investment. It's large size still seems to be a drawback, as it doesn't compress down like a regular pillow. After the ordeal of trying to get it back into the case, I decided not to remove the cover again.
Be sure to watch my full review below.
Alternatives
A discussion of Pillow Pad would not be complete without mentioning the popular Flippy, which shares many of the same design features. That item has proven wildly popular on Amazon and should be considered if you are looking into a product like this. There are also holders with a slightly different design, such as this $24 model that also boasts solid user reviews.
Television Commercial
Your Pillow Pad Reviews
Have you used Pillow Pad or something like it? Leave a comment below and let me know your thoughts.
Updated June 2020.