BackBridge is a device advertised as a way to relieve back pain. Today we offer our BackBridge review plus key product information
Sponsored Links
BackBridge Review
Designed by Dr. Todd Sinett, BackBridge comes with 4 stackable levels, designed to "expand with you as you gain flexibility and health in your spine." The device is said to correct the problem of excessive bending, slouching, and sitting by realigning the spine.
The idea behind BackBridge is not new. There have been assorted "back benders" available for years, especially those marketed to students of yoga. The yoga-based back bridges are typically highly rated, but their purpose is different than the BackBridge here. The latter product is aimed at those with back pain due to years of misuse.
Warning About Self-Diagnosis
Not all back pain is the same, nor does all back pain stem from the same cause. You should check with your doctor or chiropractor before using any devices to help cure a back condition.  Livestrong touches on the issue of placing certain back conditions in an arched position:
Placing the spine in an arched position can lead to compressed discs or spondylolysis. Spondylolysis is when you have a defect or fracture in one of the vertebras. According to Stanford Hospital and Clinics, spondylolysis is sometimes attributed to continuously performing hyperextension movements because it weakens the spinal restraining structures.
Alternatives to BackBridge
There are several devices on the market with similar designs to BackBridge. On Amazon, for example, you can find many similar products such as Spine-Worx or this back stretcher by Chisoft. All of the items above have relatively good reviews, and cost less than half than BackBridge.
Because of the high price, including exorbitant shipping costs, you may want to shop around for an alternative to BackBridge – after you have checked with a health care professional to make sure this device won't do more harm than good.
The BackBridge "About" paragraph
"The BackBridge System is the first and only back pain device developed to help relieve core imbalance. Designed by Dr. Todd Sinett, it comes with 4 stackable levels to expand with you as you gain flexibility and health in your spine. Simple, safe and easy to use, the BackBridge System will help you achieve a back pain-free life. Its exclusive lightweight, portable design is perfect to use at home, in the car, at the office—virtually anywhere you experience discomfort and want relief."
Official BackBridge Website
backbridge.com
Registered October 29, 2004, although the internet archive showed that the website was parked until around May 2013. (The Internet Archive has since been blocked by the domain).
Sponsored Links
BackBridge Contact Info
Phone: 800-216-2476
Email: [email protected]
Address: BackBridge, LLC, P.O. Box 9169, Van Nuys, CA 91409
BackBridge Features
Results by using it for 2 minutes, twice a day
4 adjustable levels

Use at home, in the car and at the office

Easy to use and noninvasive
Soft and comfortable high-density foam
Includes free strap, quick-start guide, and 2 videos
Cost
There is a 2 payment option of $39.95 (x2) plus $19.95 S&P = $99.85, or a 1 Payment Option $79.90 + $19.95 S&P= $99.85.
Screenshot
Below is a screenshot of the BackBridge website, taken in January 2014: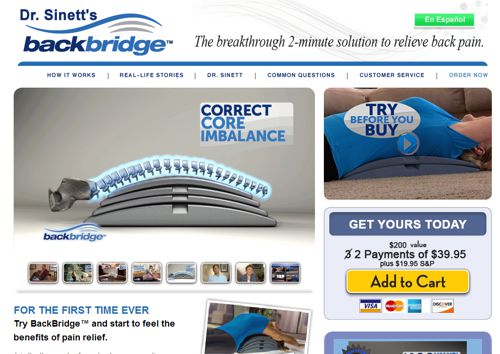 Television Commercial
Below is a television commercial for BackBridge.
BackBridge Reviews
Have you tried BackBridge? Please give us your review in the comments below and give it a star rating above.