Table-Mate is a "transformable" table which is designed to easily adjust and slide into place. Here is our Table-Mate review, plus key product information.
Sponsored Links
Table-Mate Review
What we liked about Table-Mate is that the variety of adjustment options lends itself to a comfortable "fit" for most couches and chairs. The surface is well-designed for holding items with rubber feet, such as laptops or drink coasters. Assembly was also rather simple.
Although Table-Mate appears to be made of average-quality materials, we found it to be durable enough for average uses such as a TV tray or laptop desk.
Table-Mate Cons
Recliners: We couldn't get Table-Mate to work to a satisfactory degree with a recliner.
Tall People: Very tall people may have difficulty finding an adjustment that suits them.
Tips over: Due to the rounded legs, it does seem to tip over easier than we would have liked, so pay attention when maneuvering around the product.
Weight limit: While it is claimed to be able to hold 50 pounds, this applies to the upright "flat" position of the table. When the table is angled, it cannot bear as much weight.
What about Other Table Mates?
There are a few other Table Mates which have been added to the product catalog, such as Table Mate II, Table Mate V, Table Mate XL, and Table Mate 4 Kids. Those appear to only be available online, while the original Table Mate is widely available in stores.
Aside from the drawbacks listed above, we feel that Table-Mate will be a satisfying purchase to most consumers. Fortunately, Table-Mate is available in stores, and we recommend purchasing it locally to avoid shipping charges and the "get a second one" bait and switch ploy.
There are numerous Table Mate clones, some of which are well made and highly rated.
Table Mate's Tagline:
"The Transformable Table That Slides To You"
Sponsored Links
Table Mate's "About" paragraph
"Table-Mate is the perfect portable table for anything you need a table surface for and can hold up to 50 lb! Use it for eating, as a laptop computer table, study desk, reading, writing, drawing, board games, models, puzzles, arts and crafts, trade shows, gardening, serving table, table to hold a computer keyboard… or anything else you can possibly think of!"
Official Website
tablemate.com
Registered December 1, 1999
What they claim
Slides right to you
Built in cup holder
Adjusts to 6 different heights and 3 angles
Ideal for those with limited space and mobility
Holds up to 50 pounds
Lifetime Guarantee
Folds flat for storage or stacks for convenience
Available in stores
Cost
You can find Table Mate in stores for about $30. The newer Table Mate products are available from the official website from about $30 to $80.
Screenshot
Below is a screenshot of the official website, taken in January 2014: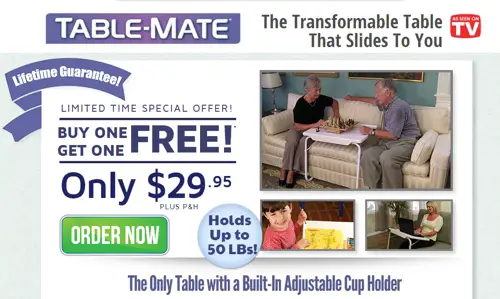 Your Table-Mate Reviews
Have you tried Table-Mate? Please give us your review in the comments below and give it a star rating above.
Updated April 2017.