Copper Fit Energy Socks are compression socks designed to improve comfort, performance, and endurance. Read our Copper Fit Energy Socks review.
Sponsored Links
About Copper Fit Energy Socks
Copper Fit Energy Socks are socks advertised to support feet and provide improved comfort.
The official product website is getenergysocks.com, which was registered in April 2016. The screen capture below shows the how the official website looked in July 2016. Note that as of late 2016, the pricing has changed (see below).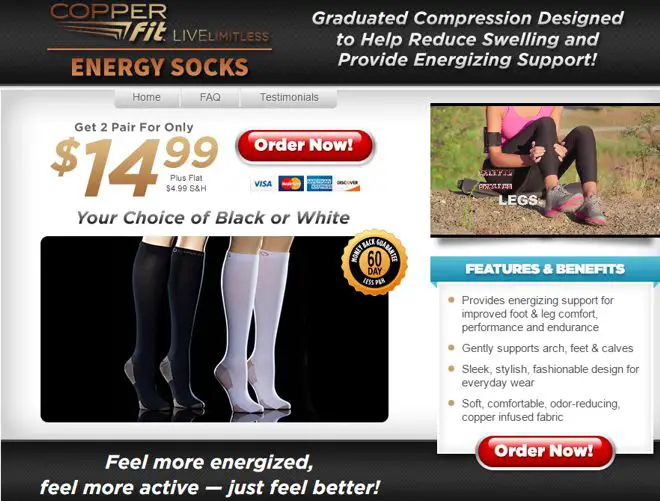 Claims and Features
Available in black or white
Two sizes: S/M and L/XL
Energizing support
Improves leg comfort, performance, and endurance
Supports arch, feet, and calves
Graduated compression
Odor-reducing copper infused fabric
Cost
Note: As the screen shot above shows, Energy Socks originally cost $14.99 + $4.99 shipping for two pair. That as since changed.
The current price is $19.99 + $3.99 shipping. This includes two pair. As of this writing, we haven't seen Energy Socks in stores.
Energy Socks Review
Copper Fit is a brand of athletic products – particularly compression wear – which are relatively highly rated. This entry in the Copper Fit brand consists of graduated compression socks which are said to provide support and comfort to feet, arches, and calves.
Sponsored Links
Traditionally, compression socks were worn by those with medical conditions such as diabetes or plantar fasciitis. In recent years, however, athletes have also started to use compression socks for comfort, recovery, and support.
As to whether compression socks can enhance athletic ability, we defer to a piece by competitor.com, which notes:
One study found that when 21 male runners did two step tests – one with compression socks and one without – they were able to go slightly longer wearing the compressions before exhaustion. There have also been some small increases seen in anaerobic threshold, particularly in cycling, and in jumping performance. The theory is that the tights prevent oscillation of the muscles sideways and promote muscle efficiency.

But, Ali noted that many of the studies that have found increases in performance did not use a placebo or control, making it nearly impossible to tell if the increases were really from the compression or from the athlete's perception of the compression.
Whether or not compression socks have been scientifically proven to work is of little concern to those who believe in compression wear. Copper Fit has become a proven and trusted brand over the past several years, and most of their products have been met with positive consumer ratings. At a cost of about $20 for two pair of compression socks, I believe Copper Fit Energy Socks are a solid buy.
Based on past Copper Fit offerings, I predict these will be available in stores before the end of 2016 or early 2017 at a cost of about $20. Bed Bath & Beyond and Fry's are good places to hunt for new As Seen on TV products.
Alternatives
There are dozens, if not hundreds, of compression socks available in stores and online. A cursory Amazon search of compression socks yields a dizzying selection.
Two years ago I evaluated an As Seen on TV pair of copper-infused compression socks called Miracle Copper Socks, which offered virtually the same advertised benefits of Copper Fit Energy Socks. That product can still sometimes be found in stores, and had relatively positive consumer ratings.
Your Energy Socks Reviews
If you've used Copper Fit Energy Socks, please give us your opinion by leaving a comment below and a star rating above.
Updated December 2016 to reflect updated pricing.