I recently went to a local Big Lots to see what interesting products I could find. I picked up 6 cheap products and took them home to test out.
Sponsored Links
About These Products
After several rounds through my local Big Lots, here are the six products I found, and the prices I paid:
Litezall LED Light Switch for $3
myTech LED Sound Sensing Disco Ball for $3.57 (Marked down from $6)
Colorways Translucent LED Mouse for $4.99
Brookstone Laptop Phone Stand for $10
Fur Daddy for $14.99
Alien Shield for $19.99
I wanted to include links for those who wish to purchase these items online, but many of them are not available on Amazon. I'll do my best to link similar or the same items on Amazon or elsewhere below.
Testing My Big Lots Haul
On a recent trip to Big Lots, I decided to purchase and test out some cheap products that I found interesting. My haul included six items, ranging in price from $3-$20, listed in detail above. Some were generic, some brand name, and some As Seen on TV products. It was an interesting batch of products!
Litezall Switch – $3
First up was the Litezall wireless light switch. This is a-200 lumen LED light that resembles a standard light switch. The difference, of course, is that it is a light switch and a light in one unit. It also doesn't require wiring, so it can be placed anywhere. Litezall comes with 4 AAA batteries and multiple mounting options, including two adhesive strips on the back which I used. Because batteries were already installed, there wasn't much to do other than figure out where to mount it, so I decided to stick it to the side of a storage cubicle in a dark area of my workspace. After mounting, I can't say that it felt particularly stable, although it did hold in place. Using the product is as simple as using a standard light switch. I found that it performed about as well as a small lamp and did a fine job of lighting the immediate area. For 3 bucks, this was a pretty good find.
Update: The Litezall fell after about 2 weeks! I will find a new spot for it and use another mounting option. I'll update this space if anything changes!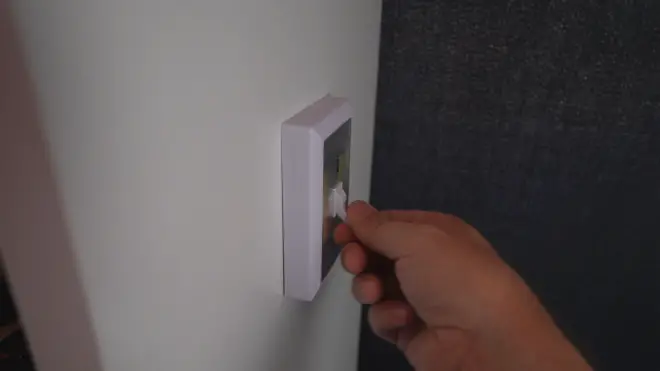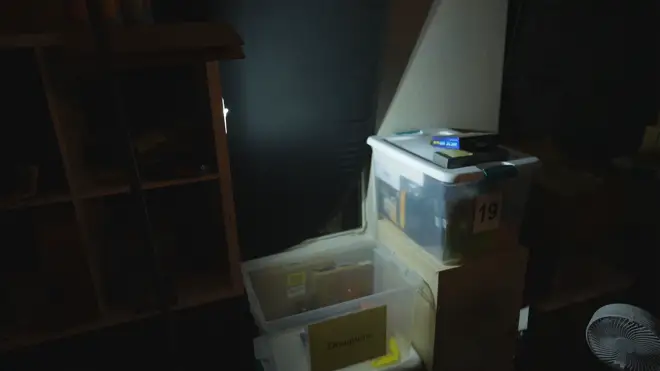 LED Disco Ball – $3.57
Next up, at a marked down cost of $3.57 (regularly $6) was the myTech Sound Sensing LED Disco Ball. This is a USB light that activates whenever plugged in (no on/off switch) and generates several interesting light patterns. I found that it responds better to voices than music. Whenever I spoke, the lights changed rapidly with my voice. As I played music, however, the lights changed much more slowly. This model came with a gooseneck LED connector, although similar models online do not. It's one of those things that might be fun to whip out at a party or Halloween, but probably won't see much use outside of that.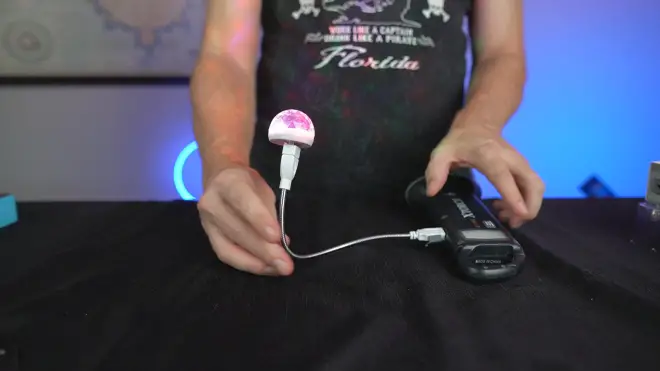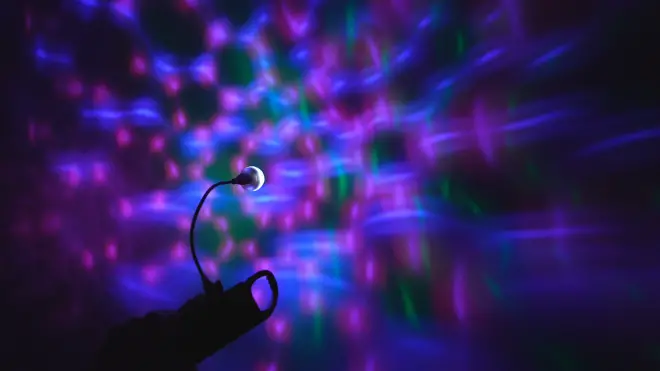 LED Desktop Mouse – $4.99
My next find was the colorways Translucent LED Desktop Mouse. Functionally, it is a standard USB mouse with a 3.6-foot cable, but what sets it apart from other mice is that it is illuminated. This pleasant illumination effect is offset somewhat by the cheap-feeling plastic used for the main body of the mouse. As a mouse, it's not the most comfortable or ergonomic I've used, but it does look very nice in a dark workspace. The cable feels a bit short for my desktop, and I would probably have to get an extension if I were to continue using it there. It's plenty long enough for a laptop, however. If you like a blingy workstation but money is a factor, this could be worth considering.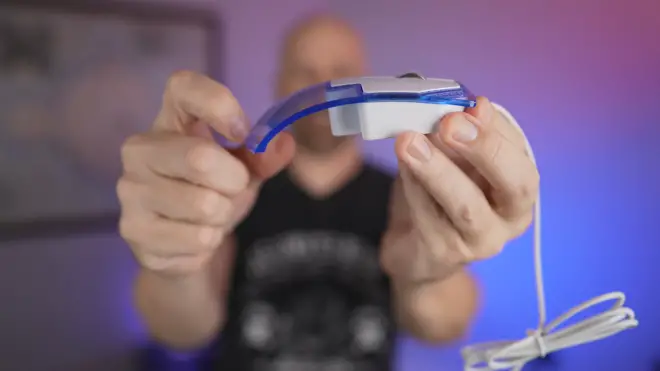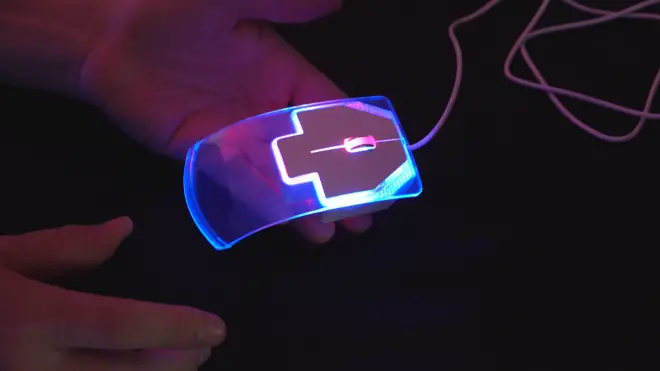 Brookstone Phone Stand – $10
The fourth item, which falls right in the middle of the pack price-wise, was the $10 Brookstone Laptop & Tablet Stand. This consists of a clip and a simple stand where you can rest a smartphone. The idea behind this product is that you can hang your phone on your laptop screen in order to have it reside within your line of right. I wasn't sure if I would like this product until I clipped it to my laptop and immediately realized that this could be a nice way to glance at notifications while working without having to look too far away from my screen. I wanted to try it on my desktop computer, but the clip only fit on the smaller of my two monitors. That actually worked out because now my phone rests right between my two monitors and I can keep an eye on notifications as I work.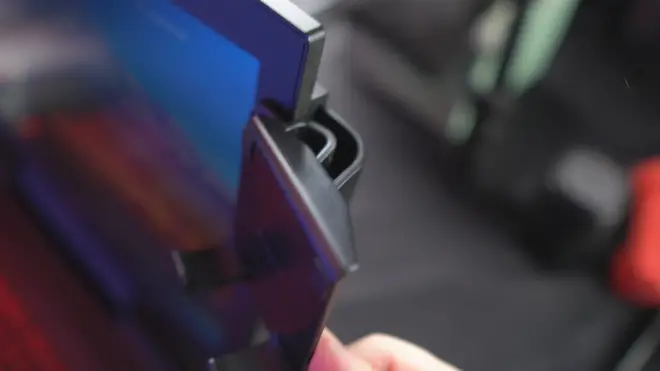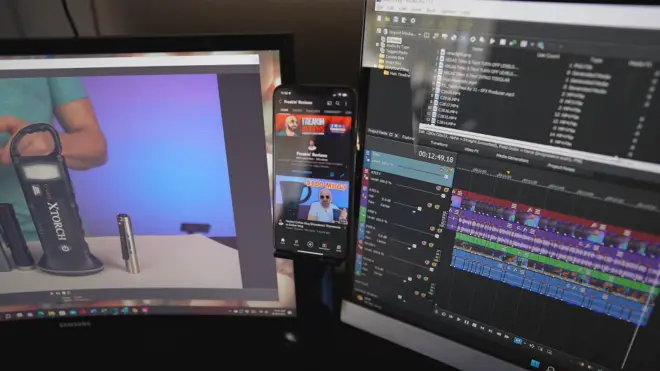 Fur Daddy – $14.99
Next up was the $15 Fur Daddy, an As Seen on TV pet hair roller. It resembles the popular Chom Chom Roller, or the Furwell Roller (video review) that I use. This product, however, includes a light and supposedly uses sonic vibrations to help lift hair and dander. I already have two similar rollers here, so I wanted to try the Fur Daddy alongside them to see if that slick "sonic" feature yielded any discernible advantages. In short, it didn't. The Fur Daddy did, however, pick up pet hair about as well as the others. It also has that nice light, which could be beneficial in some scenarios. Despite a gimmicky sonic feature, this is still a pretty good deal at $15.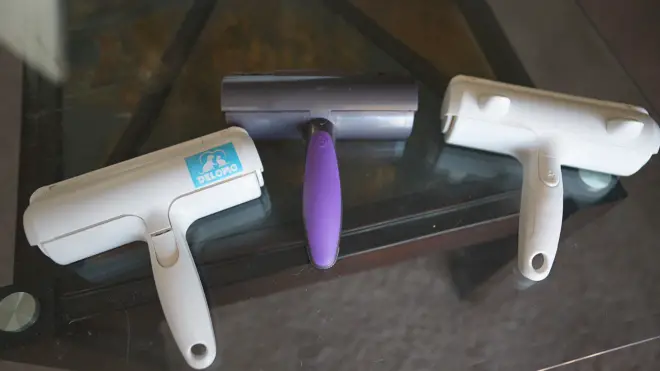 Alien Shield – $19.99
The final item in my haul was the As Seen on TV Alien Shield tape. This appears to be the Alien Tape brand's answer to Flex Tape, which is ideal for small repairs and leaks. I ran it through a few quick tests that I didn't think were particularly challenging, and it passed in all cases. The first test was a couple of holes in a bucket that I covered with Alien Shield. I filled the bucket with water and let it sit for 24 hours – and it did not leak. Next, I hung a 20-pound weight with a strip of Alien Shield over an iron bar, and that, too, held over 24 hours. I should point out that I tried a few different configurations for my weight test but ran into challenges. Wrapping the tape around the bar and the handle of the dumbbell, for example, led to the weight pulling downward and unraveling the tape from the bar. Thus, the best test I found was to have the bar centered over one long strip, and the weight affixed to both ends so that the weight would not pull the tape off of the bar. After 24 hours, the dumbbell was still dangling from the bar. For my final Alien Shield test, I cut a slit in an inflatable, slapped a strip of Alien Shield on it, and after 24 hours it was still inflated. I wasn't particularly fond of Alien Tape (watch my review here), but I do think Alien Shield has some merit.
As an update, the dumbbell fell at the 50-hour mark, which was after my video review was posted.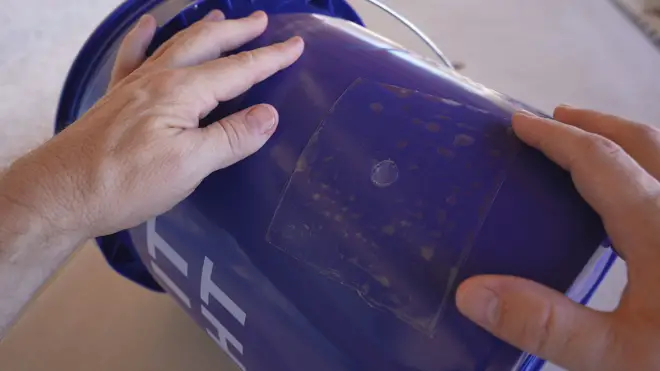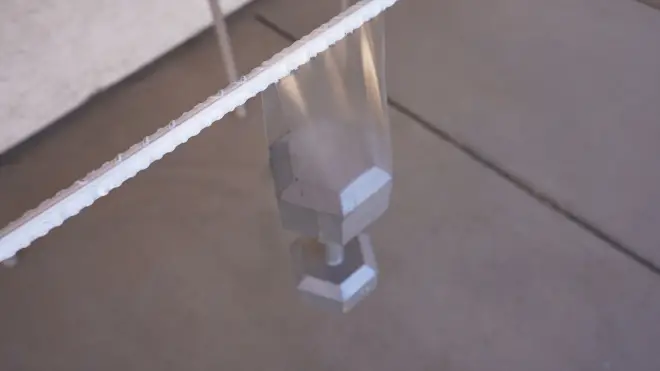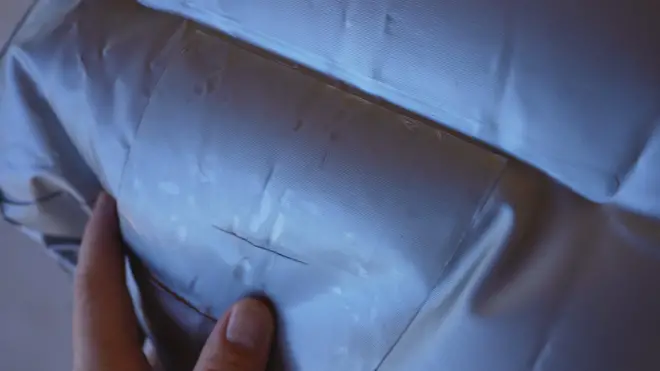 This was a bit of a different type of format for me, but I enjoyed it nonetheless. Big Lots is one of those stores that I enjoy checking out every few months, and hopefully my haul today gave you some ideas of products or gifts to buy.
If you've used any of these products, tell me what you think in the comments below!