XTorch is a multifunctional flashlight and power bank that was featured on Shark Tank. I put it to the test and today I offer my unbiased review.
Sponsored Links
Where to Purchase & About XTorch
You can pick up the XTorch on Amazon for about $56, or direct from the official website, xtorch.org for about $50.
XTorch was featured on a Season 12 episode of Shark Tank, where the makers were grilled by the Sharks who eventually passed on a deal. Shark Robert Herjavec made an offer to buy the entire company but was turned down.
Other flashlights featured in my video review include the following, with links to purchase:
Hand-Crank Emergency Flashlight: Purchase
Claims & Features
Solar rechargeable flashlight
3 light modes: Flashlight, lantern, desk lantern
Glow in the dark gasket
Takes about 1.5 hours to charge via USB, or 22 hours via solar panels
Can be used as a power bank to charge small devices
Floats in water, but is not fully submersible
LiFePO4 battery
XTorch Review
XTorch was first introduced to most people on Shark Tank, where their pitch began with a dramatic ice-smashing demonstration and ended with no deal. It is touted as a multifunctional flashlight that includes a regular light, lantern, and desk lantern. Other features include a power bank which can charge small devices, a solar panel, and glowing gasket. I ordered my XTorch for a cost of about $56. When it arrived, I found it to be slightly larger than expected.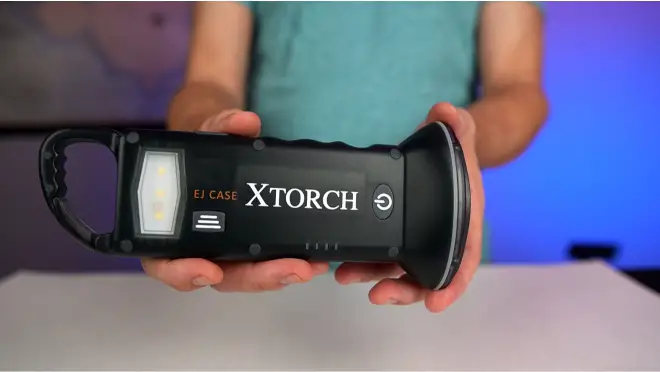 To use the XTorch, you simply press the power button to toggle through three different modes. One press turns on the 400-lumen flashlight, two presses will toggle to the lantern, and a third press switches to the desk lantern. It can be turned off with a 4th press. The only other button on the unit is a high/low button, which works in all three light modes.
I took the XTorch outside and compared it to a Tac Light to see how bright it is by aiming both of them at my back wall. Although the XTorch was a perfectly fine flashlight, it was not as bright at the Tac Light. After that, I hung the XTorch by its clip on my patio to test out the lantern mode. Although it wasn't as bright as the lightbulb I usually have outside, it did light my immediate vicinity. The gasket glows in the dark but it's not very as bright as I expected. It was barely visible to me even in complete darkness.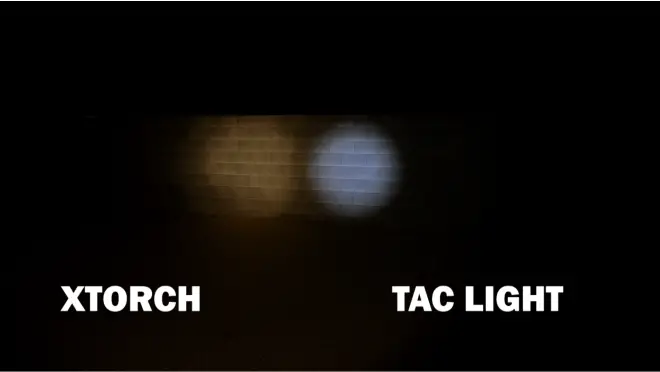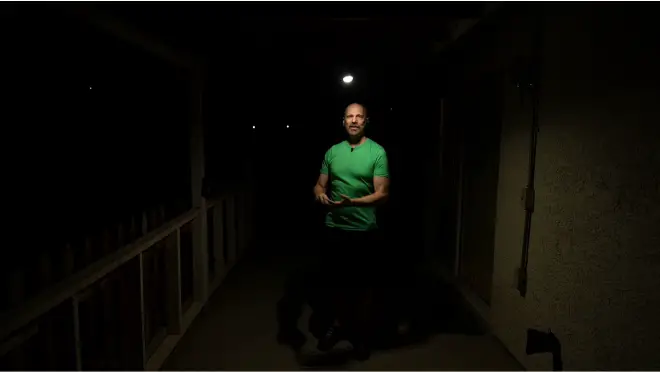 Although the makers of XTorch tout its durability, I'm not convinced that its ABS plastic housing can really measure up to some of the tank-like flashlights I've tested in the past. Tac Light and the ThruNite T2 are made of high-grade aluminum, while my Rider RX flashlight is made of stainless steel (and even comes in titanium). So, while its plastic housing seems perfectly fine for ordinary use, I wouldn't expect it to outperform some metal flashlights in a durability test.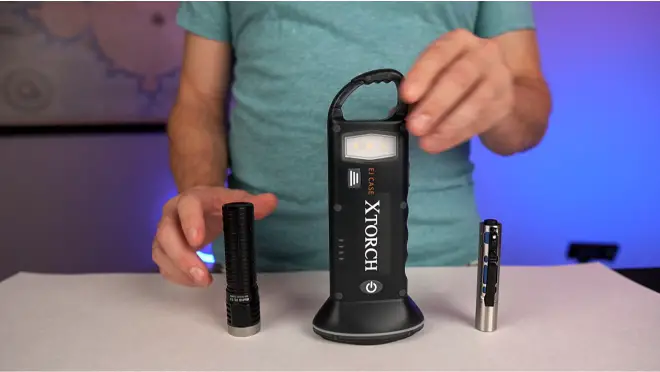 XTorch can be charged via solar panel, which will take about 22 hours in the sun. Because most people won't want to spend two full days of sunlight charging a flashlight, I decided to leave it out in the sun for one full day to see how much of a charge I would get. After 9 hours in direct sunlight, it was charged 2 out of 5 bars. I don't know if the charge was on the low end of 2 bars or the high end, but that means I was able to get somewhere between 20-40% in one day.
The next test was its power bank feature. I took a fully charged XTorch and plugged it into an iPhone XS Max with only 9% battery remaining. After one hour and 47 minutes, the XTorch stopped charging my phone, which had reached 71%. The XTorch appears to have a low battery limit where it will stop charging, as there was still one bar of power showing and enough juice to power the flashlight. This feature isn't explained in the minimal directions.
The instructions point out that it is not fully submersible, but that it will float. In my test, I found that to be the case. I dropped it in several inches of water and it remained working as it floated on the surface. My other two EDC flashlights are fully submersible, but do not float. I tested them alongside the XTorch, and they sank but continued to work while underwater.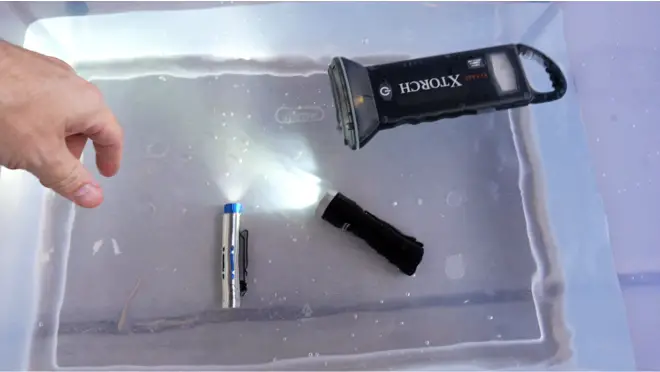 In the end, the XTorch feels like a slightly overpriced Jack of All Trades, and Master of None. It does a lot of things, but none of them better than products dedicated to a single use. You could pick up a small, powerful flashlight and a small high-capacity power bank that will combine to outperform the features of the XTorch. If the idea of having a group of features included in the same unit appeals to you, then the XTorch might be a good fit for you.
If you've used the XTorch, tell me what you think in the comments below.