I recently received a $10 gadget at my PO Box called CarryAround, which is a foldable drink carrier. I thought it looked interesting, so I put it to the test for today's review.
Sponsored Links
Where to Purchase
CarryAround is available from Amazon for about $10. There is an official product website, although sales seem to be directed through Amazon there as well.
About CarryAround
CarryAround is a folding cup carrier than is ideal for coffee, soft drinks, beer, or other beverages that come in standard drink cups. The Amazon listing dates back to 2016, although it has only come across my radar in late 2022. As of this October 2022 writing, the Amazon listing boasts a solid 4.4 star rating out of 1300+ reviews.
Claims & Features
3-cup or 4-cup configurations
Can be folded and stored in a pocket or purse
Manufactured in the UK
Ideal for festivals and sporting events
Holes measure 2.95″ (75mm)
CarryAround Review
CarryAround is a folding drink carrier that can hold 3 or 4 drinks with one hand. It recently arrived unsolicited at my PO Box and I thought I'd give it a shot to see how it works. CarryAround can be folded small enough to easily fit into a pocket or purse. To use the product, it can be unfolded one of two ways. First, you lift the handle, then rotate the circular cup holders to expand it to size. If you want to carry 4 drinks, you'll rotate the holders to the right. With each rotation you feel a "snap" as each holder is fully extended. Should you opt for the 3-drink configuration, you'll simply rotate them to the left.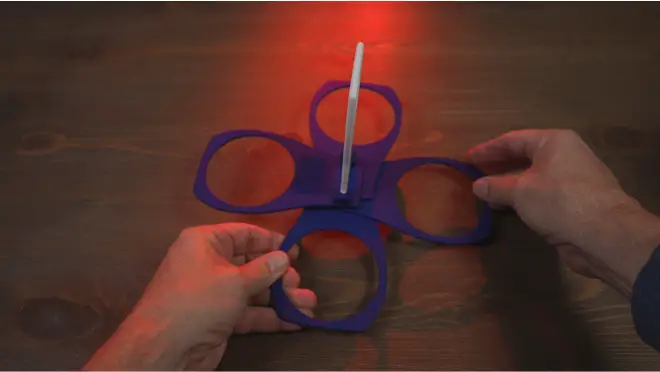 I wanted to try this out with a variety of cup sizes in both the 3-cup and 4-cup configurations. My first test was at a local Starbucks, where I bought their four most popular drink sizes: tall (12oz), grande (16oz), venti (24oz), and trenta (31 oz). What I noticed rather quickly was that loading the CarryAround is much easier if you place it flat, add the drinks, and then lift. You can add drinks while you're holding it, but it feels much less stable than laying it flat and lifting the unit around the drinks.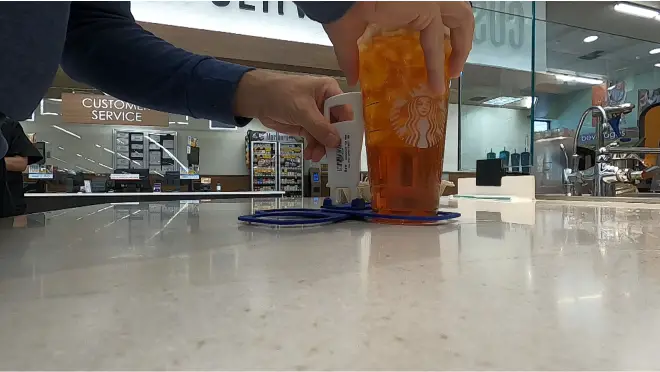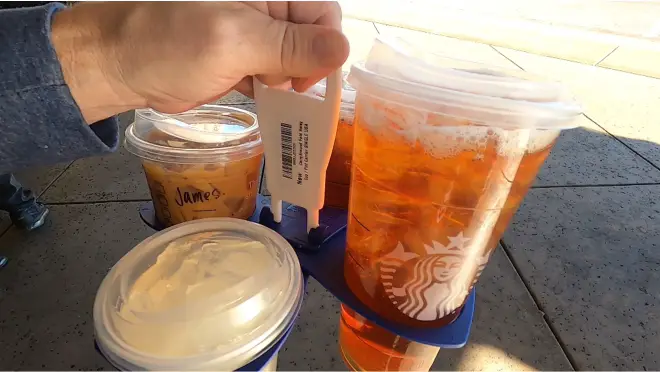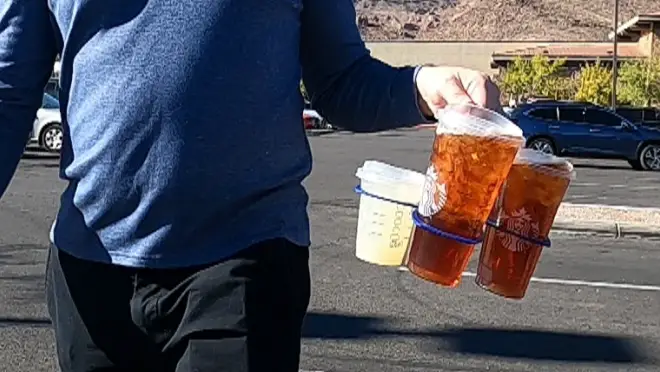 As I carried my four Starbucks drinks to my car, it felt as though the smaller drinks were securely in place, but the two larger drinks felt less stable. This is perhaps due to the fact that so much of the cup protruded above the CarryAround, making it feel top heavy.
The next minor issue I had was that the CarryAround really isn't geared toward transporting drinks in a car. When you set it down, the CarryAround rests flat against the surface. Thus, to transport them I still had to use one of those standard drink carriers. I carried my 4 Starbucks drinks up a flight a stairs, once with the drink carrier and once with the CarryAround. In this scenario, the CarryAround was superior as it freed up one hand needed to fish for keys or a door handle. The standard drink carrier is much less stable while going up stairs, especially when held with one hand.
I tried the CarryAround again in the 3-cup configuration, this time with fountain drinks. For this test I used two 30-oz cups and one 20-oz cup. Once again, the larger cups felt less stable, while the 20-oz cup felt solid.
I should point out that despite the fact that larger cups felt less stable, CarryAround did still hold them without bending or breaking, even walking across a large parking lot or up two flights of stairs.
In the end, this product seems geared toward spectators of sporting events or festival goers, where you simply need to carry a few drinks from one place to another. There are scenarios where you may pair this with a standard drink carrier, such as carrying a large fast-food order up a flight of stairs. In that case, you may want to drive with your drinks in a carrier, then switch to the CarryAround from your car to final destination.
Despite a few limitations, I feel like the CarryAround is a pretty clever idea and works exactly as advertised. For only $10, it could be a great gift idea for someone who regularly attends sporting events or festivals. I will have one of these in my pocket the next time I attend a Golden Knights game here in Vegas.