Today I am joined by my son Brandon to try out most of the food and drink items that were featured on Shark Tank in Season 13. Below are recaps of our taste tests, along with any updates after our video review was shot.
Sponsored Links
Items Featured / Where to Buy
Below is a quick list of all the items we tried, where to purchase (as of this writing), and what we paid for them.
Shark Tank Season 13 Food Taste Test
My son and I recently tested out most of the food and drink items featured on Season 13 of Shark Tank. Not all items were readily available, so this is not a comprehensive overview. We did, however, manage to try out 13 different items from Season 13 and below I'll give you a recap of what we tested.
Episode 1 – Uprising Food 5-in-1 Prebiotic Bread

Claims & Features:
"Healthiest/Tastiest/Most Powerful Bread"

Gluten Free + Dairy Free + Keto + Paleo + Prebiotic Fiber

Lasts in the fridge 1-4 Weeks

5 in 1: 

Appetite Control, 

Optimized Digestion, 

Blood Sugar, 

Healthy Cholesterol, 

Improved Gut Health
Cost:
I had to buy 4 loaves at a time for $60 ($15 each), Plus $15 Shipping –

$75 Total

It took just shy of a month to get to us due to shipping delays
Deal: This did NOT get a deal. Mark and Kevin felt the bread was a bit spongy/chewy. All Sharks thought the product was very expensive, though applauded their mission to combat digestive issues. Kevin's dad ate a lot of starch/flour and passed as a result.
Our Take
When Brandon and I cut this open, we noticed the crust was harder than typical bread, which apparently helps in keeping the interior fresh. The inside of the bread was a bit spongier than what you typically find at the store. The taste, however, was perfectly fine. Our initial impression was focused more on the hard/spongy texture, although I have continued to eat it after our video was made and it is fine for sandwiches. If you leave it on the counter, it starts to harden after a few days, so it really isn't meant to be left out very long. I like all of the healthy elements of this bread, and taste is pretty good. I'm not fond of the texture and the price, however.
Episode 2 – Proper Good 90 Second Meals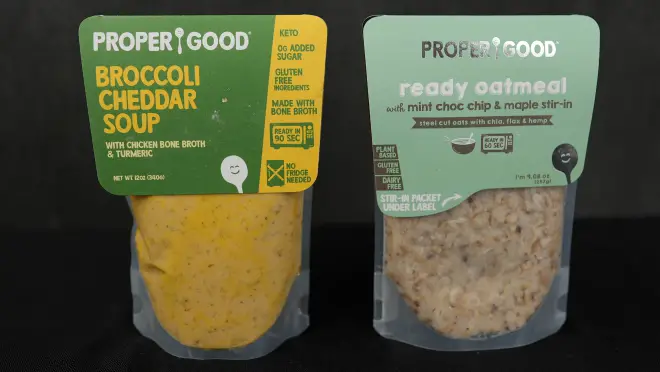 Claims & Features:
Variety of foods including soup, chili, curry, oatmeal and oats

Claim – "Tastiest/Most Convenient 90 second meals ever made"

Plant-based, Ketogenic, Gluten-Free, Diary Free

Lower sodium content than comparable soups/chilis

No refrigeration or preparation needed, shelf-life of up to eight months
Cost: 
$5.99 For Oatmeals / $7.99 for Soup, Chili, and Curry

We spent

$41.94 Total

on 6 meals + free shipping from official website.

There is an option to subscribe and save 20% which is worth pursuing if you're a frequent consumer. Bundles that cater to specific diets and lifestyles.
Deal: Mark jokingly he said he was out after they said Peter Jones was their favorite shark (Guest from Dragon's Den).
Our Take
Although we purchased 6 meals, only two were tasted on camera due to time limitations. We tried the mint chocolate chip oatmeal and broccoli cheddar soup. Keeping in mind that these are in the health food lane, it's difficult to compare taste-wise to standard store-bought counterparts. I would say both were blander than one would expect from what you'd get in a can, although their popular counterparts are typically loaded with sugar and salt, and these are not. With that in mind, the flavors and texture are quite good when you factor in all of the dietary considerations that went into making these. I have since had another oatmeal and it was similar to the flavor of the one we tried on camera. Another detail to point out is that these can be eaten right out of the container, without the need to be heated. Sure, they are better when heated, but it isn't necessary. These were well-received in my household, although I'm not sure if we'll keep buying them due to the cost.
Episode 3 – Oat Haus Granola Butter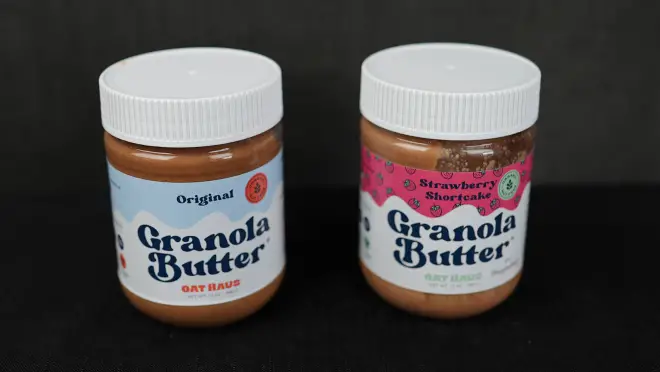 Claims & Features:
World's first oat-based spread

Made with oats, flax, maple syrup, coconut oil, olive oil, salt and other spices.

Nut free, soy free, dairy free, non-GMO, gluten-free, vegas, kosher, Top 8 allergen free

Use it with yogurt, toast, smoothie, fruit, acai bowls, or eat it by itself on spoon

Once opened, you have to use within one month

Barbara said it tasted like peanut butter, Lori said it smelled great, Kevin – Almost soup-like, is that intentional?
It is easier to spread than virtually anything else like peanut butter, jelly, nutella, etc.
Story: The idea spawned from the creator, Ali, and her recovery from eating disorders anorexia, binge-eating, and orthorexia.
Deal: Did not get a deal. Kevin seemed the least receptive and did not like it.
Our Take
Upon opening Oat Haus Granola Butter, it looked to us like natural peanut butter with an oily separation at the top. After stirring, we spread it onto some bread, and that felt just like regular peanut butter. The taste, however, is a bit different. Brandon accurately pointed out that it not only smelled like a graham cracker, but tasted like one, too. There is a slight "sandy" texture, similar to that of the sugar you'll find in some spreads, although I didn't find that to be a negative. We didn't find a huge difference in taste between the original and the strawberry shortcake, although they worked perfectly on a sandwich. If you're someone who has peanut or nut allergies, but crave a classic PB&J, this could be an option for you. It's a bit sweeter than sun butter, but it takes a number of dietary restrictions into consideration. After our video, I have had a granola butter sandwich almost every day. I enjoy the flavor and will consider buying more in the future after this batch is gone.
Episode 3 – IncrEdible Eats Edible Utensils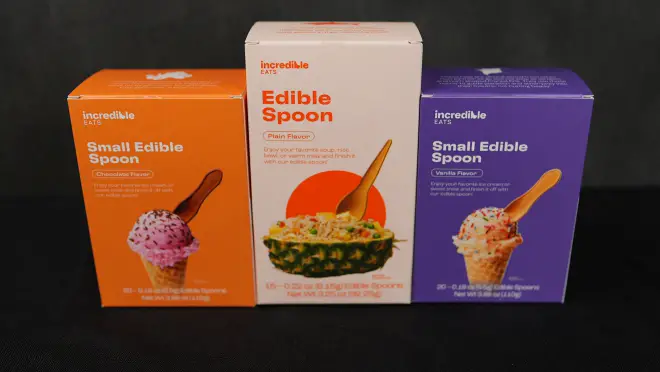 Claims & Features:
World's first mass-manufactured edible utensils.

Mission is to reduce single-use plastic utensils.

All utensils are vegan and less than 25 calories

Different flavors and flavorless options

Stays firm in soup for about 20 minutes, and about an hour in ice cream
Note – On Shark Tank chopsticks and straws were shown, but there are no options to order them on the website.
Cost: I bought it straight from their website. $4.99 for Small Spoons, $8.99 for Large Spoons / Sporks. $5 shipping – $23.97 total
Deal: Lori gave him a deal, Kevin and Mark had offers as well.
Our Take
These edible utensils fall somewhere between novelty items and sustainable alternatives to plasticware. The idea is that you can enjoy a meal and then literally consume your utensils afterward to avoid waste. But how do they taste? We picked up an unflavored box of large spoons and two boxes of small spoons to give them a shot. I first noticed that each came individually wrapped, which seems to defeat the point of creating a product that produces less waste, although I believe those individual wrappers are biodegradable.
We tasted a large unflavored spoon along with small vanilla and chocolate spoons. The unflavored spoon had no taste at all, with the consistency of a hard fortune cookie. The small spoons were even harder, although they did accurately resemble their intended flavors. These spoons are supposed to last up to 20 minutes in soup or an hour in ice cream. The size is quite small, like a child's spoon, which is probably ok when using a small spoon with something like ice cream.
When I tried the chocolate spoon with chocolate ice cream, the taste paired quite well, even though my spoon broke while scooping.
In the end, I love the idea, but the hard consistency and small size relegate this to the novelty category to me. They might be fun to use at a birthday party, but I don't see myself using them regularly.
Episode 6 – Deux Good-For-You Cookie Dough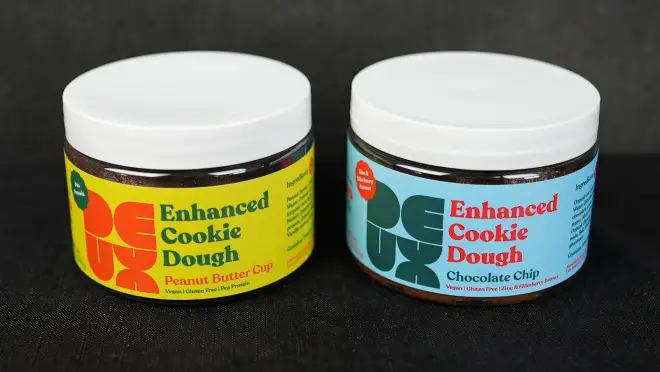 Claims & Features:
Enhanced cookie dough packed with vitamins and functional ingredients 

Supplements that target immune support, collagen support, mood, stress relief, and protein intake (like amino acids, pea protein, mushrooms, and elderberry)

No refined sugars, preservatives, and animal byproducts

Made with oats, nut butter (almond, cashew, peanut), flaxseed, and coconut sugar

Gluten-Free and Vegan, Non-GMO

Can eat Deux raw or baked
Cost: I bought it straight from their website. $15 Per Jar, 3 Jars – $45 Total . Free Shipping 
Deal: Did not get a deal. Robert went back in, and changed his mind in the end.
Our Take:
I love cookie dough, but I rarely eat it due to all of the sugar and other unhealthy ingredients, so this product struck me as a compelling "healthy" alternative. If you were to take a bite of one of these cookie doughs, you probably wouldn't realize that it is loaded with vitamins and other healthy ingredients because it doesn't "taste" like health food. Taste-wise, it is identical to brownie batter or cookie dough that I've had in the past. The fact that they are gluten-free and include no refined sugars is surprising. The only hint of this product's "healthy" ingredients comes with the pleasant aftertaste which is by no means unpleasant, but does not resemble other sugary treats. Although this is not something I'd consume every day, it is a better option to those of us who are looking to minimize dietary triggers.
Episode 7 – Zach & Zoe Sweet Bee Farm Honey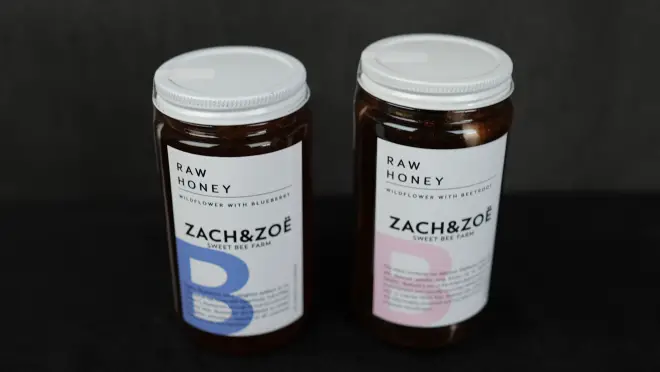 Claims & Features:
Take raw, unfiltered honey and blend it with superfoods like ginger, matcha, and beetroot.

No pesticides. No additives

Started as a way to solve their son, Zach's, allergy problems. He was in and out of the hospital. This resonates with us because Brandon struggles with allergy-induced asthma and seasonal allergies.

Bees are extremely important to pollinating all our foods. This is a company with a vision and a cause.
Notes: Mark really loved the blueberry.
Cost: I bought it straight from their website. $20-$24 a jar, $49.15 total. ($6.60 off). Beetroot – $20 ; Blueberry – $24.
Deal: Barbara gave them a deal. The family was all wearing yellow, Barbara was wearing yellow, she pointed out that they were perfect together.
Our Take:
I probably eat more honey than the average consumer, most often slathered on my peanut butter and honey sandwiches which I've eaten several times a week since childhood. Now, with this offering from Zach & Zoe's Sweet Bee Farm, we have honey without pesticides and additives. Brandon and I tried these and found them to be rich in flavor, with a subtle but pleasant hint of blueberry or beetroot. Although I didn't find there to be a significant difference in taste between the two flavors, I did find them to be tasty and rich. Since our review, I've probably eaten this honey 4 or 5 times and the added flavor really doesn't come through on a sandwich, but the texture and consistency are on point. Added flavor aside, this is indistinguishable from other high end honey brands I've tried when added to a sandwich. I have found the flavor to come through slightly in tea, however.
Episode 11 – Must Love Non-Dairy Ice Cream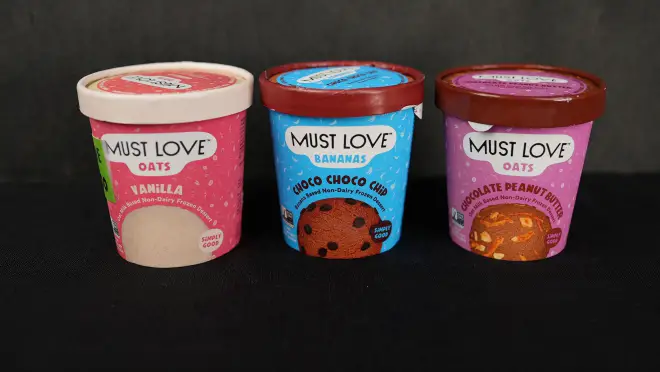 Claims & Features:
Plant-based, real ingredients, non-gmo.

Start with a base of bananas or oats and sweeten with fruit.

Also offered in chocolate bars and sell vegan sprinkles as well, though

I was unable to get

those for this review.
Cost: I bought these at Sprouts. Each Carton $4.99 (normally $5.99), for $14.97 total for the 3
Deal: Did not get a deal. Lori already had Frozen Farmers. Mark said their product didn't differentiate enough from other ice creams in the space. 
Our Take:
When I first saw Must Love non-dairy ice cream, it immediately reminded me of Frozen Farmer, which I tested out last year. This brand takes a base of bananas or oats and sweetens it with fruit to create a unique non-dairy ice cream. Brandon and I tried three flavors, two of them oat-based and one banana-based. The two oat flavors were vanilla and chocolate peanut butter, but the inclusion of coconut – which happens to be one of my favorite ingredients in the world – took away from the prominence of the intended flavors. Vanilla didn't taste like vanilla as much as vanilla coconut. That may be great to me, but not everyone likes coconut. When we tasted the Choco Choco Chip with its banana base, I felt like someone smacked me in the face with a giant banana. The banana taste was just completely overpowering, and not necessarily in a good way. I love bananas but using it as a base may not be ideal if you're looking to include other flavors. The tastes were great, but they didn't quite seem accurate to what was intended.
Episode 14 – Pinole Blue's Blue Corn Superfoods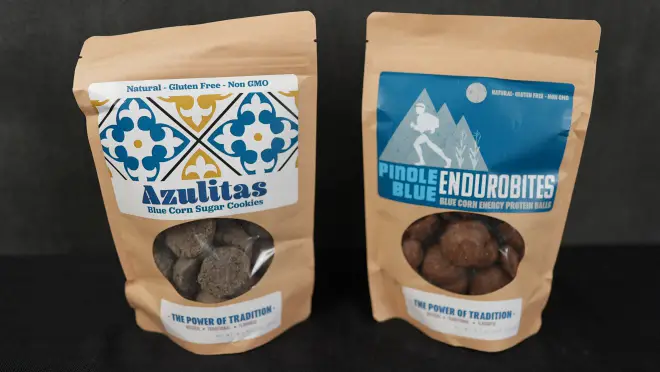 Claims & Features:
Pinole, roasted and ground corn mixture originating from the Tarahumara – self named Raramuri – tribe in Mexico, using an ancient method where they would stone-grind it using volcanic rock.

Organic blue corn. Vegan, non-GMO, gluten-free.

Antioxidant, complex-carbs, and has more protein than other corn varieties.

Predominantly used for tortillas, cookies, and drink mix.
Notes: Created by two students and their business professor. Very interesting team!
Cost: I bought it from their website. Cookies / Enduro-Bites are $16.50 Each. $34.50 total (2 packages and $1.50 shipping). Tortillas are $35 for 48 tortillas. Mix varies from $11.50 – $19.50
Deal: Did not get a deal.
Our Take:
This is one of those products that is simply hard to describe. What exactly is blue corn? What does it taste like? Are these just generic snacks made from a novelty ingredient? When we cracked open the sugar cookies, we assumed they would be hard – but they were actually quite soft and possess a unique flavor that is difficult to describe. It's almost like spearmint – although that's not an ingredient in these cookies. My mind searched the archives for a matching flavor, but came up empty. Then I wanted another. That's a good sign. Next, we tried the protein balls, and these tasted like a batch of no-bake peanut butter protein balls I made last year. They were also quite soft and didn't have the unusual flavor of its sugar cookie brethren. We both loved the sugar cookies, and that was the first thing we finished after our video was completed. The protein balls were good, but the sugar cookies were great. I will be ordering those again.
Episode 17 – Magic Dates Snack Bites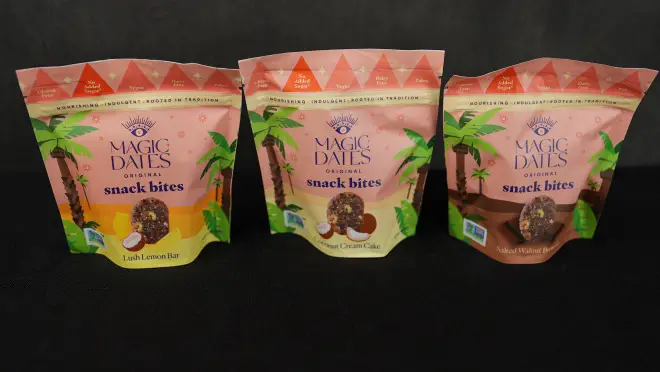 Claims & Features:
Dates combined with walnuts, cacao nibs, and coconut and are covered in 100% dark chocolate.

No added sugars, dairy-free, gluten-free, paleo, vegan.

One serving of magic dates equates to about 15-20 percent of daily recommended fiber.

8-9 Bites per bag, 100% dark chocolate line has 6 bites per bag.

The founder, Diana Jarrar, actually created this idea from early conversations with the creator of Coconut Girl, a company Mark invested in 2 seasons ago.
Notes – Robert and Lori loved them! A very rare harsh comment by Lori to consider "walking away" and going back to law school instead of pursuing this business. OUCH!
Cost: I bought it straight from their website. Bestsellers 4-Pack Sampler was $24.99 + free Shipping, averages out to $6.25 a bag. There is not an option currently to buy individual bags. 
Deal: Kevin was the only shark to give her an offer. She accepted the $150,000 offer for 33.3%! 
"70% of something big is better than 100% of something small." – Diana. Well said!!
Our Take:
Magic Dates are date snacks that are combined with a variety of flavors. As with most Shark Tank food items, they are free of many unhealthy ingredients and cater to those with dietary sensitivities. We tried three flavors, and they reminded us a bit of Lara Bars, which we both eat often. At first there's a strong date flavor, and then the other flavors come through over time. I like the small size of each bite, so you can just have a couple without loading up on calories. The high fiber content is also a big plus. My mom saw these sitting out and really liked them. In fact, I think they were all gone within a few days.
Episode 19 – The Dirty Cookie: Cookie Shot Glass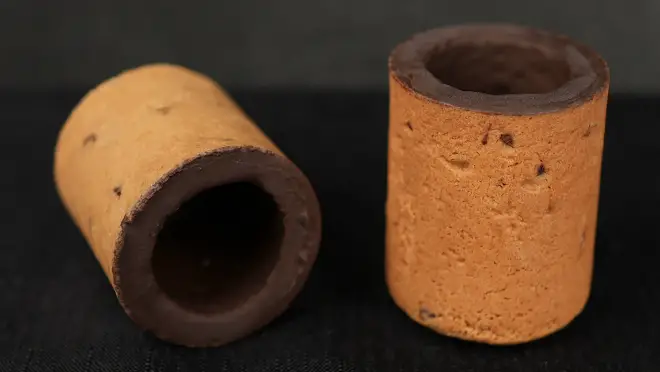 Claims & Features:
A new take on the edible gifting space.

Soft, edible shot cookies that you can fill with anything from milk, sweet liquor, to chocolate ice cream and whipped cream. 

DIY Decorating Kits / Gift Boxes that allow for customization of the shot glasses.

Kosher certified; vegan and gluten-free options available.

It's like the opposite of dunking Oreos into your milk.
Notes: – Every single shot glass is handmade
Cost: $34.99 for 6 Chocolate Chip Shot Glasses, $10.98 Shipping and Protections, $45.97 total. Other shot glass gift boxes and DIY kits range from $44.99 to $49.99. They also sell specialty beverage mix for $5.99. Halloween, Christmas, Birthdays, Easter
Deal: Robert gave her a deal.
Our Take:
Instead of dunking your cookies in your milk, now you can dunk your milk in your cookies with these "shot glasses" by The Dirty Cookie. It's difficult to discuss these without mentioning the cost, which is quite steep, but this is primarily a taste test so I won't linger on that too long. Brandon and I tried some milk in our Dirty Cookies, although you can put ice cream, Bailey's, or about anything in there. At first glance, they look like they would be as hard as a rock, but that was not the case. After our obligatory "shot" of oat milk, we bit into the Dirty Cookies and found them to be soft and flavorful. It just tastes like a regular, soft chocolate chip cookie. The directions state to warm them up in the microwave for a few seconds first, which we did not do. I believe this helps slightly melt the chocolate coating so it will mix with the contents. If the price is just too outrageous, you may consider making your own with a cookie shot glass mold like this. If these were cheaper, they might be fun for a child's birthday party, but at this cost it may be relegated to special occasions with a smaller head count.
Episode 22 – Pulp Pantry Veggie Chips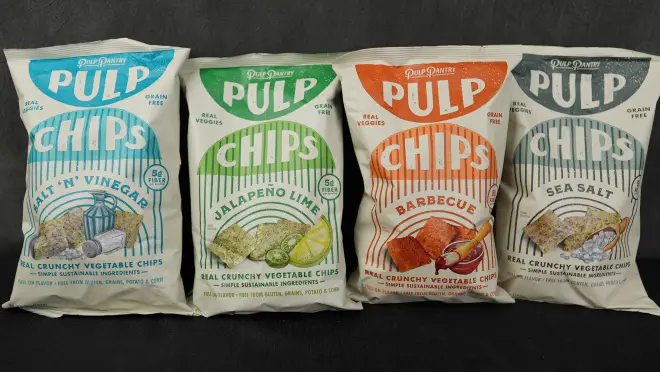 Claims & Features:
"A new way to snack with impact" They are all about sustainability and recycling pomace/pulp from fruits/veggies.

Use thousands of pounds of organic produce and turn them into edible chips.

Vegan, grain-free, gluten-free, no potato every serving is 5 grams of fiber.

They add cassava flour and ocaro flour which helps get the grain consistency.

Flavors: Salt 'n' Vinegar, Jalapeno Lime, Spicy Barbecue, and Sea Salt.
Cost: $35.00 + Free Shipping for the Shark Tank Variety Pack straight from their website. $4.99 to $5.49 if bought individually. ~ $4.38 each as part of the Shark Tank Variety Pack. 
Deal: Mark
Our Take:
These veggie chips are created from pulp that would typically be wasted. The brand is about sustainability and less waste, but for this review we're mostly interested in the taste. We had four flavors to choose from: Salt N Vinegar, Jalapeno Lime, Barbecue, and Sea Salt. My first impression was that I've had something along these lines with other veggie chips as far as consistency goes. I found the taste to be accurate, and grew on me over time. The first bite was "hmm, that's interesting" but that quickly lead to "Where are those veggie chips again?" I chose this as my favorite of all Season 13 food and drinks. After filming our video, two of our 8 bags have already been finished. My favorite is the Jalapeno Lime, but they are all accurate to the flavors they are meant to represent.
Episode 22 – Pricklee Cactus Water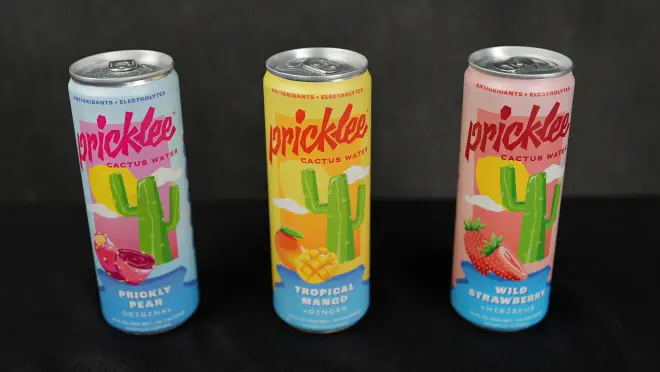 Claims & Features:
Next big coconut water, not many cactus water companies out there.

Half the sugar and half the calories, no carbonation, no stevia.

Prickly Pear Original with hints of watermelon and bubblegum, Strawberry Hibiscus, and Mango Ginger.
Notes 
Mark pointed out coconut water has other benefits like potassium and electrolytes. They countered with saying there are more antioxidants.

Should be more like "Tastes great, doesn't use water, low cost, low calorie, and low antioxidant."

Emma and Lori seemed into the idea but did not want to invest.
Cost: $29.71 + Free Shipping for 12 Ct. Variety Pack. Retail anywhere from $2.99-$3.49
They actually sent us a second 12 Ct. Variety Pack for free because one of our cans busted open in transit. That was an incredibly nice gesture and showed how strong their customer service is. We did not tell them this was for a review, so that just shows their customer service is top notch.
Deal: Barbara
Our Take:
Our experience with Shark Tank drinks has been hit-or-miss. When I saw the packaging of this product, I was reminding of an earlier Shark Tank product called Moment which I did not like. This cactus water, however, strikes a perfect blend between flavored water and overall flavor. I've had some pretty bland flavored water in my day, and this is not bland. The original Prickly Pear was a tad watery, but still quite drinkable. The other two were bolder in flavor, but not too sweet or overbearing. I could tell that Brandon really liked these and he named them as his top pick of this season. Since our video, he has been pounding these like Rocky on a side of beef. I've had about one per day myself, so we may have to order more of these soon.
Episode 24 – The Transformation Factory Sea Moss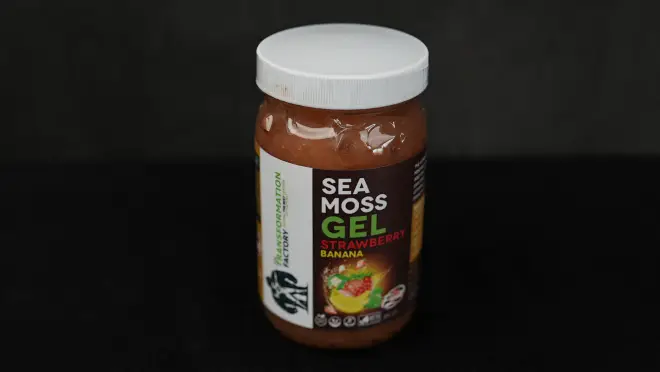 Claims & Features:
When the founder Alexiou Gibson was 21, he weighed 500 pounds. Went through a transformation of eating healthier and found a substance that has 92 of the minerals we need to incorporate in our bodies.

"Become the best version of yourself."

It's vegan, paleo, and keto-friendly.

Only sweetener in Sea Moss is organic agave syrup.
Notes – Having Kevin Hart as a shark was really entertaining, and he brings a lot to the show.
Cost – $35.99 + $9.99 Shipping For ONE JAR – $45.98 Total
Deal: Mark Cuban and Kevin Hart went in together on this. Kevin Hart originally went half with Barbara, but he swapped partners when the offer was changed.
Our Take:
Not all health foods are designed with taste in mind, and I can only assume that is the case here. This sea moss gel has a laundry list of benefits, although I don't think taste is one of them. I have no doubt that it deserves its status as a superfood, but this is a taste test and we have to be honest about our opinions. Neither of us liked the taste, the smell, or the consistency. Sure, it may turn you into Superman, but that doesn't mean it will enthrall your taste buds along the way. I have a bad feeling that this will sit untouched in my fridge until it goes bad, unless I can find a use for it that will mask the taste. My heart and mind love this one, but my mouth and nose don't.
Updated November 2022