Today I'm taking a look at an interesting product called the ChargeCard. At first glance, it looks like your everyday credit card, but it's actually a portable charger for your devices. It was featured on Shark Tank and today I'm putting it to the test.
Sponsored Links
Where to Purchase
I picked up ChargeCard from Amazon for $59.95, although I've seen the price as low as $54. As of this writing, it holds a 4.0-star rating on Amazon. You can also purchase directly from the official website.
ChargeCard Review
Unboxing and First Impressions
As with every review, I started my evaluation by a simple unboxing to see what's inside. Right out of the box, it's visually appealing and bears a striking resemblance to an American Express Platinum card. The manufacturers claim it has a 2300 mAh battery, USB-C, micro-USB, and Lightning connectors, along with a cable to charge the unit itself. You can easily swap cables, and it still maintains its card-like shape. The four indicator lights show your charge level, and you can also check it by pressing the sole button on the device.
It comes in both wired and wireless models and is available in three colors. People who liked it on Amazon have praised its sleek look and its compact design. However, there were complaints about its charging speed and how much charge it actually provides.
Is it Really the Size of a Credit Card?
The main selling point is that it's the size of a credit card. So I took out a Visa card and an American Express card to compare. Design-wise, it looks like an American Express card, but when it comes to size, it's about an eighth of an inch taller. Thickness-wise, it's about as thick as six credit cards stacked together.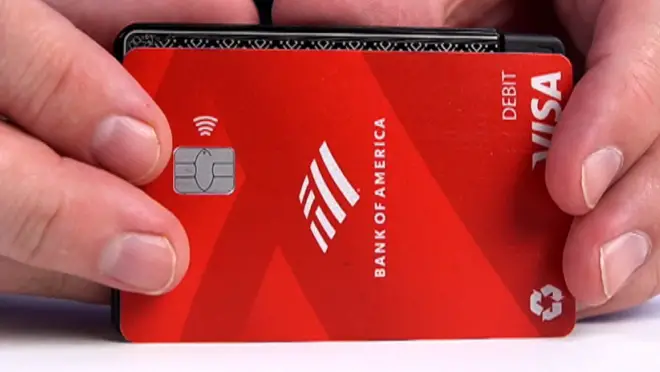 Wallet Compatibility: Will it Fit?
I tested it on two different wallets, a Slim Mint Wallet (review) and my old, more spacious Allett wallet. Unfortunately, it didn't fit in either wallet's card slots, thanks to that little bit of extra width and thickness. If it won't fit in your wallet, the ChargeCard may require a dedicated pocket or space, which kind of defeats the purpose of its credit card-like design.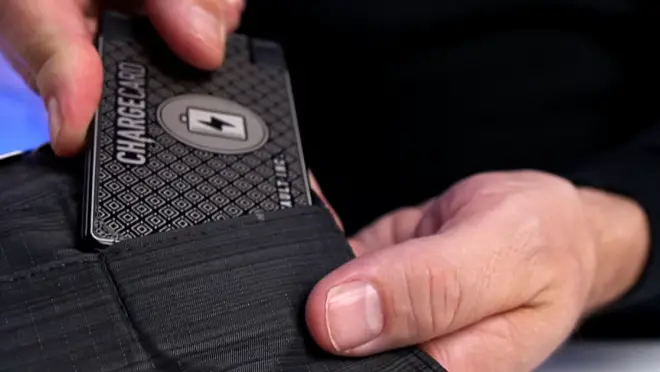 Charging Efficiency: What's the Real Deal?
Next, I wanted to see how well it charged my iPhone 14 Pro Max, which I had depleted down to 15% battery life. After plugging it in, it took about 79 minutes to get it to 46%, which is an increase of 31%. In contrast, a regular 20,000 mAh power bank took only 45 minutes to provide the same 31% boost in charge – although it isn't nearly as compact.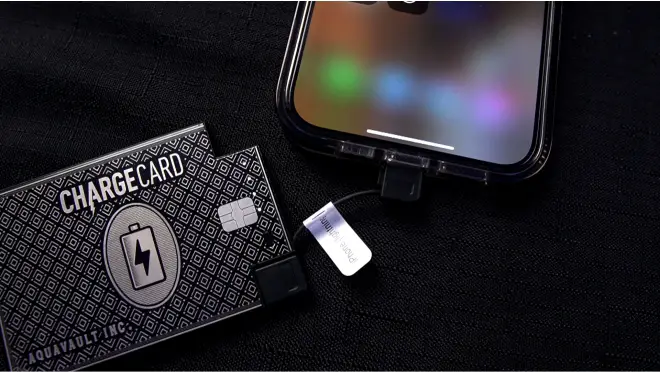 The Sit Test
I'm in the school of people who keeps my wallet in back pocket, meaning I spend a lot of time sitting on my wallet, so I wanted to conduct a 'sit test.' I slid the ChargeCard into the cash section of my Allett wallet and sat down with it in my back pocket. It wasn't too uncomfortable, though it did make my wallet feel a bit thicker. In comparison, the Slim Mint Wallet felt significantly thicker (which is ironic, due to its name).
Final Thoughts
The Amazon listing for the ChargeCard does show that it's slightly taller than a normal credit card. So, if you're planning on sliding this into your wallet, measure your card slots carefully.
In terms of capacity, most modern phones range from 3,000 to 5,000 mAh so I woulnd't expect a full charge from this device. At a price range of $55-$60, it may seem a bit steep for what it offers capacity-wise, however, the compact size is hard to beat and could still be worth it to some people.
Have you tried the ChargeCard or something similar? Tell me what you think in the comments below.