Today I'm taking a look at the Slim Mint Wallet, an As Seen on TV product with some big claims. You've probably seen the commercials boasting about its RFID-blocking capabilities, push-button design, and sleek profile. But does it live up to the advertising? I spent a week with this wallet to find out.
Sponsored Links
Where To Buy
You can pick up the Slim Mint Wallet direct from Bulbhead or on Amazon. You should expect to pay around $20-$25. When it comes to Amazon reviews, tread carefully. A good chunk of the initial reviews are tied to free products, so they might not be the most reliable or unbiased.
First Impressions and Unboxing
I bought the Slim Mint Wallet from the BulbHead website for about $20. It arrived with in retail packaging with a minimal instruction manual. At first glance, the outside of the wallet seemed to be made of durable materials. The RFID-blocking claim was prominently featured, although it's a feature I personally find a bit overrated, which I'll delve into later.
The Slim Mint Wallet promises quick access to your cards and cash with just a push of a button. It's divided into several compartments, so you have a place for your ID, credit cards, and even business cards. There's also a built-in money clip for your bills.
Capacity Test
The commercial makes it look like this wallet can hold a mountain of items, so I wanted to put that to the test. I attempted to load it with seven paper business cards, six plastic cards, an ID, and six bills – which is shown in the advertising. The first thing I noticed was the middle section, made of what felt like cheap plastic, did not impress me. It's this middle piece that the Slim Mint gets its name from, and it's disappointing.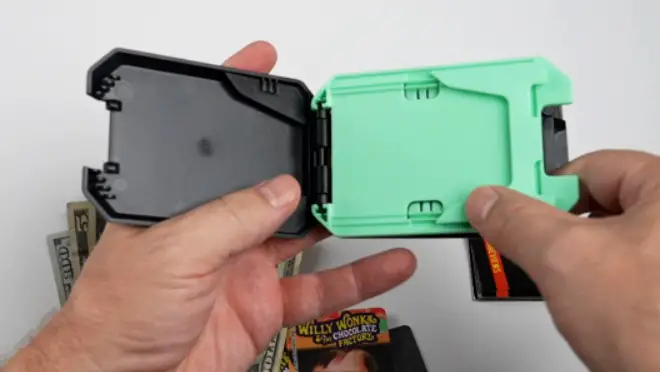 I managed to fit in the six plastic cards and two business cards, but the wallet was already reaching its limit. The clip held my six bills snugly, along with a small key (also shown in the ads). Getting everything to fit was a task, and even then, the clasp was reluctant to snap shut. After removing a few business cards, the wallet did snap shut.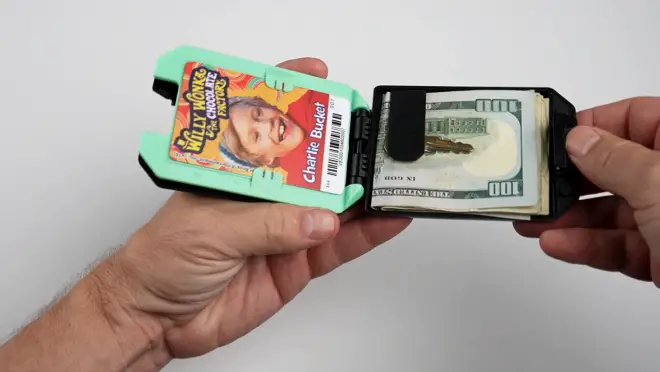 Real-World Use and Comfort
For a week, I swapped my usual wallet for the Slim Mint to see how practical it really is. What immediately struck me was its thickness. Unlike my traditional wallet that expands and contracts depending on its contents, the Slim Mint remained the same thickness regardless of what I put inside. That is offset somewhat by its small dimensions, which makes it especially useful for those who keep their wallets in the front pockets. Those of us who keep our wallets in our back pockets have to contend with the thicker size. I did find, however, that its small dimensions allowed it to move around sufficiently in my back pocket so that the thickness never became much of an issue for me.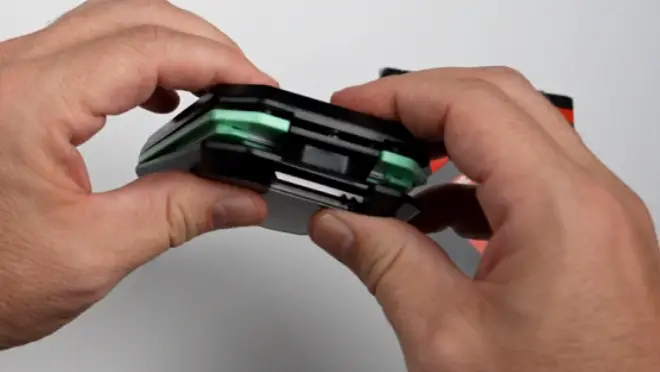 I mostly carry my wallet in my back pocket, so comfort is a key concern for me. While the Slim Mint did fare better in softer seats like in my car, I wouldn't say it was particularly comfortable on harder surfaces. Your mileage may vary here.
Functionality and Durability
Accessing my cards was pretty straightforward, except for a minor issue. Sometimes when pulling the wallet out of my pocket, it was a bit of a gamble to find which side the opening button was on. This wasn't a deal-breaker but certainly a point worth mentioning.
Four days into using it, I started experiencing issues with the clasp. It just didn't want to snap shut properly, even though I only had a few items in it. This makes me question the wallet's long-term durability.
The Verdict
After a week of use, I have mixed feelings about the Slim Mint Wallet. While I like its layout and how it organizes my cards and cash, there are glaring flaws that I can't ignore. The clasp issue is particularly concerning because it directly impacts the wallet's primary function: to securely hold my belongings.
I also need to mention the RFID blocking feature—or, rather, the unnecessary hype around it. If you're concerned about RFID skimming, a cheap strip of aluminum foil placed in any wallet can convert it into an RFID-safe one. However, the feature is not as crucial as it's often made out to be. I will defer to articles by Walletopia and Loss Prevention Magazine for more in-depth discussions on this topic.
So, would I recommend the Slim Mint Wallet? It has its merits, but the cons, especially the unreliable clasp, make it hard to fully endorse. If you're looking for a unique layout and don't mind the clasp issue, it might be worth a try. Otherwise, there are plenty of other wallets out there that are more deserving of your hard-earned cash.
If you've used the Slim Mint Wallet, tell me what you think in the comments below!
Note: Bailey, my golden retriever, also wasn't particularly impressed by the Slim Mint Wallet. But then again, what does she know about wallets?