FastBall is a magnetic smartphone or tablet mount that adheres to your dashboard and swivels 360 degrees. Does it really work? Here is my FastBall review.
Sponsored Links
About FastBall
FastBall is a swiveling media mount which can be used to get a hand-free view of your phone at any angle. The official product website is buyfastball.com, which was registered in January 2018. The screenshot below shows how the product website looked in November 2018.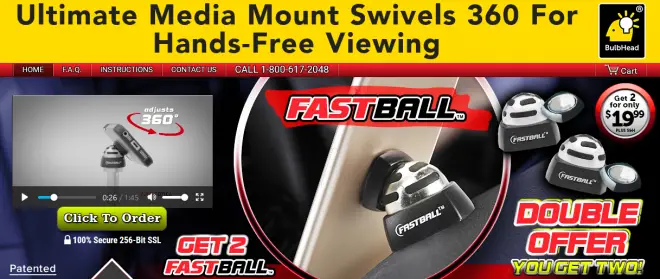 Claims & Features
Mounts cellphone or tablet on a dashboard
Magnetic steel ball and socket grip will firmly hold the device
Ability to rotate 360 degrees to view hands-free
Adhesive strip attaches mount to almost any surface
Cost
On the official website, there is a mandatory double offer when ordering FastBall. The cost is $19.99 + $7.99 shipping for a total of $27.98. There is an optional upgrade which includes two deluxe titanium coated FastBalls and six docking units. The price of the deluxe double offer is $29.98 + $9.99 for a total of $39.97. I picked up Fastball at a local Walmart for $9.88 in November 2018.
FastBall Review
When I first saw the name "FastBall" I immediately remembered the 90s band by the same name, who I saw in concert years ago. But alas, this Fastball has nothing to do with the band, but it is advertised as "Possibly the World's Best Phone Mount." I had only recently heard of Fastball when running across it at a local Walmart in November 2018, so I picked it up and tried it out.
To use Fastball, you attach the ball mount base to a hard non-textured surface, using the included 3M tape. The inability to attach to textured surfaces is a bit of a "con" because this excludes many car dashes and walls. I did, however, find a spot inside one of my cars with a relatively flat and smooth surface where I could try this out.
The other half of Fastball is a magnetic socket that attaches to the back of your phone, which is also attached using included adhesives. Despite the commercial referring to the socket as "ultra-thin," I found its thickness to be the biggest "con" of the entire product. In fact, it's about as thick as my iPhone 7 plus. I would suggest putting this on a case rather than the phone itself. An extra set of adhesives is included should you want to move Fastball later.
After attaching both pieces, you must then wait 24 hours for the adhesive to cure before actually using the device.
Sponsored Links
Once I completed the initial setup and waited 24 hours, I did find that Fastball performed better than other phone mounts I've used in the past. While driving, it did not move, shake, bounce, or fall off. It was easy to rotate and easy to remove. After adjusting it, the phone stayed pretty securely in place until moved or removed from the base. For another test, I placed the phone on the mount and left it there overnight to see if it would home over time. The next day, the phone was still firmly in place, 18 hours after being placed there.
One point that the commercial doesn't make is that, because the socket is magnetic, you can attach your phone to any metallic surface without the need for the base.
In conclusion, my cons for Fastball are the thickness of the magnetic socket, and the fact that moving it requires new adhesive and a 24-hour curing time. The pros are that it holds your phone quite securely in place and seems unaffected by bumps or being held in place for long periods of time. While I don't know if I would go so far as to say it's the world BEST phone mount, it does work quite well, especially if you don't plan to move the base too often.
Be sure to watch my complete Fastball review below.
Your FastBall Reviews
Have you used FastBall or something like it? Let me know what you think in the comments below!