Fix Tape is a sturdy tape that produces a watertight seal and can be used on almost any surface. Does it really work? Here is my Fix Tape review.
Sponsored Links
About Fix Tape
Fix Tape is a durable repair tape that sticks to any surface and can create a waterproof seal for stopping leaks. The official product website is buyfixtape.com, which was registered in July 2017. The screenshot below shows how the product website looked in October 2017.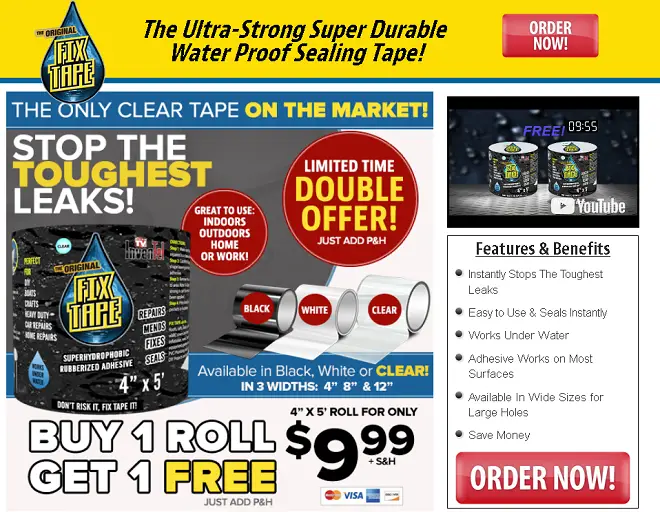 Claims & Features
Immediately blocks leaks
Simple to use
Use under water
Sticks to most surfaces
Differing widths available
Conserve cash on repairs
Cost
Fix Tape comes in a variety of widths. 4″ x 5′ for $9.99 + $5.99 shipping for a total of $15.98. 8″ x 5′ for $14.99 + $6.99 shipping for a total of $21.98.  12″ x 10′ for $29.99 + $7.99 for a total of $37.98. There are also three color options: black, white, or clear. For each order there is an optional offer to add a bonus roll for an additional shipping fee. At the time of this writing, Fix Tape is not available in stores.
Fix Tape Review
A few years ago, a product called FiberFix arrived on the scene and ushered in the new era of As Seen on TV marketing for tape. It was featured on Shark Tank as a next-gen tape that could outperform what is typically available to consumers. Fast forward a couple of years later, and the As Seen on TV industry jumped on the bandwagon when Flex Tape commercials featured Phil Swift sawing a boat in half, then taping it back together.
Sponsored Links
With the popularity of these products, a second batch of As Seen on TV tapes has hit the airwaves, with such offerings as EZ Sealer, Tough Tape, and now Fix Tape. Oddly, the commercial repeatedly refers to it as The Original Fix Tape, as if it has been around for a long time, but I can find no evidence that this product existed before 2017. I shouldn't be too surprised, as I've heard the same wording used for other products. It's an interesting tactic to refer to a product as the original, when any product, even a new product, could be called that.
The advertised supply of Fix Tape comes in a 4-inch wide by 5-foot long roll. They do have other sizes, up to 12″ x 10′ for $38 when you include shipping.
To use Fix Tape, you simply pull away the amount needed, cut to size, peel off the backing, and place it on the desired location. You'll probably find it to be a strong tape that can even outperform standard duct tape. I would take the waterproof claims with a grain of salt, however, as my experience with these kinds of tapes has been somewhat hit or miss. In cases of leaks such as the side of an above-ground pool, applying some Fix Tape to both sides would likely stop all or most of the leak. Leaks from something like a PVC pipe may more problematic. I think you could probably slow a PVC leak, but you may not always be able to completely seal it. That will depend on the size and shape of the hole you are trying to patch.
When comparing the advertising for Flex Tape and Fix Tape, they are similar in their demonstrations of how the products work. Both are said to work underwater, both can be cut to size, and both are advertised as super-strong. The only discernible difference between Fix Tape and Flex Tape that I can see is that Fix Tape is clear, while Flex Tape comes in black or white. Otherwise, I don't know if consumers would be able to tell them apart based on performance.
Flex Tape has the distinct advantage of being widely available in stores such as Walmart, so you could drive to a nearby location and have Flex Tape in your hand today. With Fix Tape, it is currently only available online, so you will have to wait for it to ship and pay for shipping costs. If you are set on getting a clear tape, and you don't mind waiting, then Fix Tape is probably an ideal fit for you. If you're just looking for super strong tape, there are other options available locally.
Alternatives
You can find Flex Tape in stores and online for less than Fix Tape + shipping. I'm personally a fan of Gorilla Tape, which is tough, cheap, highly rated, and readily available locally.
Below is my video review of Flex Tape.
Television Commercial
Your Fix Tape Reviews
Have you used Fix Tape or something like it? Leave a comment below and a star rating above to let us know your thoughts.