RepelWell is a water-based formula that protects against stains. Does it really work? Here is my Repel Well review.
Sponsored Links
About Repel Well
RepelWell is a spray liquid that forms a transparent barrier that shields a variety of surfaces from damage and staining. The official product website is repelwell.com, which was registered in August 2012. The screenshot below shows how the product website looked in October 2017.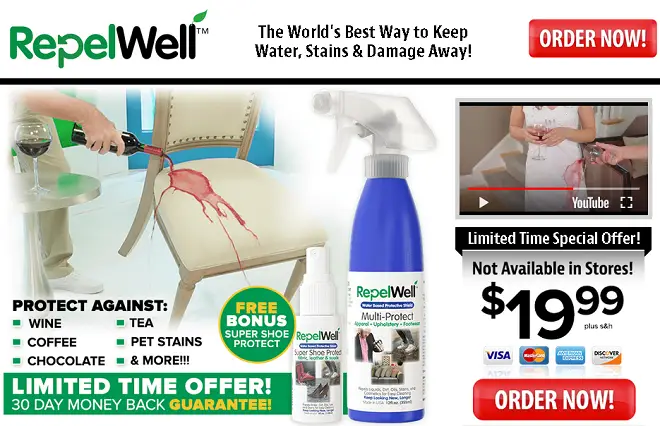 Claims & Features
Prevents stains from many substances
Use on many surfaces (furniture, clothing, car upholstery, etc.)
Will not alter the appearance or texture of fabrics
Not flammable and environmentally safe
Continues protecting through multiple washes
Cost
A 12 oz. spray bottle of RepelWell costs $19.99 + $7.99 P&H for a total of $27.98. It comes with a 4 oz. bottle of Super Shoe Protector. At the time of this writing, RepelWell is not available in stores, but you can find it on Amazon, where I found a 24oz bottle for $29.99, and no additional shipping costs.
RepelWell Review
RepelWell (which some consumers write as "Repel Well") is a spray that allows you to completely repel water from fabrics and other items. If you've seen the commercials for RepelWell, you have no doubt been impressed by the astonishing results. Wine dumped on a chair, chocolate syrup poured over a shoe, or juice poured on a shirt – all no match for RepelWell.
To apply RepelWell, you simply spray the superhydrophobic coating onto your desired surface and let it dry. It will create a barrier that repels moisture, essentially waterproofing the surface. Overall, it does an impressive job of living up to the advertising. Most water-based liquids will seem to bounce right off of the surface. The possibilities are seemingly endless, as you can apply it to almost anything that will be exposed to liquids, from shirts to counters, to toilet seats. Note that oil-based liquids will not be repelled.
The only instructions I found were on the bottle, as nothing was included in my package from Amazon. Because of a heading for vinyl fabrics, I wasn't clear if all fabrics needed to cure for 24 hours, or just vinyl. I found more info online that indicated most fabrics should cure for 24 hours. Regardless, I did a few tests without curing that long, and then with curing for over 48 hours. As expected, the non-curing tests were a disaster.
Sponsored Links
I then tried RepelWell on a white cotton shirt, a pillow case, a suede pillow, and two different pairs of shoes (absorbent and non-absorbent). It seems that water-based items such as water or wine were repelled quite easily, but thicker liquids like mustard and ketchup were less likely to be repelled. I would say the best results I had were the absorbent shoes and when I poured water over the treated pillowcase.
In short, how well RepelWell works will be determined by the combination of liquid type and fabric type. In the case of the absorbent shoes, results were pretty dramatic.
While it is possible to achieve results shown in the advertising, there are a few details you may want to consider first. This is only a temporary solution, and you should only expect RepelWell to last anywhere from about two to six months before it needs to be re-applied. This will vary based on how much the treated item is used. Another factor to consider is that there is potential for RepelWell to stain. I would test-treat a small inconspicuous area of any item before completely covering it with RepelWell. Some materials such as suede could be permanently altered by applying something like this. None of the fabrics I tested seemed to be negatively affected by RepelWell. Once dried, you couldn't tell there was any treatment on the fabrics at all.
RepelWell has a very slight scent when sprayed, although that scent disappeared after it dried. I would describe it as a mildly sweet fragrance.
Even though RepelWell is currently engaged in an advertising campaign in 2017, it has been around for several years. You can still find a few other RepelWell products on Amazon, such as Upholstery Protect, Auto Interior Protect, and Shoe Protect. If you have one of those purposes specifically in mind, you may want to pick up one of those in lieu of the more generalized Multi Protect that is advertised on television.
I think most users will feel that it works in most cases but there will be those who either try it on a surface that is not a good fit, or will find that it doesn't repel all types of liquids. As noted earlier, this product doesn't repel oil-based liquids, and some consumers may discover that fact the hard way.
Alternatives
Perhaps the most visible product in this category is NeverWet, which produces a full line of similar spray products, such as Boot & Shoe, Outdoor Fabric, Rain Repellent, and more.
Television Commercial
Your RepelWell Reviews
Have you used RepelWell or something like it? Leave a comment below and a star rating above to let us know your thoughts.
Updated December 2017.