35 Below Socks are socks designed to keep your feet warm and dry. Do they work as advertised? Read my 35 Below Socks review.
Sponsored Links
About 35 Below Socks
35 Below Socks are designed with aerospace fabric technology that reflects heat and reduces moisture.
What They Claim
Reflects body heat
Minimizes perspiration
Made of aluminized threads
Thick and durable
Lightweight and flexible
Maintains a constant temperature
Machine washable and dryer safe
Available in black or white
Two sizes: Small and large
35 Below Socks Cost
When I first reviewed this product in early 2016, the price was $10.00 + $5.99 S&H, can opt out of bonus pair for additional $5.99 S&H. By Fall September 2016, the pricing structure changed on the official website. That offer is $19.99 for 3 pairs of socks, with free shipping.
You can also find 35 Below Socks in stores – typically in the As Seen on TV section – for about $15 for two pair, as shown in the photo below.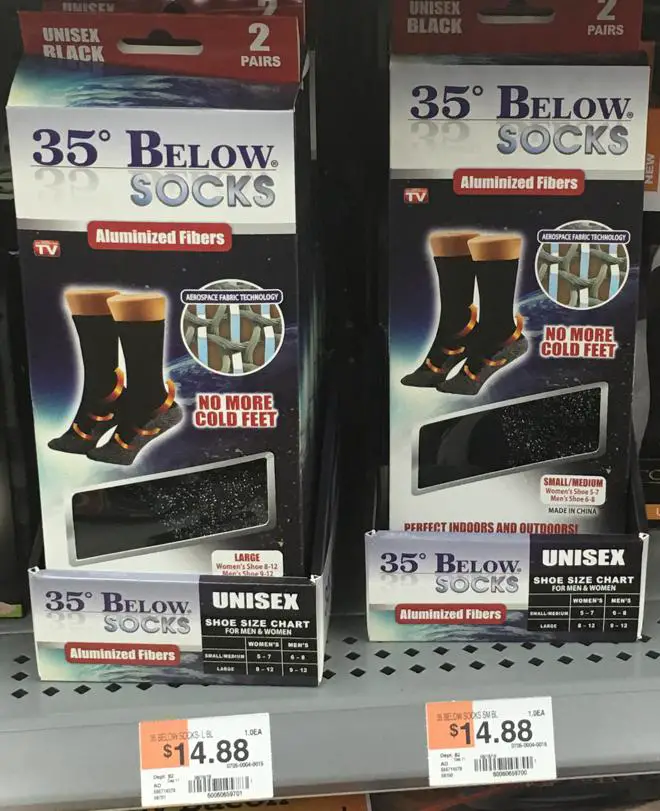 Reviews
35 Below Socks appeared just as Winter 2015-2016 arrived. These next-gen socks are said to keep your feet warmer than standard socks due to "Aerospace Fabric Technology." This is achieved by "aluminized threads woven into a knit fabric" that is still soft enough to touch and keeps feet warm by reflecting your body heat.
Sponsored Links
These are moderately comfortable crew socks which feel thinner than regular athletic socks. The white color was originally described as "silver" and looks more like an off-white when worn, while the black pair has an almost dark gray appearance with a silvery sole and toe. Despite being quite thin, they seem to perform about the same as standard socks. While this could be construed as a negative, consider that when used as an undersock, they will not add as much bulk as wearing a second standard sock. For this reason, 35 Below Socks are probably better used as an effective-yet-thin undersock rather than as a standalone thermal sock.
I have washed 35 Below Socks several times, and – although I worried the aluminized fibers might fray – they have thus far held up under regular wash and dry cycles.
Overall, 35 Below Socks should generally work as advertised, and I feel that the majority of consumers will enjoy their purchase, particularly those who wear it with another sock. It has returned for renewed advertising in late 2016 and you may see it displayed in stores in the As Seen on TV section.
Video Review
Below is my hands-on review of 35 Below Socks. I put them to the test for its ability to retain heat and repel moisture.
The product website in early 2016 was 35belowsocks.com, which was registered in November 2015. By Fall 2016, the official site now resides at 35below.com. The screen captures below shows the official website in December 2015, and in September 2016, with updated pricing.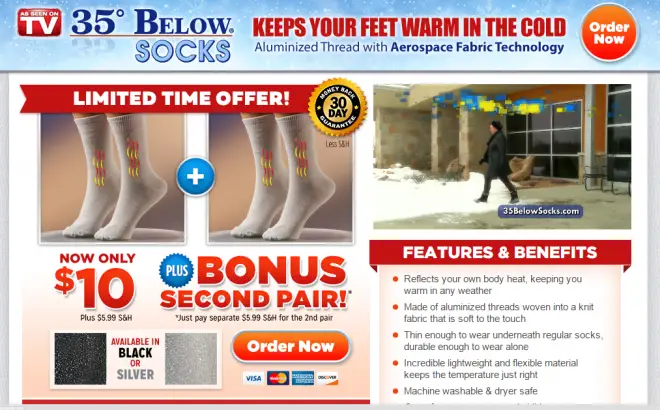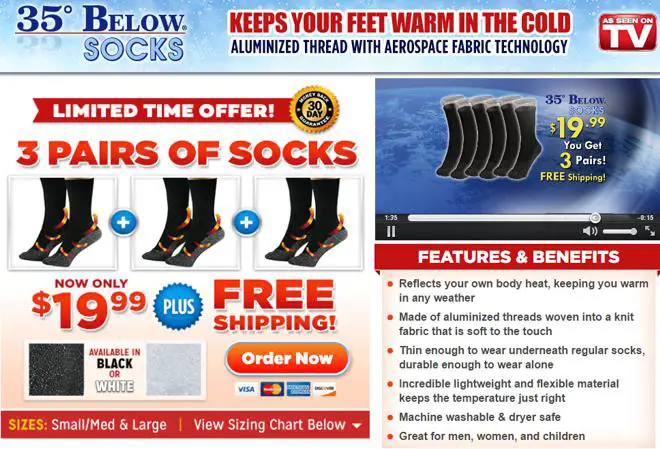 Alternatives
You can find other feet warming socks online and in stores. A popular product is "Heat Holders Thermal Socks" which cost about $10 and hold about a 4.3 star rating among consumers. Although there are other high-end socks to choose from, 35 Below Socks are still a fine choice when used as an undersock.
Your 35 Below Socks Reviews
Let me know what you think of 35 Below Socks by leaving a comment below and a star rating above.
Updated November 12, 2016.