Metal Garden Hose is a kink-proof, puncture proof hose made of industrial stainless steel. Does it actually work? Read my Metal Garden Hose review.
Sponsored Links
About Metal Garden Hose
Metal Garden Hose is advertised as the "world's toughest garden hose." The official product website is metalgardenhose.com, which was registered in June 2016. The screen shot below was taken of the product website in January 2017.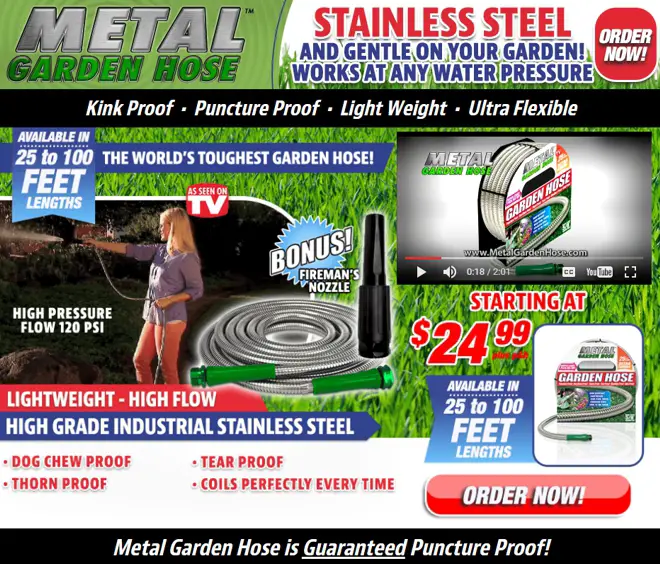 Claims & Features
Lightweight
Made of high-grade industrial stainless steel
Available in 25, 50, 75 and 100 foot lengths
Kink resistant
Cool to the touch
UV and corrosion resistant
Cost
You can get Metal Garden Hose for the following prices:
25 foot hose: $24.99 + $6.99 P&H = $31.98
50 foot hose: $39.99 + $7.99 P&H = $47.98
75 foot hose: $59.99 + $8.99 P&H = $68.98
100 foot hose: $79.99 + $9.99 P&H = $89.98
Metal Garden Hose Review
The last few years have seen a spate of As Seen on TV hoses, all which claim to be stronger than the rest, and most of which have fallen short of consumer expectations. Even with improved fittings and brass connectors, these advertised hoses never seem to live up to the advertising hype. Now with Metal Garden Hose, we have a hose actually made of stainless steel and that can supposedly handle any water pressure you throw at it.
Metal Garden Hose resembles a long metal washer hose that has been adapted to home use. Due to its steel construction, you should be able to push any household water pressure through Metal Garden Hose without worry that it will burst. That is certainly an improvement over many of the retractable hoses on the market.
Although Metal Garden Hose is built to withstand the elements, that doesn't mean it is immune to leaks, as couplings and gaskets can all fail in even the strongest of hoses. That said, you should still expect it to outperform standard and retractable hoses. I think most consumers will find Metal Garden Hose to be sturdy and durable.
Sponsored Links
In my tests of a 50-foot Metal Garden Hose, I ran over it with a car, tied it in a knot, ran it across sharp surfaces, and even pulled it over a cactus, and no leaks were sprung. The pressure was acceptable, but nothing extraordinary.
Overall, I think Metal Garden Hose will find a satisfied customer base, and that reviews will be generally positive once feedback begins to appear online. It passed all of the tests I threw at it, so I have no major complaints. The only tests I have not been able to perform are long-term durability and how accurate their cool-to-touch claims are. This summer I will put their claims that it stays cool to touch in the Las Vegas heat and update this space.
The 50-foot hose weighs exactly 5 pounds, while the 25 foot version is advertised to be under 3 pounds.
Keep in mind that this is a new item, which means pricing could still change, especially as Spring approaches and (we assume) an increased advertising campaign begins. New As Seen on TV products tend to ship more slowly than established products, so you may want to keep that in mind when ordering. Now that it's available in stores, you may want to look for it locally to avoid shipping charges and delays.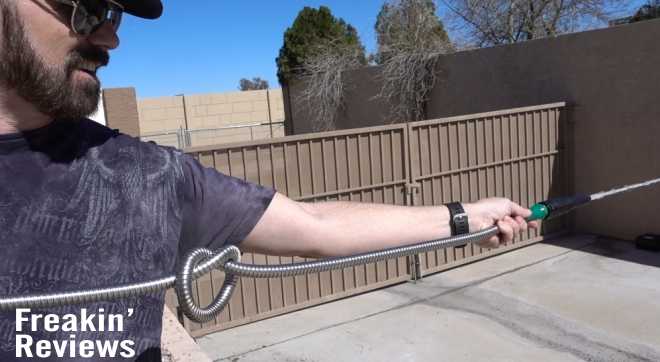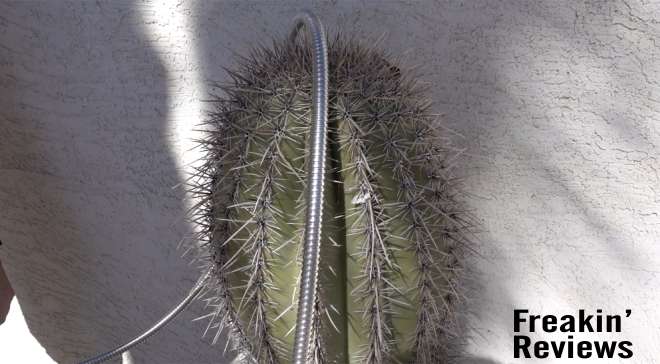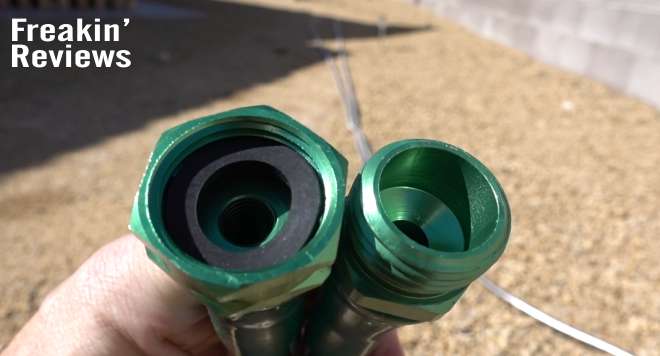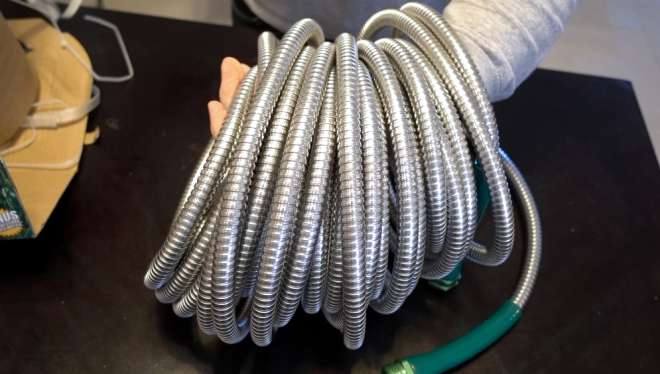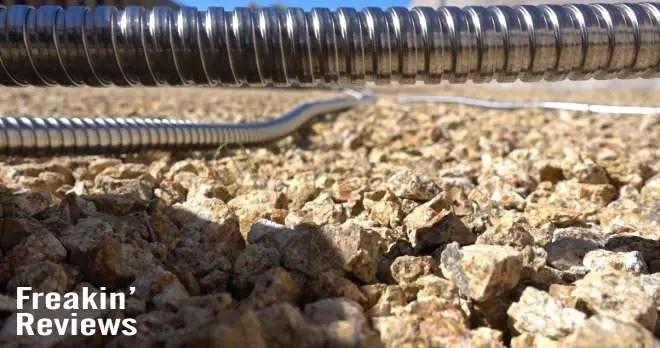 Alternatives
You may be surprised to find that there are other steel garden hoses on the market. Armadillo Hose Products, for example, has been making galvanized steel garden hoses for over a decade.
Video Reviews
Below is my first-look hands-on review of Metal Garden Hose and below that you can see my review of the similar Hercules Hose.
Television Commercial
Your Metal Garden Hose Reviews
Have you used Metal Garden Hose? Tell me what you think in the comments below.
You may be interested in my blog post: The 2017 "As Seen on TV" Hose Roundup.