Today I'm sharing my experience with the trendy Icee Slushie Maker that has recently resurfaced on social media. Is it worth the $130 investment, and why are Amazon ratings so low? That's what I wanted to find out in my review.
Sponsored Links
Where to Purchase
Below are the items I used for this review:
Icee Slushie Maker Review
Unboxing & First Impressions
I decided to dispense with the standard unboxing due to its massive size. While it's a fascinating contraption, I was slightly disappointed to find that the build quality feels similar to a cheap $30 blender. But does it deliver on performance? Let's see.
This slushie maker consists of various components, including a lid with two receptacles, an inlet cover that doubles as a measuring cup, a canister, canister cage, and a motorized base. The assembly was straightforward, but I heeded the warnings from Amazon users to follow the instructions diligently, as missteps could spell disaster.
For those interested, the packaging states that the voltage is 120V 60Hz and 20 Watts. This product is officially licensed to Fizz Creations.
Preparation & Use
The first thing that needs to be done is to prepare the syrup. I picked up a bottle of Icee brand syrup for $10 which appears to yield about 3 batches. You are to mix about 6oz of the syrup with about 28 oz of water and chill in the fridge overnight (the exact proportions differed slightly between the syrup bottle and the Icee maker instructions). I prepared a batch of the Blue Raspberry, along with a batch using pineapple syrup from my shaved ice maker. The next day, I placed the thin metal canister in the freezer about an hour before use, as called for in the instructions.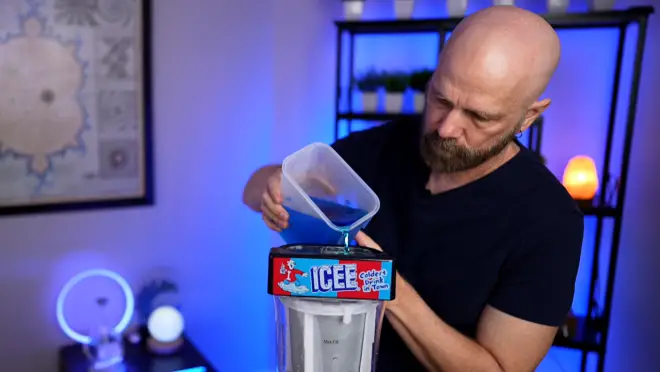 After replacing the canister, it was time to get started. Making Icees is a 14-step process, which takes up to about 30 minutes total time, including 15-25 minutes of mixing (time will vary due to numerous variables including ambient room temperature). It was when I turned the machine on that I realized how deafeningly loud it was. I followed the instructions precisely, adding ice, water, and coarse salt as the level in the canister dropped. It is definitely something you can't just turn on and let run on its own.
Results & Taste Test
Initially, my first batch of Blue Raspberry came out watery. However, within a few more minutes of mixing, it thickened to near perfection. The final result looked great, but the taste? Not so much. The texture was spot-on, but the syrup I used was not to my liking. It tasted bad, and the process was cumbersome, requiring continuous attention. Amazon comments for this syrup seemed to generally reflect my opinion.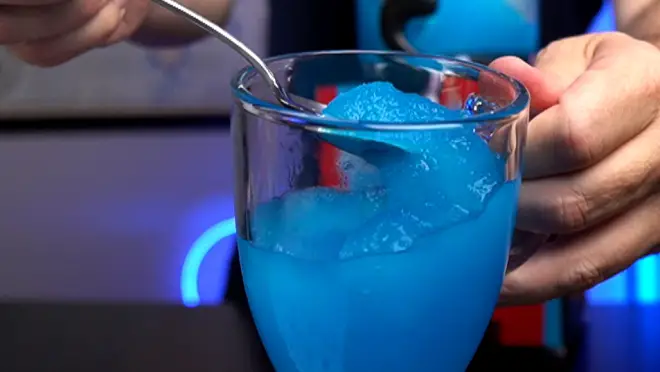 My second attempt using the shaved ice pineapple syrup was much better! The consistency and taste were just right, but it also took around 30 minutes to get there. At this point, it was time to consider some of the pros and cons for this unit.
Pros
Authentic icy texture
DIY satisfaction for enthusiasts
Possibly fun for some people
Cons:
$130 price tag
Overpriced syrup
Time-consuming preparation and process
Requires continuous oversight to use
Loud operation
Conclusion
As much as I love the concept, the Icee Slushie Maker falls short in many aspects, which is reflected by its poor rating on Amazon. Though I managed to achieve the desired icy consistency, the hurdles I encountered along the way were significant. The time, cost, effort, and subpar syrup make this gadget hard to recommend. It seems to me that driving to the gas station might be a more satisfying option. However, for DIY enthusiasts who don't mind the investment, this could be a fun project.
If you've tried this Icee Slushie Maker or have thoughts on my experience, please share them in the comments below.