Hurricane In and Out Mop is a mopping system with a dual chamber washing and drying bucket. Does it really work? Here is my Hurricane In and Out Mop review.
Sponsored Links
About Hurricane In and Out Mop
Hurricane In and Out Mop is a mop that features a swiveling head, the ability to attach reusable microfiber pads, and a dual chambered bucket. The official product website is inandoutmop.com, which was registered in August 2017. The screenshot below shows how the product website looked in March 2018.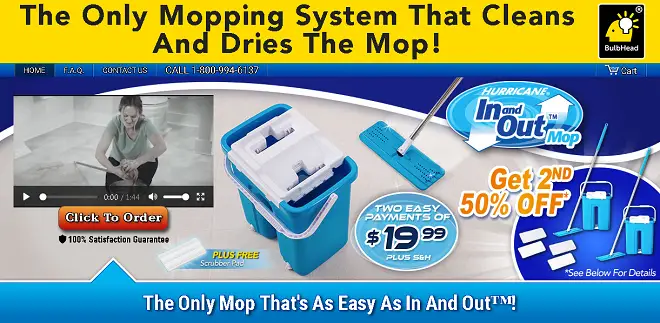 Claims & Features
Mops flooring
Dual chamber bucket (one for washing and one for drying)
Rotating head to clean hard to reach places
Long-lasting microfiber pads
Ideal for any type of floor
Cost
The Hurricane In and Out Mop costs $39.98 + $9.99 shipping for a total of $49.97. There is an optional double offer for $59.97 + $9.99 shipping for a total of $69.96. Payment can be made in two installments or be paid in full. Each unit comes with a scrubber pad and dual chamber bucket. You can find the Hurricane In and Out Mop in stores for about $40.
Hurricane In and Out Mop Review
It always pleases me to see the latest and greatest "Hurricane" branded product to hit the market. You may have seen ads in recent years for the Hurricane Spin Mop, Hurricane Spin Scrubber, Hurricane Fur Wizard, or Hurricane Spin Duster. Now the newest member of the family is the Hurricane In and Out Mop.
The product consists of a flat mop and dual-chamber bucket that allows you to clean and dry the mop by simply inserting it into the unit. The mop itself does not seem extraordinary, but the bucket is where the magic happens. Ironically, I said almost the exact same thing about the Hurricane Fur Wizard. That product is basically a standard lint brush, but with a base that cleans it off easily, and that is where I felt the value was. In the case of the Hurricane In and Out Mop, the ability to clean and dry the mop in separate chambers is quite useful.
The single biggest caveat with this or any other mop is the longevity of the pad itself. There are two pads included (microfiber pad and scrubber pad), which should help extend the life of this product. Although I tend to be skeptical of any As Seen on TV cleaning pad, I've found those included with the In and Out Mop hold up quite well, even after being run through the washing machine. Note that I did not put them in the dryer, as the instructions did not call for that. Rather I let them air-dry.
To use Hurricane In and Out Mop, you simply fill the "Wet" chamber with water and detergent, then run the mop through the slot. That submerges the pad and soaks it with clean water. You then run it through the "Dry" slot to wring off excess water. After mopping, you can then place the mop back in the "wet" side to clean it off. If one pass doesn't do the trick, you can keep reinserting it until it's clean. I found this method to work surprisingly well, even with spills such as wine or ketchup. You can choose how dry you'd like to get your pad by repeatedly running it through the "dry" slot.
Sponsored Links
The In and Out Mop weighs about 3 pounds when empty, and about 18 pounds when full of water. There are no wheels, probably because it would tip over while pulling the mop out of the chambers while cleaning or drying. Thus, if 18 pounds is a lot for you to carry, then you may want to decide if this is right for you.
Although touted as a "dual-chamber" mop system, one of the chambers doesn't really do anything as it remains empty as you're drying off the mop head. It would have been nice for this to be a three-chamber system with dirty water, dry air, and clean water so that you aren't putting dirty water back on your floor.
A Swiffer is what I usually use to mop my floors, and I compared one with the In and Out Mop in the video below. While both mops clean floors effectively, I found the In and Out Mop to be more absorbent, and its cleaning feature means you can continue to mop long beyond that of a regular Swiffer pad. Of course with a Swiffer, you don't have to fill a bucket of water, so which is better will be a matter of taste.
I found Hurricane In and Out Mop at a local Bed Bath and Beyond for $39.99 and used a coupon to drop that price to about $32.
Alternatives
There have been some very popular successors to the Hurricane Spin Mop, such as this $30 model that holds an impressive 4.3-star rating among over 6,000 consumer reviews. On the other end of the spectrum, you can find relatively cheap "flip mops" like this one for as low as about $18.
Your Hurricane In and Out Mop Reviews
Have you used Hurricane In and Out Mop or something like it? Let me know your thoughts in the comments below.
Updated May 2018