Measure King is a digital measuring tool that can measure in three different modes. Does it really work? Here is my Measure King review.
Sponsored Links
About Measure King
Measure King is similar to a traditional tape measure, but is updated with a digital display and an accurate laser for measuring. The official product website is measureking.com, which was registered in August 2016. The screenshot below shows how the product website looked in March 2018.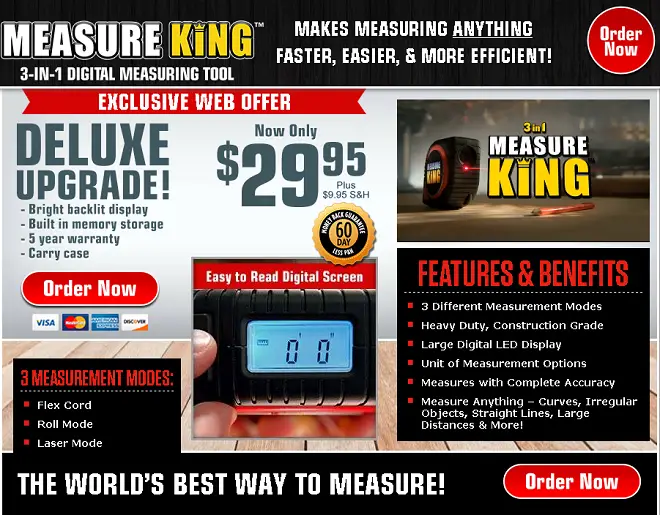 Claims & Features
Measures in three separate ways (flex cord, roll mode, and laser mode)
Sturdy manufacturing
Calculations appear on a digital LED screen
Switch between different units of measurements
Precise
Measure anything
Deluxe upgrade includes a lighted display, built-in memory storage, a 5-year warranty, and a carrying case
Uses 4 AAA batteries, not included
Cost
Measure King costs $29.95 + $9.95 shipping + $1 web service fee for a total of $40.90. You can find Measure King in stores for about $30.
Measure King Review
A running joke in my home is that I can never have too many scissors, nail clippers, or tape measures because I can never find those when I need them. So the idea of reviewing the digital tape measure known as Measure King was something I looked forward to, if for any reason but to have another tape measure around the house.
Measure King can be used in three different ways: roll mode, cord mode, or laser mode, and you can choose between inches, centimeters, and feet.
Cord mode works similarly to that of a standard tape measure, but it can also be wrapped around objects. Rather than seeing the measurement on the cord (as you would see on a tape measure), the measurement is shown on the display, and it adjusts in real time. If you want to freeze the measurement, you can press the large red button. One minor con to cord mode is that it is only 11 feet long, which is much shorter than a standard tape measure.
Roll mode is designed for measuring unusually shaped objects, such as rounded objects. It can also be used for very long measurements, such as a cinder block wall that I measured in my tests that was over 75 feet in length. Like cord mode, the measurement for roll mode also adjusts in real time.
Sponsored Links
Laser mode is the feature I like the most, even though I found it to be the least accurate. There is something satisfying about pointing a laser and getting an instant measurement. For rough estimates, it is perfect. As you can see in the video below, however, I could not reconcile Measure King's measurements in laser mode with three standard tape measures. When I lined up Measure King with a regular tape measure at 24 inches, the laser mode showed over 27 inches. There were other instances where I would get an "Err" message or a completely wrong measurement (194 inches instead of 24). According to the instructions, the laser can measure up to 25 feet.
One nice feature is that you can begin your measurements from either side of the device in cord or laser mode. So if you were to place it up against a wall, for example, you could begin your measurements from the side projecting the laser or from the opposite side. It's a useful feature. That isn't available in roll mode because you simply start the roller wherever you want to measure.
Overall, despite lacking a little in accuracy, I do like Measure King's versatility and convenience for getting quick measurements. As you can see in my video review below, I found cord mode to be quite accurate when compared to three other tape measures. Laser mode, however, did not seem quite as accurate.
Alternatives
You can find numerous digital or laser tape measures, usually for about the same price as Measure King. This 16-foot eTape is a popular model and has a standard tape measure built into it, while this 2-in-1 unit also has a 16-foot tape measure and a 50-foot laser.
Television Commercial
Your Measure King Reviews
Have you used Measure King or something like it? Leave a comment below and tell me what you think.