Nutrislicer is a hand-cranked slicer that quickly chops vegetables, fruits, and cheeses. Does it really work? Here is my Nutrislicer review.
Sponsored Links
About NutriSlicer
Nutrislicer is a user-friendly kitchen appliance that slices and grates various foods. The official product website is buynutrislicer.com, which was registered in November 2017. The screenshot below shows how the product website looked in March 2018.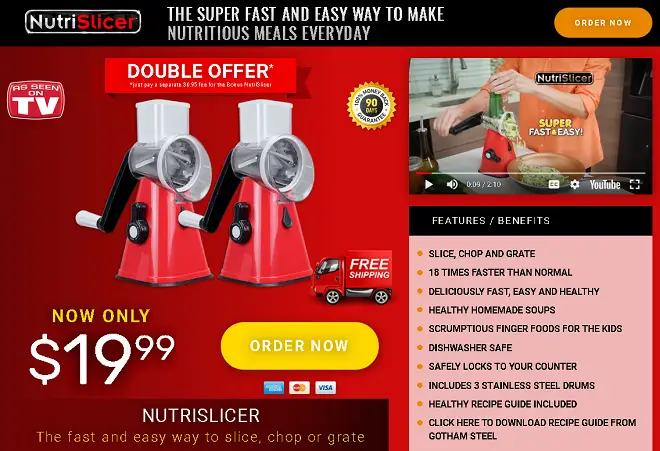 Claims & Features
Cuts and shreds
Quick and simple
Safe for dishwasher
Includes three interchangeable stainless steel drums
Downloadable recipe book
Cost
Nutrislicer costs $19.99. There is an optional double offer for a separate fee of $6.95 which would bring the total to $26.94. Shipping is free on all offers. I found NutriSlicer at a local Bed Bath & Beyond for about $20, and used a 20% coupon to drop the price even further.
NutriSlicer Review
When I first saw the commercial for Nutrislicer, I was immediately reminded of a kitchen gadget my dad purchased from a television ad back in the 1970s called Kitchen Magician, which he not only used for decades, but found another one on eBay many years later as he continued to use it into the 2010s. That item was a kitchen slicer with a large circular cutting blade that you used a crank to spin as it sliced food. Nutrislicer is a similar device, although uses cylindrical drums instead of a flat disk.
To use Nutrislicer, you simply choose the drum you want to use (for shredding, grating, or slicing), connect it to the handle, and place the desired food into the chute. You'll then turn the handle while pressing the food through the device. As you turn the crank, food will fall out of the unit and into a bowl below. One nice feature about Nutrislicer is that it can be "locked" in place by pressing a lever that creates suction to keep it firmly in place while you work. It will not slide around as you press food through the chute and turn the crank. I did find that the lock seemed to only last a certain period of time before it would loosen and need to be re-locked.
The results you get will depend on what combination of food and chute you use. It seems as though firmer items like carrots or potatoes do better than softer foods like tomatoes, which is probably the case with most chopping devices. Grated cheese and cauliflower came out nice, while shredded cabbage or celery did not. You may also find that softer items sometimes don't slide out of the device, and you have to fish much of it out of the drum after you're finished. There doesn't appear to be a way to adjust the thickness of slices, which turn out quite thin – perhaps too thin – for some people.
Sponsored Links
Of the three blades, I found the shredding blade (which seems to be referred to as the "chopping" blade on the website) to be the least useful. Most of the items I put through that blade turned out mushy. An onion, for example, was so mushy that I had to scrape the soupy pieces out of the drum. I had better luck with zucchini in the shredding blade, which turned out similar to angel hair pasta, although I still preferred the grating blade for zucchini.
I found that in some cases (such as a potato) I had to use a lot of force to press the food through the unit, while other times (walnuts, ex) I barely used any force.
The size of the chute is pretty small and could be problematic if you want to prepare a lot of food, while the idea of turning a crank to prepare food seems pretty old school in today's culture of kitchen automation. Other than the stainless steel drums, the rest of the unit appears to be made of standard plastic.
Cleaning Nutrislicer is straightforward, as you just disassemble the parts and rinse off the larger chunks, and wash with warm soapy water. I put all of the parts in the dishwasher and they held up fine.
I'm not sure most users will find this to be as universal as the advertising states, only because it seems to work better on some types of foods than others. If your primary use is something like shredding cheese, you may find it to be a perfect fit for you.
Alternatives
It may not come as a surprise that you can find very similar items on Amazon Prime, with faster/cheaper shipping. This $26 model, for example, closely resembles NutriSlicer and holds a respectable 4-star rating.
You may be interested in my review of Veggie Bullet, which is an electric food processor that is a more efficient tool for slicing and chopping but with a much higher price.
On the other end of the price range is Crank Chop, which is another hand-cranked kitchen chopper. It doesn't slice, but it's pretty efficient and can readily be found in stores. Watch my review of that product below.
Television Commercial
Your Nutrislicer Reviews
Have you used Nutrislicer or something like it? Leave a comment below and tell me what you think.
Updated April 2018