Micro Mechanic is a diagnostic scanner that tells you why your check engine light is on. Does it really work? Here is my Micro Mechanic review.
Sponsored Links
About Micro Mechanic
Micro Mechanic is a Bluetooth device that plugs into your vehicle's OBD-II data port and relays diagnostic information to your smartphone about problems and their level of severity. The official product website is getmicromechanic.com, which was registered in June 2017. The screenshot below shows how the product website looked in October 2017.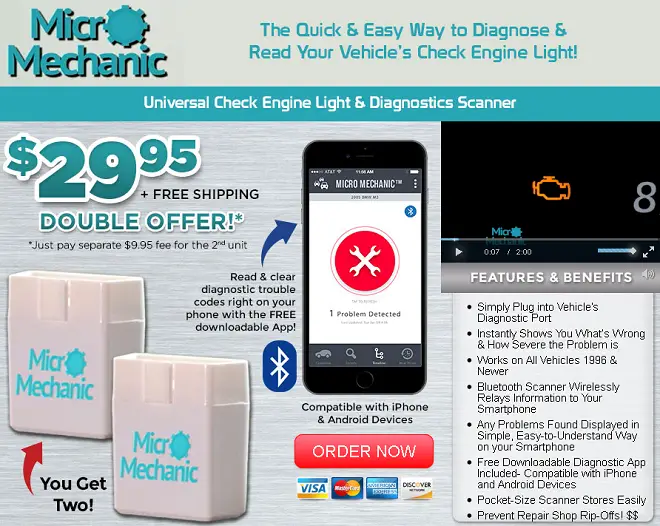 Claims & Features
To operate, plug into vehicle's diagnostic port
Receive an immediate diagnosis
Usable with all vehicles made since 1996
Information is sent via wireless signal to smartphone
User-friendly diagnoses
Diagnostic app works with iPhone and Android devices
Portable
Save cash and avoid being scammed
Cost
Micro Mechanic costs $29.95 + $1 web service fee for a total of $30.95. There is an optional double offer that costs $29.95 + $9.95 double offer + $1 web service fee for a total of $40.90. Shipping is free on both offers. At the time of the writing, Micro Mechanic is not available in stores.
Micro Mechanic Review
The commercial for Micro Mechanic is compelling: It shows a woman who receives a check engine light on her vehicle. She takes it to a mechanic who tells her that her gas cap was loose, then charges her $250 for the info. Had she invested $30 in Micro Mechanic, she could have simply plugged the device into the car's data port and reviewed the warning on her smartphone app.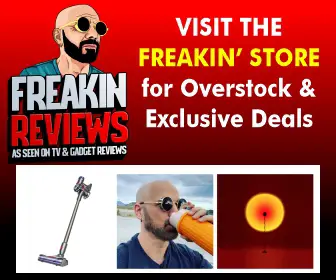 All gas-powered vehicles with a model year of 1996 or later will have a data port that can be accessed with Micro Mechanic. To use Micro Mechanic, you simply plug it into the data port and any errors will be described with the smartphone app. While everyone can probably benefit from a device like Micro Mechanic, those who have experienced a series of car problems are probably most likely to want to try this out. Keep in mind that if you are purchasing this for someone who isn't very tech savvy, you may want to download the free app and sync the device with their smartphone via Bluetooth for them. Once they are synced up, however, it is just a matter of plugging it in, opening the app, and reading the diagnosis.
In the case of benign issues, such as their example of a loose gas cap, this device can pay for itself rather quickly.
I have used several devices like this over the years. The older diagnostic scanners I used had built-in screens, but sometimes the information was presented in a rather cryptic manner. With Micro Mechanic, the results are geared toward non-tech types, giving information in a clear and easy-to-understand manner. Once consumer reviews trickle in, you'll probably hear of rare instances where no error is detected or difficulties pairing it with the device. Those are to be expected in small numbers for any such diagnostic tool, but they will be among a very small minority of complaints.
Keep in mind that Micro Mechanic appears to be a test marketed product. That means shipping could be quite slow as they often manufacture the product for consumers after initial orders come in. Expect to wait over a month for it to arrive. I'll update this space if anything changes.
Alternatives
Micro Mechanic looks and functions very similarly to FIXD, a car health monitor now in its second generation. That item has a respectable 4.1 star rating among thousands consumer reviews. This model from BlueDriver is more expensive but yields an even higher rating among over ten thousands reviews.
Your Micro Mechanic Reviews
Have you used Micro Mechanic or something like it? Leave a comment below and a star rating above to let us know your thoughts.