Mighty Sight is a pair of As Seen on TV magnifying reading glasses that have chargeable LED lights on each side. Do they really work? Here is my Mighty Sight review.
Be sure to see my 2022 update below!
Sponsored Links
Where to Purchase
The best places to buy Mighty Sight are on Amazon (link) or in the As Seen on TV aisle of major retailers like Walmart. Both places sell the product for about $28-$30 and are ideal for returns if you don't like it. You can also buy it from the official website (discussed below) for $27.98 ($19.99 + $6.99 S&H + $1 web service fee). There is an optional double offer for an additional fee of $6.99 which would bring the total to $34.97. Each order comes with a hard storage case and a USB charging cable.
Other items discussed here and in my video review below are Big Vision (link) and ThinOptics (link).
About Mighty Sight
Mighty Sight are a form of nonprescription eye-wear with lenses that magnify and built-in rechargeable LEDs. The official product website is buymightysight.com, which was registered in March 2018. The screenshot below shows how the product website looked in September 2019. As of this June 2020 update, the official website is still online and the product is still being marketed.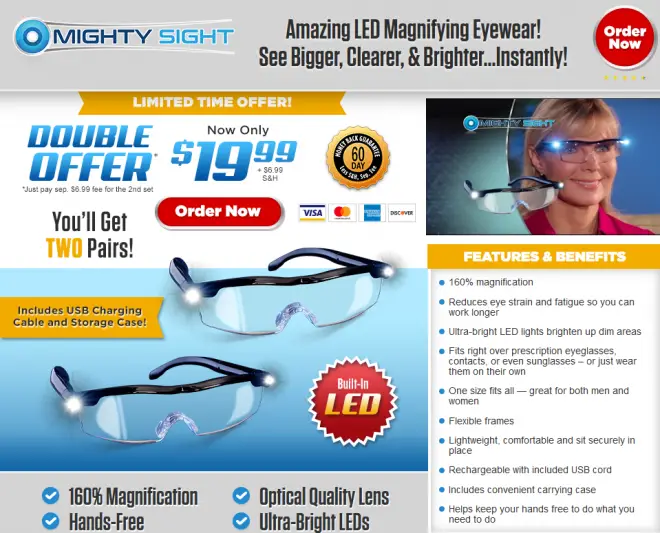 Claims & Features
Eyeglasses with LED lights
Magnifies vision by 160%
Decreases visual exhaustion and strain
Can be worn over prescription glasses
Fits everyone
Framework is bendable
Convenient and lightweight
Mighty Sight Review
Mighty Sight is an As Seen on TV pair of reading glasses with built-in LED lights. I picked them up at a local As Seen on TV store, although they are still being heavily advertised online. As I opened the Mighty Sight packaging, I realized that the carrying case advertised on the website did not come with my store-bought purchase. Instead, I received a carrying bag, which is not a deal-breaker, but I was slightly surprised. Then I proceeded to read the instructions which stated that the glasses should be worn on the tip of the nose instead of on the bridge of the nose. What I found interesting about this all the actors in the Mighty Sight commercial were wearing them on the bridge of their nose – which is incorrect per the instructions!
Sponsored Links
One of the first things I noticed about Mighty Sight is that they resemble the Big Vision Glasses that were advertised several years ago. Specifically, the frames are similar, the logos are in the same spot, and they both contain lenses with 160 magnification. In fact, the lenses themselves bore a stark resemblance. Thus, Mighty Sight appears to be more of an updated version of Big Vision with LED lights built into the frames, although that is purely speculation.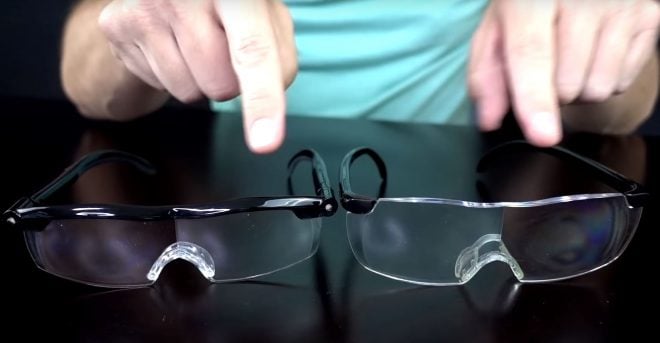 After opening the package, I placed the glasses on the tip of my nose to see how they felt. The magnification worked well as I attempted to read the instruction pamphlet. Using a vitamin bottle, I tested the range of the magnification which seemed to work the best between 6 to 12 inches. Somewhat surprisingly, the LED lights did make a positive difference. The button to activate the LEDs on the frames, however, is not well placed, and it is very easy to accidentally press while handling the glasses.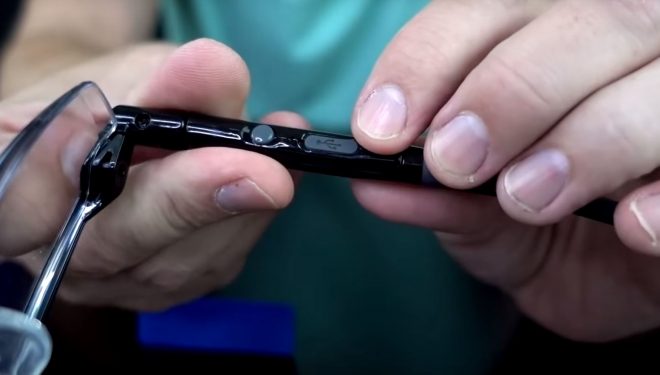 As a brief experiment, I tried wearing the glasses on the bridge of my nose instead of the tip, and they appeared to work about the same. My next experiment was to wear them over a pair of prescription glasses. Mighty Sight barely fit over them, and the magnification seemed huge, but I had to hold the vitamin bottle closer to my face. Although they are said to work over prescription glasses, I tend to think wider frames may be problematic for Mighty Sight to cover.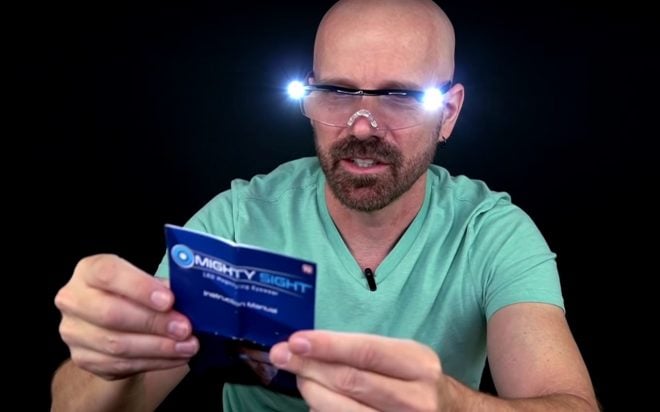 For my next experiment, I used the USB charger to fully charge the LEDs. Then I turned the LED lights on let to see how long they would last. After about three and a half hours, the LEDs were noticeably dimmer. At this point, I attempted to use the glasses to read a vitamin bottle in the dark, but I could not read the print on the bottle. After recharging the lights for about 30 minutes, I was able to read the print on the vitamin bottle in the dark using the fully-charged LED's. The instructions do state that the LED's should only provide about 3 hours of light, so that seemed accurate.
In conclusion, Mighty Sight is essentially a pair of 1.6x reading glasses with LEDs attached. Reading glasses are cheaper and less bulky, so the decision to purchase Mighty Sight mainly comes down to the decision of whether paying the price for the lighted feature is worth it or not.
You may want to read some of the Mighty Sight comments on Amazon for further opinions.
Relevant Videos
Below you can find my full review of Mighty Sight, and below that is my review of Big Vision from 2017.
Alternatives
For those seeking a solution for precise handiwork, you may want to look into this $15 headband magnifier. This $20 pair of lighted reading glasses is currently listed as an Amazon's Choice, or you could always look into Big Vision, which is almost the same but without the light.
June 2022 Update
In June 2022, the frame for my Mighty Sight started to weaken, with one arm becoming loose. After a few more uses, the arm snapped and simply dangled from the rest of the glasses, as you can see in my tweet below.
This did not occur as a result of misuse or damage, but simply normal wear and tear with only moderate use.
Another product update. Mighty Sight, the lighted reading glasses I reviewed in 2019, has a broken frame with only moderate use over the last couple years. pic.twitter.com/0ILKkJiUiA

— Freakin' Reviews (@freakinreviews) June 27, 2022
Your Mighty Sight Reviews
Have you used  Mighty Sight or something like it? Leave a comment below and let me know what you think!
Updated June 2022.