Today I offer my review of the Nordic Ware Microwave Plate Stacker which functions as a shelf inside your microwave oven. This extra space can supposedly allow you to heat more food at once. But does it work?
Sponsored Links
Where to Purchase & About
You can purchase the Nordic Ware Plate Stacker direct from Amazon for about $7. It currently holds a 4.1-star rating there among over 750 reviews and boasts an Amazon's Choice label. You can also buy it direct from the Nordic Ware website for the same price.
Claims & Features
11x11x3.5 inches
BPA & Melamine free
Heat two meals at once
Made of high-heat plastic
Nordic Ware Plate Stacker Review
Have you ever wanted to warm up two plates of food in the microwave? Traditionally, that has always taken two cooking sessions. Now, with the Nordic Ware Microwave Plate Stacker, we may be able to finally warm up two plates of food simultaneously. To use the Plate Stacker, you simply put one plate of food or container in your microwave, place the stacker over that, and then top it with your second plate or container. It sounds easy – and it is – with a few caveats.
First, even though this product is 11 inches in diameter, it can only accommodate plates that are 10.25″ or smaller for the lower tier. Larger plates can be placed on top. Next, if your microwave has a rotating tray, this stacker will work best if your tray is over 11 inches in diameter. In my case, I have three different sets of plates at my house and two of those fell under the 10.25-inch limit, while one set was too large. My rotating tray is about 11 inches in diameter, which meant the stacker was apt to slide off.
For my first test I wanted to warm up two plates of food. I placed a smaller plate on the bottom and a larger 11″ plate on top. This is when I noticed that my rotating tray was a bit too small, and the Plate Stacker was apt to slide off. Despite this, the cooking cycle seemed to go without a hitch and my food was warmed up properly.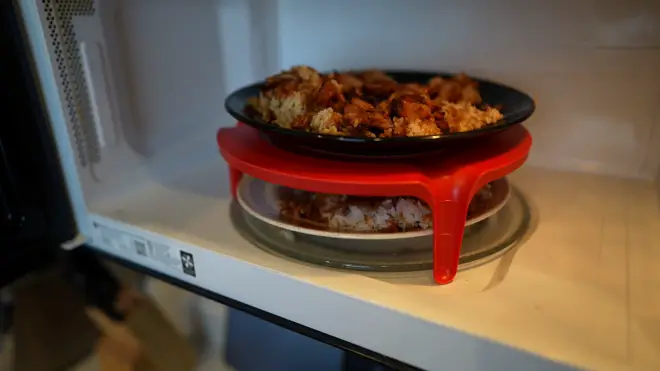 Next, I wanted to try two containers that would usually be too wide to fit into my microwave together. I placed the smaller container on the bottom, added the Stacker, and then placed the larger container on top. While this scenario did work without a hitch, I should point out that any containers over 3.5″ in height will not fit underneath the Stacker. Fortunately, one of my containers fell under this limit, so I didn't have any problems.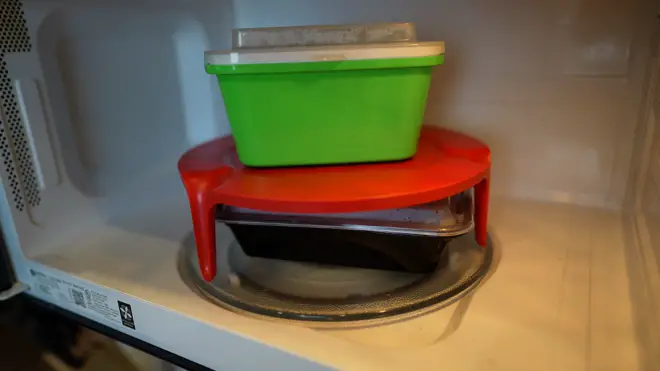 Some users on Amazon complained that microwave popcorn melted this product, so you may want to be aware of that. I wouldn't think to use this for microwave popcorn since that's not something you typically heat alongside other items in the microwave.
In the end, this is a good fit for those who use plates under 10.25 inches and have a microwave with a rotating tray over 11 inches, or those who have no tray in their microwave at all. I will continue to use it and will update this space if anything changes.
If you've used this product, tell me what you think in the comments below.