Pane DR is a wedge shaped window cleaner with a 360 degree swiveling head. Does it really work? Here is my Pane DR review.
Sponsored Links
How to Purchase
You can find Pane Dr on Amazon for about $12. It may still be in some stores in the As Seen on TV aisle. The original As Seen on TV offer does not exist as of this 2020 update.
About Pane DR
Pane DR by Fuller Brush Company is a window cleaning tool that features a swiveling wedge shaped head with a cleaning pad. The official product website was panedr.com, which was registered in May 2017. The screenshot below shows how the product website looked in October 2017. As of June 2020, that website is no longer online, but the product is still available at online retailers.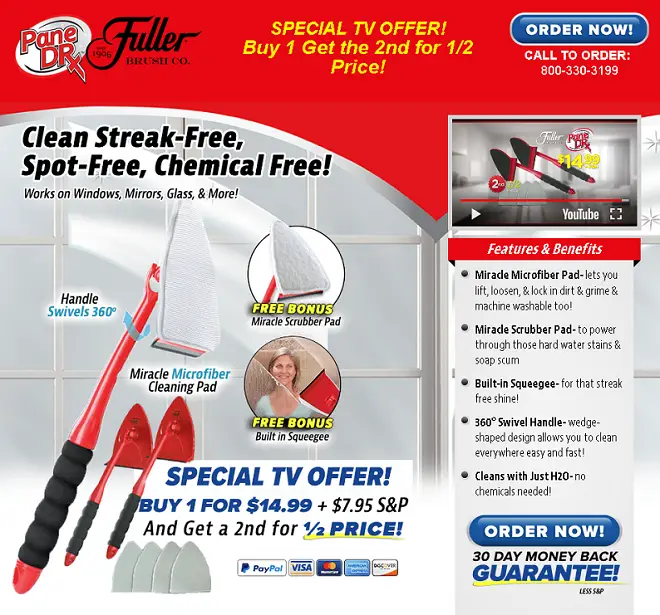 Claims & Features
Miracle Microfiber pad cleans dirt and grime (washing machine compatible)
Miracle Scrubber pad for soap scum and water stains
Includes a built-in squeegee
360° swiveling wedge shaped handle 
Cleans with water (does not require chemicals)
Pane DR Review
Pane DR is a wedge-shaped cleaning device that allows you to easily remove dirt and grime from windows, while only requiring water as a cleaning agent. If you recall commercials for Roto Sweep in early 2017, then the commercial for Pane DR probably looks familiar to you. When I first saw the commercial for Pane Dr. that begins with John Florell "The Fuller Brush Man" I literally cringed. Not because of anything with this product, but because the Fuller Brush name is attached to yet another As Seen on TV product. If you don't know that backstory, allow me to explain.
When Roto Sweep came out in early 2017, the marketing also heavily invoked the reputable Fuller Brush name. Consumers swarmed to pick up this innovative broom (using a design that was actually innovated years earlier by the man who invented the EasyEdge sweeper). The problem initially was that Roto Sweep was being test marketed, meaning consumers had to wait many weeks (or months) in order to receive the product. Once they did receive the item, it seemed flimsy and didn't work as well as advertised. I found that it didn't work as well as the other spin brooms on the market.
Consumers began to flood the Fuller Facebook page with complaints, only to find out that Fuller had nothing to do with the product, and the Fuller name had merely been licensed to an As Seen on TV company. Fuller did not manufacture, ship, or guarantee Roto Sweep. Consumers were livid. I personally felt like the hit to Fuller's reputation wasn't worth the licensing deal.
Thus, when I saw the same pitchman invoking the Fuller name for another As Seen on TV product, I feared this could be Round 2 of the black eye to the trusted Fuller name.
Sponsored Links
Regarding the product itself, we have a wedge-shaped head that can hold either the scrubbing pad or the microfiber pad. The head swivels as you move it around a window, and the wedge-shape allows you to get into corners more easily. The swivel feature could be a double-edged sword, though, as you may find it moving into positions you don't want. I'm not sure that all buildup can be removed by just using water and one of these pads, however. The squeegee on the bottom of the head is a nice touch, and actually could be the feature that makes this useful. In fact, if you use the scrubbing pad, you will have to use the squeegee, because that pad is not absorbent.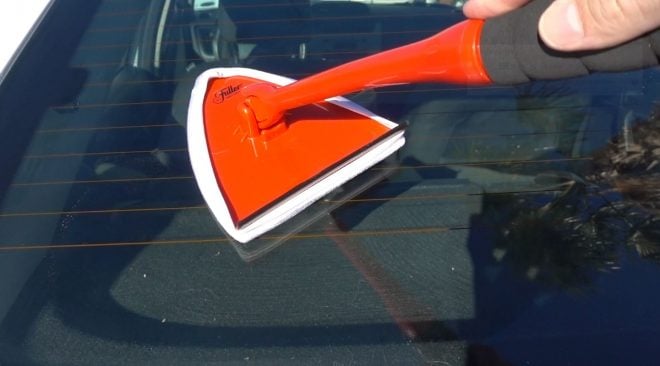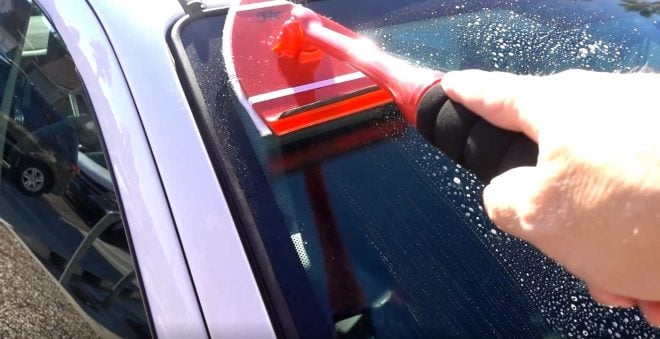 I do like the microfiber pad – which is absorbent – but it eventually becomes saturated with water and dirt, and no longer picks up either. Thus, you may find yourself having to clean it after every window (depending on how dirty it is). I would have rather received a couple extra microfiber pads instead of the scrubbing pad which seems of limited use.
The microfiber pad can be thrown in the washing machine where I found it does clean up pretty well. The scrubbing pad must be cleaned by hand. There is an optional handle, which I did not have the luxury of adding to my order via Amazon. The default handle is not very long.
Overall, I think Pane Dr. is ok for small jobs, but the pad becomes too quickly saturated for extended use. I'm hoping they offer a pack of refill pads, which would make this product far more useful.
2020 Update: I still keep Pane Dr in my car in order to clean off the inside windshield, which is a good use for it. The pad has held up through multiple washes.
Below you can see my full review of this product.
Alternatives
Clean Reach is probably the closest As Seen on TV competitor to Pane DR, as it features a wedge-shaped pad and extension handle. That item is no longer being produced but still be found for about $30. Another similar item that could be used on windows is the OXO Good Grips Extendable Tub and Tile Scrubber.
You maybe interested in my my video review below of Clean Reach.
Your Pane DR Reviews
Have you used Pane DR or something like it? Leave a comment below and a star rating above to let us know your thoughts.
Updated June 2020.