Gillette Fusion5 Proshield Power is a high-end cartridge razor with a Flexball and double lubricated strips. Does it really work? Here is my Gillette Fusion5 Proshield Power review.
Sponsored Links
Where to Purchase
Note: This item was later re-branded as the ProGlide Shield Power, which is discussed in the 2020 update below.
Despite the name change, you can still buy this razor for approximately $13-$16. It can be purchased online, or at a wide variety of stores including Target, Walmart, and  Walgreens. The unit comes with one razor blade and a battery. Replacement blades can cost as much as $5-$6 each and are sold in packs of 2, 4, or 6.
I have not tested a newer model to see if the vibration feature is still included in the re-branded model, and the wording is vague in the description.
The review below is unchanged from 2017, and below that is an update from 2020.
About Gillette Fusion5 Proshield Power
Gillette Fusion5 Proshield Power is a battery powered shaver for men that includes a swivel head and two lubricated strips. The official product website is gillette.com, which was registered in August 1994. The screenshot below shows how the product page looked in October 2017.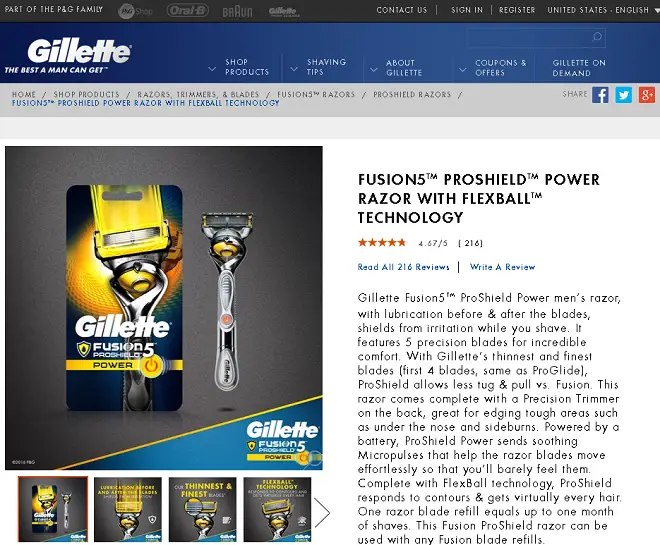 Claims & Features
Lubrication bordering the blades to prevent irritation
Thin, high quality blade
Shave comfortably with 5 precision blades
Trimmer on back for edging sideburns and under the nose
Flexible head for navigating facial curves
Each razor refill lasts approximately a month
Blades are compatible with any Fusion 5 handles
Gillette Fusion5 Proshield Power Review
It was mid-2017 when I decided to put the Fusion5 Proshield Power to the test, and I thought the best way to do that would be to compare it to a gold standard in its category, the Mach 3 Turbo. Obviously there could have been any number of other blades I compared it to, but I chose the Mach 3 Turbo because of its high name recognition and popularity. I figured that more men have probably tried the Mach 3 than almost any other razor in its category.
Sponsored Links
The features of the Gillette Fusion5 Proshield Power include double lubricated strips. This means that the lubrication happens before and after the blades hit the whiskers. There are 5 precision blades along with a trimmer blade on the top of the head, which allows you to precisely clean up the edges and around the nose. A Flexball helps the head move smoothly along areas such as the jaw, so you can continuously shave without having to keep lifting the razor to shave at different angles. Finally, there is a vibration feature, which supposedly helps the blades grab the whiskers.
Since my first use of this razor in late June 2017, it has been my go-to razor, and I have used it extensively for about 4 months.
The first time you use the Proshield Power with a new blade, it delivers impressive results. The way the Flexball contours to your jawline feels comfortable and smooth. I know there are jokes about how many blades a razor needs, but – that argument aside – the blades here do a fine job of plowing through stubble quite easily. I've used it for my head, face, and chest, and I have never felt like the blades were outmatched. I do use the vibration feature every time I shave, but I'm not sure there's any way to really know if it's doing anything at all. Although it isn't made of steel, the handle feels heavy in the hand and easy to hold thanks to rubberized grips. After four months of daily use, the battery has not needed to be replaced.
Refills for the Proshield Power are expensive. I recently bought a two pack of refills for about $11. While that cost could immediately turn off many consumers, I've found that these blades last far longer than those with other razors. In fact, each refill lasts me 3 to 4 weeks, which includes shaving my face and head every other day. While the cost of refills may be high, it might not be that much more expensive over time. Read some of the 6000+ reviews of this refill pack of 8 cartridges to see what others are saying about it.
To summarize, I think the Gillette Fusion5 Proshield Power is superior to the coveted Mach 3 Turbo due to its Flexball, double lubricated strips, and large comfortable handle. I don't know if the vibration feature actually improves results, and refills are expensive – but each refill lasts weeks, which could recoup some of the extra cost.
Three-Year Update (2020)
It's hard to believe this review was three years ago, and perhaps more difficult to believe is that this is still my go-to razor. I have reviewed numerous razors, trimmer, and shavers over the past three years, but I still go back to the Fusion5.
At some point over the last three years, the name of this razor changed from "ProShield Power" to "ProGlide Shield Power." This Amazon listing notes, "Formerly Fusion ProShield Power Razor."
I should point out that I no longer use the "power" feature, as it stopped working a couple of years ago when a battery exploded inside of it! I'm also not sure that feature ever really did much to improve the shaving experience.
Although refills are not cheap, they last several weeks. For example, I ordered this pack of 8 refill blades on January 24, 2020 and as of this July 2020 update, I am still on my last refill before I need to order another pack. That's 8 blades in about 6 months, or about 3 weeks on average.
The handle itself, aside from the non-functioning "power" feature, is still in good shape and shows no significant wear and tear.
I recommend the Fusion5 razors all the time, and it is still the razor I choose over all others, for my face and for my head.
Alternatives
If price is a factor, you may want to take a look at the Mach 3 Turbo (also featured in the video below) which provides an excellent shave.
Be sure to check out my full comparison of the Proshield Power vs the Mach 3 Turbo.
Your Gillette Fusion5 Proshield Power Reviews
Have you used Gillette Fusion5 Proshield Power or something like it? Tell me what you think in the comments below.