Plufl is advertised as the "World's First Dog Bed For Humans." It was featured on Shark Tank and managed to secure a deal. It has also been seen in advertising online. Is it worth the hype and the $400 price tag? I ordered one to find out for myself.
Sponsored Links
Where to Purchase
Currently, the only place to buy Plufl is from the official website, weareplufl.com. I have not seen it on Amazon, although I've noticed several knockoffs already appearing there.
Note: If you see ads for Plufl floating around social media, advertising it at an unusually low cost like $50 or $39, the ad is almost certainly a scam. Buyer beware!
About Plufl
Plufl's makers appeared on Shark Tank, and managed to secure a deal with Mark and Lori, which sounds impressive until you realize they also teamed up for Sleep Pod, which is a product I did not like at all!
Claims & Features
World's first dog bed for humans
Good for napping or lounging with your pet
Soft cover induces sleep
Machine washable cover
High grade memory foam base
Folds in half for easy transport or storage
Weighs about 25lbs
Plufl Review
When the makers of Plufl appeared on Shark Tank, several of the sharks scoffed at the idea and quickly bowed out. A few others, however, including Mark Cuban and Lori Grenier, saw potential and gave the inventors a deal. Calling it a "dog bed for humans" is a clever marketing trick that also makes it feel a bit gimmicky. If they simply called it a "floor lounger," I suspect that it wouldn't have received nearly as much attention, so the gimmick certainly seemed to work at getting attention.
But let's peel away the gimmicky label and see how it actually functions.
The first thing most consumers will notice is that Plufl costs $400, and I imagine that will immediately dissuade a large percentage of potential buyers. Those who do splurge will find that it must sit out for 24 hours before assembly, presumably to let the foam fully expand.
After impatiently waiting 24 hours, I grabbed the instructions and began the assembly. While I wouldn't say the assembly was difficult, it does feel a bit awkward. I even found myself sweating afterward, and wondered if it would be too difficult for some people, such as my 80-year-old mother. The unit weighs about 25lbs, and there is a lot of "stuffing" required to get everything smashed into the cover.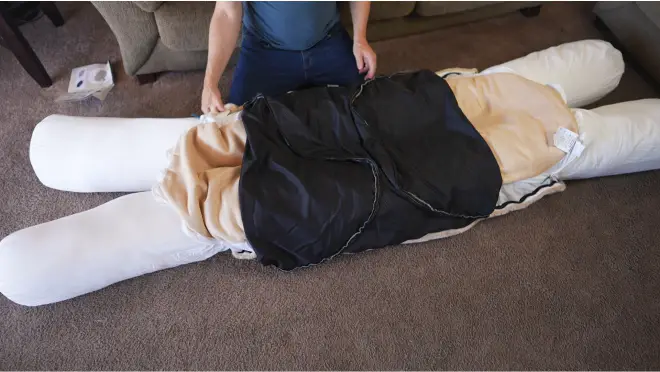 Assembly took me about 10 minutes, and at that point it was time to test it out. Both of my dogs were curious, and Bailey immediately jumped in the Plufl. I managed to squeeze my way into the Plufl with her, and my first impression was positive overall. The cover material is ultra soft and feels satisfying to touch, and the foam pad is thick enough that it can be used on a hard floor without any discomfort. The side "bolsters" feel soft enough that they could be used as pillows.
My immediate concerns were the size – being too big and too small at the same time. It's too small for most people to stretch out without having their feet dangling off the end, but it's also quite large as a piece of furniture and will take up a lot of space in most rooms.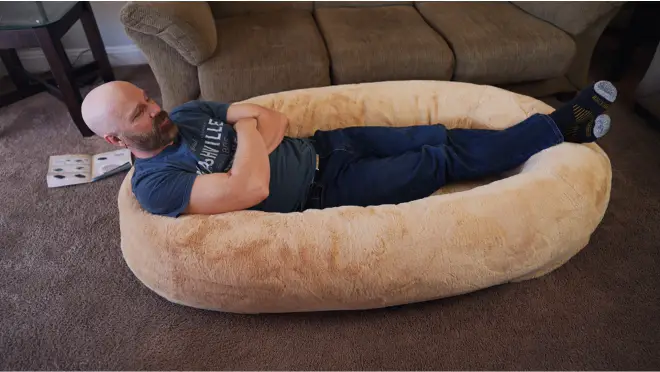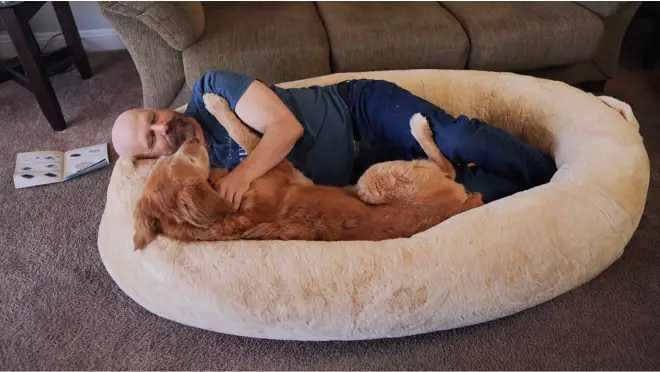 Bailey and I tried to sleep in the Plufl overnight and after a few hours I ended up moving back to my bed. It may be good for napping or lounging, but not for a full night of slumber. Those side bolsters might feel great while lounging, but they are no replacement for my usual sleep pillow.
In the end, I can see why some people love the Plufl, but its price and size may prove to be dealbreakers for a lot of potential customers. With the arrival of cheap knockoffs on Amazon – some of which come fully assembled – I have to wonder how long they can maintain the current price structure.