After seeing a mini electric food chopper being advertised online, I decided to pick one up for myself and try it out. Reviews online were mixed, so I wanted to see for myself how it really worked. Today I put it to the test.
Sponsored Links
Where to Purchase
This is the Amazon listing for the model I purchased, at a cost of about $22. There are numerous listings for nearly identical units, and most of them have unimpressive consumer ratings. The model I purchased had a 3.3-star rating at the time of my tests.
Claims & Features
Includes two interchangeable blades, cleaning brush, egg and cream whisks, USB-C charging cable, tamper/peeler combo.
Powerful motor
Space saving design
Easy to clean
Mini Food Chopper Review
In today's review, I decided to put a mini electric food chopper to the test. I stumbled upon this interesting gadget while browsing Instagram, and several of my readers actually reached out to me, requesting a review. Equipped with two different blades for chopping and slicing, a cleaning brush, two whisk attachments, and a USB-C cable for charging, this chopper boasts a speed of 1200 RPM.
Upon searching for similar choppers on Amazon, I discovered numerous listings featuring almost identical units. However, I couldn't find a single one with a star rating higher than 3.3 stars. Most of them had a mix of mediocre to negative reviews.
The chopper has two primary functions: as a slicer or a chopper. To operate it as a slicer, you simply place the slicing blade into the anti-splash cup, while the chopping blade fits into a notch in the chopping bowl. It's worth noting that neither blade attaches to the chopper itself; instead, they are held in place by their respective containers. Some Amazon users had complaints about the whisk attachments not fitting properly, but I didn't encounter that issue.
To begin my testing, I decided to try out the slicing feature. I gathered a variety of foods such as carrots, peppers, celery, and green onions. The slicer is designed to be held with one hand while you press the food through the chute using the tamper. I quickly discovered that pressing food too hard through the unit would cause the entire blade and anti-splash cup to dislodge from the chopper. This problem was particularly noticeable with carrots, which managed to dislodge the blade multiple times. I made sure to double-check the unit, but unfortunately, there is no way to securely lock the blade and its container to the chopper. Consequently, this design flaw will likely affect most users. Despite this obvious issue, I must admit that the end results were surprisingly satisfactory.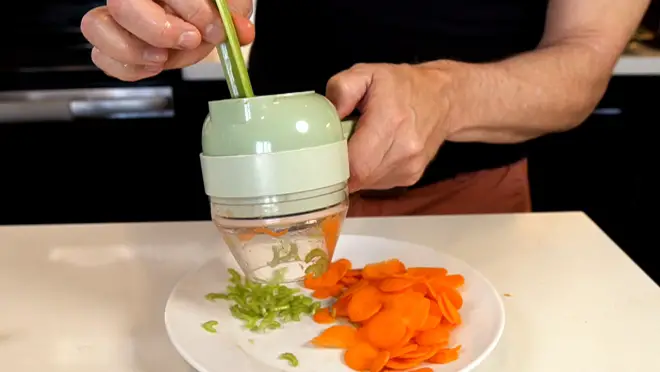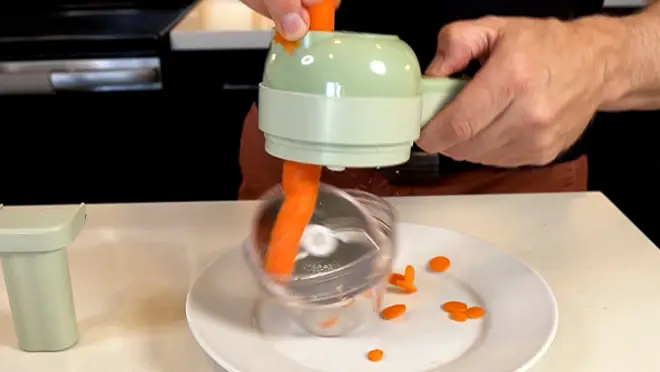 Next, I decided to test the chopping feature. Placing the blade in the chopping cup and on the designated notch, I tried a variety of items including cheddar cheese, almonds, walnuts, carrots, and apples. I did encounter a minor hiccup when the unit stopped spinning while I was attempting to chop some cheese chunks. However, after removing a few chunks, the chopper had no problem with the remaining cheese.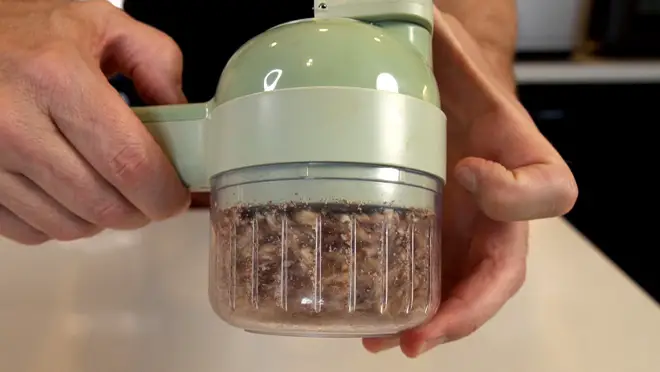 I also decided to try out the chopper's additional features, such as the egg whisk and the scrubbing sponge. The whisk turned out to be a bit wobbly, but it managed to get the job done. Surprisingly, the brush provided with the chopper was quite effective.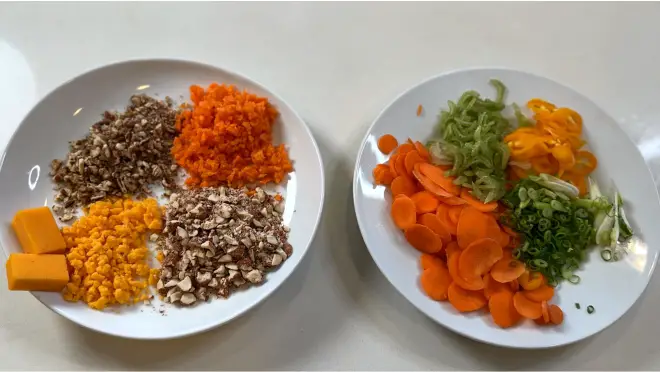 In the end, I believe that the chopper I tested might be slightly better than the scathing online reviews suggest. It's far from perfect, but the end results were decent enough to make it a suitable option for some individuals. If there were a way to address the issue of the unit falling apart while slicing firmer items, this chopper could potentially reach a 4-star rating. As it stands, however, it's probably not worth the hassle for most people.
If you've used a chopper like this, tell me what you think in the comments below.