Points of Light is a holiday light projector system. Does it really work? Here is my Points of Light Projector review.
Sponsored Links
About Points of Light
Points of Light is a laser projection system sold only at Walmart, with two versions for Halloween or Christmas. The official product website is ledpointsoflight.com, which was registered in February 2016. The screenshot below shows how the product website looked in October 2017.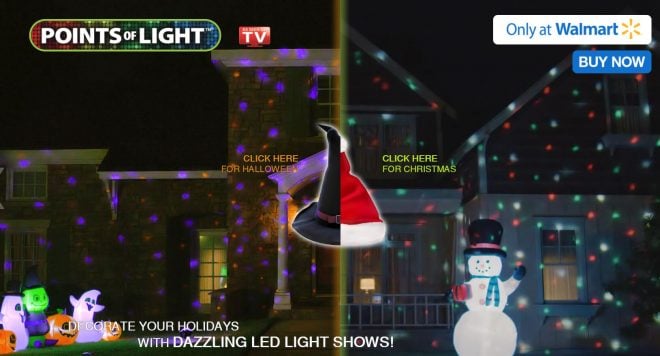 Claims & Features
Easy setup
114 Lighting Effects
14 Color Combinations
Wireless remote
Cost
The Points of Light and Points of Light Halloween systems are only available at Walmart for $34.88.
Points of Light Review
This review is based on my experience with the Halloween edition of Points of Light, although the only difference between that version and the "regular" version is the colors it projects. The Halloween version seems to favor browns and oranges, while the Christmas version projects mostly greens and reds.
To use Points of Light, you first place it on the stand, aim it at your desired location, and engage it using the remote. The remote itself has four buttons which control motion, lights, and pattern, in addition to an "off" button. The display can be static or put in motion, and the lights themselves have a sort of "blurred" appearance. When set in motion, the lights are projected by a spinning ball that moves the lights in an upward motion, almost like the appearance of rising bubbles. Between the motion, effects, and colors, you have a pretty wide assortment of available light patterns.
Sponsored Links
I found the field of projection to be very wide, much wider than any of the other available laser displays in the As Seen on TV aisle. It covered the entire width and height of my house with one unit. Other laser systems require a couple of projectors to cover a similar area. I found the brightness to be on par with other projection systems.
There are a few concerns I have about Points of Light. One is that the base seems somewhat flimsy. I prefer the Star Shower method of screwing into a flat base or stake that fits in the ground. Another problem is that my unit sometimes flickers, which I can fix by simply changing the pattern. I don't know how widespread of a problem this is, or if I simply have a defective unit, but it's a bit of a nuisance.
My biggest concern with Points of Light, however, is that it is controlled exclusively by a remote control. I once picked up a set of remote control candles called Luma Candles, which I liked very much – until the remote died. That rendered the set useless, and I fear the same thing could happen here. A malfunctioning or lost remote would make Points of Light a fancy paperweight.
Of the available As Seen on TV light projectors, Points of Light is the cheapest of the bunch, although Star Shower Slideshow only costs about $5 more.
Overall, I think this is a solid laser light display, with a wide field of projection, and a large variety of colors, patterns, and motion. I'm not as fond of the base or the flickering. The Halloween edition could probably be used through Thanksgiving, but it really doesn't have the appropriate colors to use for Christmas. I've been asked by my YouTube commenters to assign a star rating, and if I were to do that, I'd give this about a 6 to 6.5-star rating out of 10.
Alternatives
As noted above, there are several As Seen on TV light displays, most notably the Star Shower line. Of the five-star shower units sold over the past two years (Star Shower, Star Shower Motion, Star Shower Slideshow, Star Shower Laser Magic, and Star Shower Window Wonderland) I would probably opt for the Star Shower Slideshow, which only costs $40-$45 and has a very bright display. It can also be used for many holidays throughout the year (though with the unfortunate omissions of Thanksgiving and Hanukkah). Star Shower Laser Magic would be my next choice, although it's slightly more expensive, but has a wider field of projection (still not as wide as Points of Light, however).
Here is my review of Points of Light, alongside the other Star Shower products which offer Halloween images.
Television Commercial
Your Points of Light Reviews
Have you used Points of Light or something like it? Leave a comment below and a star rating above to let us know your thoughts.