Power XL Duo NutriSealer is a handheld vacuum sealer pitched by Eric Theiss on late-night and weekend infomercials. It's advertised as a powerful, compact vacuum sealer with a patented double seal that provides extra security and provides the ability to produce smaller snack packs. Today I offer my review.
Sponsored Links
Where to Purchase
The Power XL Duo NutriSealer can be purchased from Amazon (here) or direct from the Power XL website. You can expect to pay about $100 for it, as of this writing.
Power XL Duo NutriSealer Review
I first noticed this handheld vacuum sealer while perusing infomercials on a Saturday morning. This infomercial featured Eric Theiss pitching his newest offering: a compact vacuum sealer with a double-seal design. I immediately went to the official website and forked over $111.21, with tax and a mysterious "transaction fee" included. To my delight, the product arrived only a couple of days later.
Upon unboxing the product, I found the sealer, four vacuum sealer rolls, a recipe booklet, an attachment, and a couple of sample sealer bags. There are other options I did not purchase, such as containers and a wine attachment. The top of the unit has three buttons: Vacuum & Seal, Seal Only, and Vacuum Only. There is also a cutter which is needed for creating your own bags – which is the first step.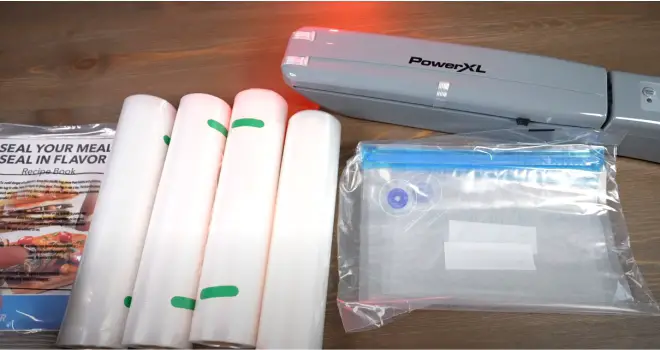 The first step before doing any sealing is to make your own bags from the included rolls. This is a simple process in which you lay the roll across the unit, close the handle, and slide the cutter across the bag. You then press the "Seal Only" button, which seals the bag in about 10 seconds. You then have a bag ready for sealing. If you plan to make snack packs, you cannot make bags longer than 10.5 inches, due to the width of the unit.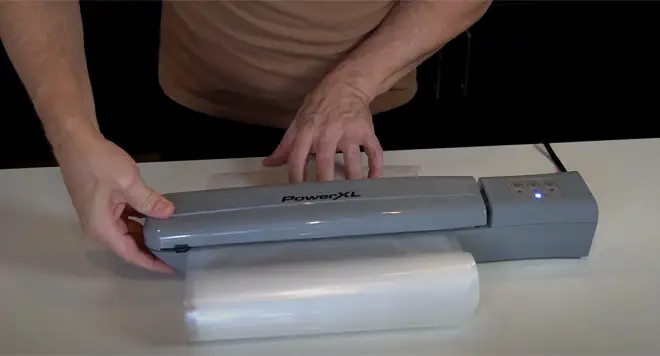 Most of the tests I did were based on what was shown in the infomercial. I also wanted to compare this unit to another random sealer, and I had a model by Fresko in my mail pile, so I used that for comparison.
My first test was a couple ears of corn. I inserted two ears inside my bag and lined up the open end with the vacuum section of the sealer. It took about 25 seconds total time. My only initial complaint was that the unit was significantly louder than I had expected. I also tried two ears of corn with the Fresko and it took significantly longer, at 64 seconds.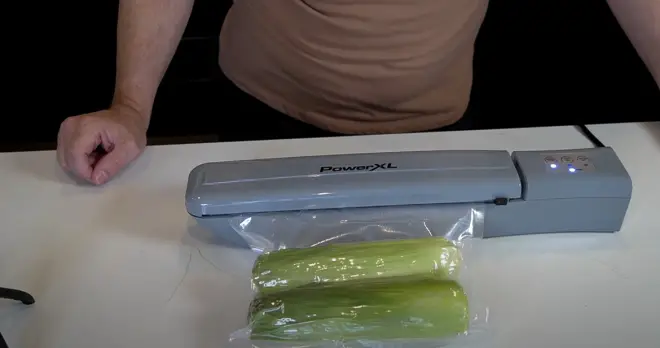 For my next test, I tried making snack packs which were so heavily touted in the infomercial. These are made possible by to the unit's 5/16″ double seal. To make snack packs, you create a normal bag and then seal it again down the center vertically. From there, you add a small amount your desired contents to each side (in my case it was peanuts and Triscuits). You then seal above those contents, and continue adding until you have 4 or 6 packs. For the last step, you just have to cut between all of the sections to form individual packs. It seems like a bit of a novelty, although it is does indeed work. The question I had was how to open them, and my solution was to simply cut a tiny notch with a pair of scissors for easy tearing.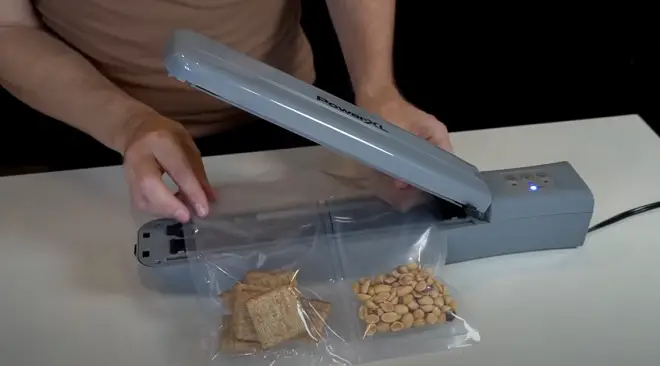 Next up I wanted to try vacuum sealing some breakfast cereal in each sealer. With the Power XL, I was able to stop the vacuuming and move right to the sealing, but this feature was not available with the Fresko. Despite this small concern, both sealers did a fine job of sealing the cereal. Other food items I vacuum sealed were cheese and steaks.
Throughout my tests, I noticed that the latch on the Power XL was at times fussy and required extra pressure in order to latch. It was never a problem, but I worry about that getting worse over time.
Another touted feature of the Power XL is its ability to re-seal bags such as cereal, and it did in fact perform this operation exactly as advertised. So did the Fresko.
After 24 hours, I checked all of the seals from the first day. The only issue I had was the vacuum sealed cereal with the Fresko, which had lost its seal. All other seals were still intact.
I wanted to try a couple of "parlor tricks" shown in the infomercial. The first one entailed sealing a phone and dunking it in water to prove that it was airtight – and it was. The last test was the "can crushing" test in which empty cans were placed in a sealer bag and vacuum sealed to show how powerful the unit is. Although Eric Theiss proclaimed that other sealers couldn't do that, the Fresko actually crushed the cans more thoroughly than the Power XL.
The last test was the liquid test to see how both of these sealers handled wet food. I went with tomato sauce, which was used in the infomercial, and both sealers handled it perfectly. Nothing was spilled into either unit, so I'd say they both passed that test.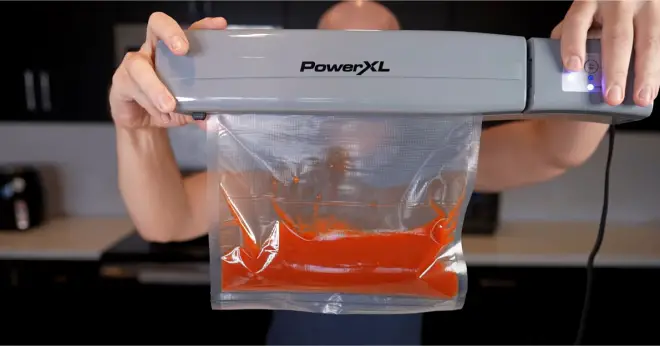 In the end, I would say that the Power XL Duo NutriSealer generally performed on par with what the advertising shows. It certainly isn't the only game in town, but if you find the double seal function and compact design to be compelling, this could be a good fit for you. If cost is a factor, however, you may want to shop around as there are numerous options at a lower price.
If you've tried the Power XL Duo NutriSealer, tell me what you think in the comments below!