Today I'm testing out the popular RONXS candle lighter to see if it's worth the accolades it has received from thousands of Amazon users.
Sponsored Links
Where to Purchase
You can buy this lighter from Amazon for about $8. As of September 2022, it has a solid 4.6-star rating among over 27,000 reviews.
About RONXS Lighter
This product is designed primarily for lighting candles. It is windproof, flameless, and comes in 7 different colors. There is a real-time battery indicator, on/off switch, and protective cap. The makers claim that it can be used approximately 600 times per charge. As a safety feature, the arc will only light for 7 seconds of continuous use at a time.
RONXS Lighter Review
I originally purchased the RONXS candle lighter as part of another video that was never completed, but I still wanted to give it a try due to its popularity and rating. Although the idea of a plasma arc lighter is nothing new, this particular product has sparked more consumer interest than many of its competitors, which was what compelled me to test it out.
Upon opening the package, I found a charging cable, brush, and protective cap. The lighter itself is nondescript, although its flexible neck is not as common as the typical rigid lighter that is more commonly sold. When I slid the power switch on, I was happy to see that the unit was fully charged so I could dive into my tests right away.
The gap in which the arc is generated is quite small (about 1/8″ or 3mm), making this suitable for candles or other small lighting jobs, but probably not as efficient for larger items like charcoal or even cigarettes. For this reason, I decided to stick mainly to testing it out on candles.
For my first test, I just tried this unit vs a standard lighter on a couple of tealight candles, and the RONXS was effective although slightly slower than using a regular flame candle. The RONXS also performed similarly to a regular lighter when reaching down into a deep display unit to light a candle inside.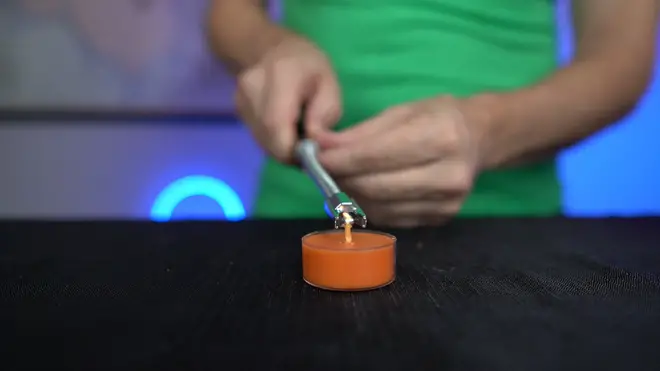 Where the RONXS holds a slight advantage is that its flexible neck allows you to light candles from below more easily than with a rigid lighter. You still need to be able to see the wick while lighting it, but the flexible neck does seem to provide an advantage here.
Another advantage that arc lighters hold over standard lighters is that they are resistant to wind. I held the RONXS and a standard lighter up to a fan to demonstrate the differences. The standard lighter was extinguished immediately while the RONXS lighter maintained its arc for 7 seconds before automatically shutting off. I don't know if this would be good for larger jobs like grills, but I was able to use this lighter to ignite my gas stove.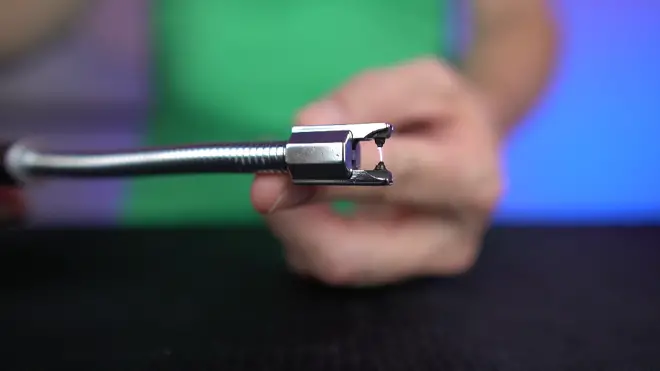 Although most people would not touch the end of a lighter immediately after use, I wanted to see how hot the tip became after several uses. It was warm, but not hot – although it probably isn't advisable to touch an arc lighter immediately after use. My reasoning for checking this was for safety reasons – namely if accidental touching immediately after use would be potential for harm. Based on my experience, I believe there is not much risk of burns when touching a recently used unit.
In the end, there is a lot to like about the RONXS lighter. It is simple, effective, and inexpensive. There are some Amazon comments which express concern about the battery life, which I will continue to monitor over time. Others have said that it's not superior to regular lighters in regard to lighting a candle – and I agree to a point. Although the process of lighting a candle may not be as quick with this unit, it doesn't run out of fuel like regular lighters.
If you've used this lighter, tell me what you think in the comments below.