Today I'm back with a review of the Ninja Thirsti Drink System. This appliance promises to make custom carbonated beverages at the press of a button. But does it really deliver, and is it worth the hefty price tag of $179.99? Let's find out!
Sponsored Links
Where to Purchase
I bought my unit direct from the official Ninja Thirsti product page. I have yet to see it on Amazon but I'll update this space when that changes.
Ninja Thirsti Review
What's in the Box?
The packaging was fairly straightforward. Inside the box, you get:
Quick Start Guide
Starter 8-Pack of Flavors
CO2 Canister
48-oz water reservoir
Setting It Up
Installation is a breeze. You install the CO2 canister by simply twisting it in place, add ice and water to the water reservoir, and then install your flavors from the provided cartridges. There was an initial rinse cycle before the first use, which took a couple of minutes. Installing the flavor cartridges reminded me a bit of installing printer ink cartridges, as you simply snap them into place and close the chamber. It is easy to add or remove flavors, which have caps that allow you to store them for later use without drying out. Each flavor cartridge is said to provide about 20 12-oz drinks. This amounts to about 35 cents per drink for the flavors, and another 30-35 cents for the CO2 canister, making each drink around 60-65 cents, not including the initial cost of the unit itself.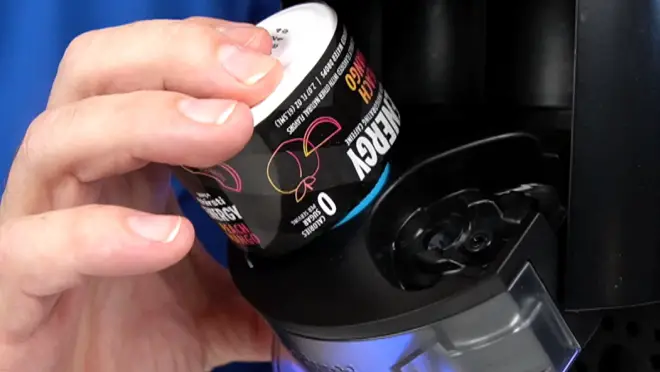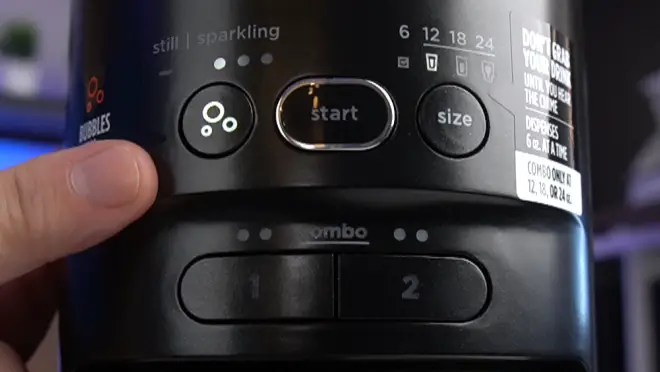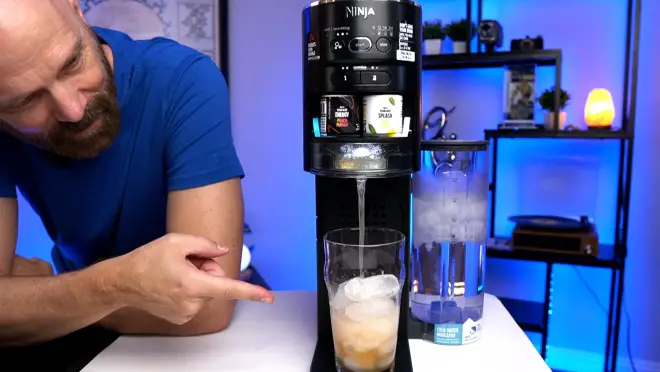 The Basics & First Impressions
The Ninja Thirsti claims to be a one-of-a-kind drink machine that allows you to create almost any drink you can imagine. The control panel allows you to select from four levels of carbonation, from no fizz to high fizz. The unit can hold up to 2 flavors at a time, which can be set to normal or bold intensity individually. Thus, you can combine any two flavors in terms of fizz, strength, and even customize the sizes of your drinks, ranging from 6 to 24 ounces. All drinks are dispensed in 6-oz cycles, and the smallest option (6oz) cannot combine flavors.
For my first test, I went with a one-flavor, six-ounce drink with low fizz. The process was simple, and the drink was fizzy but not overwhelmingly so. It tasted pretty good, and the carbonation level was just about right for me.
Mixing It Up & Swapping Flavors
Next up I tried a multi-flavor drink with medium fizz. This time, the result was incredibly fizzy, almost too much for my taste. It was enjoyable but seemed weaker than the first, possibly due to the ice and the larger amount of water. I wanted to try switching out flavor cartridges, which is quite easy. The flavor cartridges snap in and out easily, so you can change your selection whenever you want.
The Highs and Lows of Fizz
The highest fizz setting produces a very carbonated beverage—almost too fizzy for my liking. On the flip side, the low-fizz setting offered the perfect level of carbonation for my taste. This works out well for me, as it will allow the CO2 canister to last its 100-drink capacity. Using a higher fizz level will reduce the number of drinks it can produce.
I also tried to see if the Ninja Thirsti's coconut pineapple flavor could compare to my current favorite sparkling drink by Zoa, the pineapple coconut. Although they weren't quite the same, the Thirsti Coconut Pineapple could potentially serve as a much less expensive substitute for my beloved – yet expensive – Zoa.
Pros
Easy to set up and use
Multiple levels of carbonation
Versatility in drink sizes and flavor combinations
Flavor cartridges are easy to switch
One CO2 canister makes about 100 drinks (on the lowest fizz level)
Drinks are cheaper than most store-bought alternatives (not counting the cost of the Thirsti unit)
Cons
The device is quite pricey at $180.
Carbonation levels might be too high for some
Leaving it out for quick use may not be an option because the water needs to be cold
Final Thoughts
The Ninja Thirsti is a versatile machine, but its steep price tag could be a drawback for some. If you're someone who enjoys customizing their drinks and you don't mind the initial investment, this could be a fun and functional addition to your kitchen.
Would you give the Ninja Thirsti a try? Let me know what you think in the comments below