Star Shower Motion is a laser light projector with moving lights. Does it work? Read our Star Shower Motion review.
Sponsored Links
About Star Shower Motion
Star Shower Motion projects red and green stars onto any surface indoors or outdoors. The product website is starshowermotion.com, which was registered in November 2015. The screen capture below shows the official website in March 2016.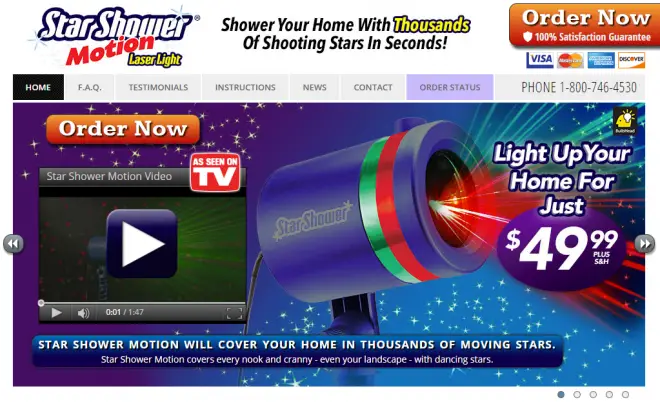 What They Claim
Can choose to freeze stars in place or have them in motion
Weather-proof
Projects from 100 yards away and covers 3000 sq. ft.
Only comes with red and green stars
Designed to save power and work in dark rooms only
Star Shower Motion Cost
Single Star Shower Motion: $49.99 + $9.99 S&H. Can add a remote control for $14.99.
3 Pack: $149.99 + free shipping. Can add three remotes for $44.97.
6 Pack: $249.95 + free shipping. Can order 6 remotes for $74.95.
Look for Star Shower Motion in stores for about $50.
Reviews
Star Shower Motion is a follow-up version of the highly-advertised Star Shower Laser Light which first appeared in mid-2015. Both products project red and green lights onto a surface such as the side of a house, wall, or landscape. The primary difference between the two is that Star Shower Laser Light projected a static array of lights, while Star Shower Motion projects moving lights.
Sponsored Links
While most reviewers found that the original product worked generally as advertised, there were a number of consumers who suggested that durability was questionable. A rather alarming number of consumers complained that either the green or red light stopped working, and this was never addressed or explained by the company. Because Star Shower Motion is much newer than the original, it isn't clear if those durability concerns have been alleviated.
To use Star Shower Motion, you'll place it in your yard using the included stake. You'll want to put it far enough back to project onto your desired surface, and be sure that no objects obstruct the conical beam pattern. There is a sensor which will only allow the product to work when it is dark, so using it indoors may be problematic if the lights are on. The cord is only one foot long, so plan on using an extension cord unless it will be positioned right next to an outlet.
The limitation of red and green lights is unfortunate, as it seems to relegate the product to winter holidays. The addition of red, white, and blue would open up more appropriate possibilities for the product to be used for summer holidays. Additionally, to achieve the dramatic results seen in the commercial, you'll likely need multiple units – which is why they offer multiple units for a discount on the order page.
Another unfortunate feature is that the motion remote costs $15 each, which can add as much as $75 to an order of 6 units.
When we first evaluated Star Shower Motion back in early 2016, there was an option to add a motion base for indoor use, but this accessory no longer appears on the site or as an option to purchase.
Star Shower Motion is now available in stores. Purchasing locally will allow you to avoid shipping costs and delays, and will also allow you to more easily return the product if you aren't satisfied.
Finally, there were some news reports in late 2015 that products such as Star Shower Laser Light could pose a safety risk for pilots. If you live within 10 nautical miles of an airport, you'll want to be sure the angle of your Star Shower Motion does not point any lasers into the sky.
Video Review
See an extensive, hands-on review in the video below.
Alternatives
Ever since the original Star Shower Laser Lights swamped airwaves, a number of similar and competing products have hit the market. You may be interested to peruse the numerous holiday laser lights that are now available.
Television Commercial
Your Star Shower Motion Reviews
Have you used Star Shower Motion? Give us your review by leaving a comment below and a star rating above.
Updated November 2, 2016