Star Shower Ultra 9 is an updated version of the Star Shower Motion which was a wildly successful Christmas laser light back in 2016. I picked up the new version to compare it to the original, and today I offer my review.
Sponsored Links
Where to Purchase
Star Shower Ultra 9 can be found at the official website, in some stores, and on Amazon. You can expect to pay $30-$40, depending on the vendor. I bought mine at a local As Seen on TV store here in Nevada.
Claims & Features
9 different patterns
Decorate your home in seconds
Covers homes up to 3200 square feet
No ladders or burned-out bulbs
Weather-resistant
Star Shower Ultra 9 Review
When I first saw the commercial for Star Shower Ultra 9, I thought it was merely a re-branding of the popular Star Shower Motion that I reviewed back in 2016. After viewing the 30-minute informercial on CNBC, however, I realized this is being pitched as an update to the original.
Before I get to the review, a "Star Shower" history lesson may be in order.
In 2015, the original Star Shower Laser Light was released to massive success. That original is mostly forgotten now, but it did not feature motion at all. It was merely a static beam of red and green lights that could be projected onto a house. A year later, the motion feature was added to Star Shower Motion, and the product's popularity only increased from there. Star Shower Motion allowed for red+green or green only, but strangely there was no red-only option. You could also pause the motion to essentially mimic the original Star Shower Laser Light.
In 2017, the Star Shower brand (owned by Bulbhead) marketed three new versions at consumers: Star Shower Laser Magic, Star Shower Slideshow, and Star Shower Window Wonderland. I tested all of those out alongside the 2016 Star Shower Motion, if you are interested in viewing that (link). Of the 2017 class, only the Star Shower Window Wonderland survived, but its popularity was tempered by the fact that the reality of the product didn't quite live up to what was shown in the advertising.
Now 5 years later we have our first new Star Shower with the Ultra 9 model, and the makers have gone back to their roots by offering what appears to be a modest update to the 2016 Star Shower Motion. So what's new in 2022?
We finally have a red-only mode, along with a new blinking mode that doesn't excite me very much. And that's it.
2016 Modes
Red+Green Motion
Red+Green No Motion
Green Only Motion
Green Only No Motion
2022 Ultra 9 Modes
Red+Green Motion
Red+Green No Motion
Red+Green Blinking
Green Only Motion
Green Only No Motion
Green Only Blinking
Red Only Motion
Red Only No Motion
Red Only Blinking
On paper you've gone from 4 to 9 modes, but I doubt it will feel like much of an upgrade to the majority of people who will just use the red+green motion effect. Another change from the original is that there is now only a single button which resides on the back of the unit. This allows you to toggle through all 9 modes and to turn the unit off with the 10th press of the button.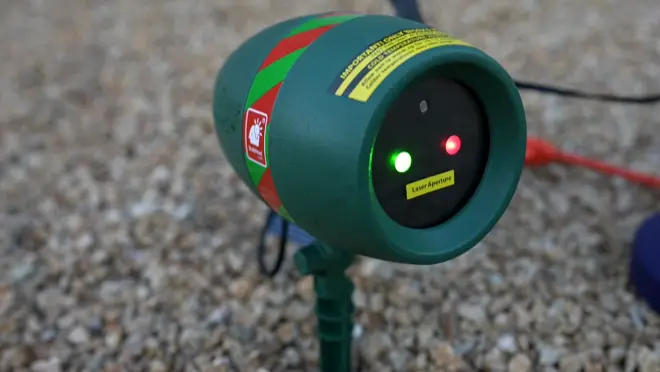 Functionally, Star Shower Ultra 9 is an attractive display that is accurately represented in the advertising. Most people will probably use the red+green motion setting, which means they won't exactly be breaking new ground with their holiday light display. That isn't important to most of us, but there are those who insist on being the first on the block to show off this year's latest gadgets.
When compared side by side with the 2016 Star Shower Motion, it is difficult to tell which is which, although the Ultra 9 did seem a smidge brighter (that could be due to the fact that it was being compared to its 6-year-old predecessor).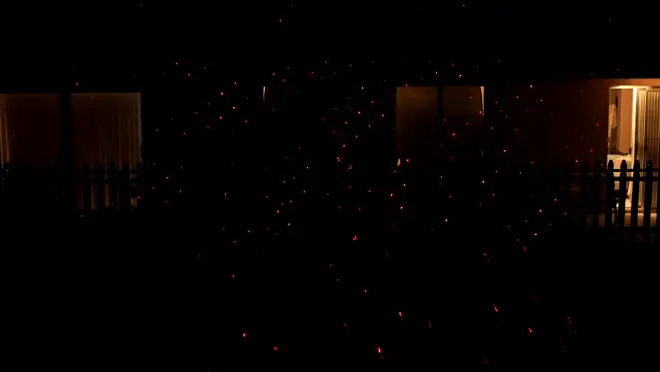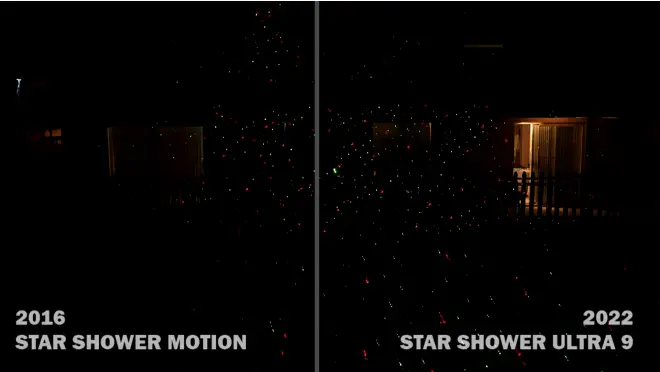 Both the original Star Shower Motion and the Ultra 9 models include a light sensor, so they will only work in the dark. This is a handy feature because they will run at night and automatically shut off in the morning. I tested this out and it does work well.
The only major con I found with the Ultra 9 is that it did not come with an indoor base, which was included in the older Star Shower products. Most people will probably use this outdoors, so I suppose I understand the omission, but I found the base useful for indoor or outdoor use. If you plan to use it indoors, or cannot use a lawn stake, you may want to pick up the original Star Shower Motion – which is still being sold at its official website starshowermotion.com. Otherwise, I think the Ultra 9 is probably the way to go, even though it is barely an improvement over the original.
Have you used any of the Star Shower products? Tell me what you think in the comments below.