Today I'm testing out the Stick It Roller, for which I've received numerous requests after viewers saw a popular video online that demonstrates the product. My first impression upon seeing it is that I had already reviewed something quite similar. Let's take a look in today's review.
Sponsored Links
Where to Purchase
There are numerous listings for "Stick It Rollers" on Amazon, and many of them do not seem legitimate to me, which is why I purchased mine direct from the official website, stickitrollers.com. You can find it there for about $25. Many of the iffy Amazon listings sell theirs for much cheaper, and I can't vouch for the quality of those models.
Sticky Buddy still has listings online, although its availability is limited as of this 2023 writing. Here is an Amazon listing, although it's often unavailable. There's also a listing on Bulbhead, although my order was canceled due to a lack of inventory. Sticky Buddy is usually sold for about $10-$15.
Stick It Roller Review
Stick It Roller is a reusable lint remover that features bristles that can be used on clothing, carpets, and other materials. It also features bristles that can be used on carpet. Both the Stick It Roller and the similar Sticky Buddy come with an accompanying mini version that includes a small roller and carpet bristles. Sticky Buddy came out years ago and can still be spotted online or in stores, although it is becoming increasingly harder to find. Stick It Roller appears to be relatively new and sports a design nearly identical to Sticky Buddy. It is so close that I wonder if the design was licensed from the Sticky Buddy manufacturer.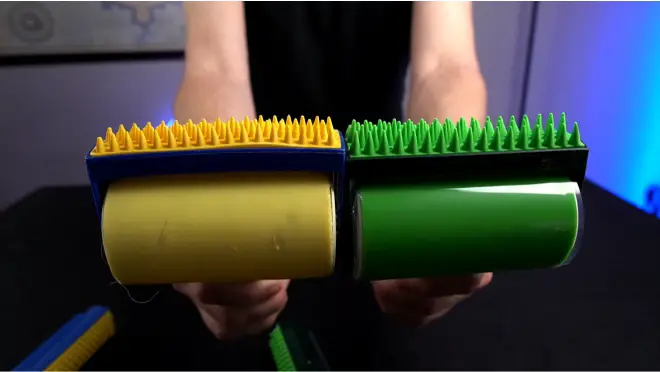 You may have seen an impressive demonstration of the Stick It Roller making its rounds on social media lately. In that video, the man demonstrating the products shows this reusable sticky roller as a superior way to pick up hair, lint, dander, crumbs, and other small spills. It works like a lint roller, although there are no sheets to tear off. After a cleanup, you simply rinse it off with hot water, run it over a towel, and it's ready to go again.
When I first saw the aforementioned video, my first thought was that the product looked strikingly similar to the Sticky Buddy, an As Seen on TV lint roller that I first reviewed in 2019, and it was a pretty old product by that point already. I liked the Sticky Buddy, although it hasn't held up well over time.
For my review, I decided to duplicate some of the demonstrations shown in the popular video. I went outside with my dogs to get a shirt and shorts covered in pet hair in order to prepare for my first test. Because the Stick It Roller is reusable, I planned to do half the shirt and shorts, rinse it off, then do the other half.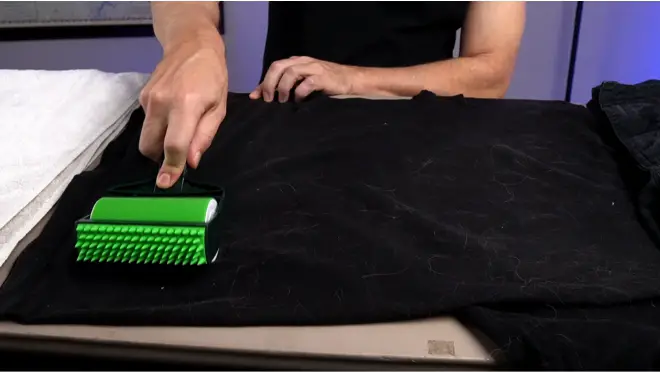 The first few passes over the hairy shirt were impressive. Very little fur remained on the shirt after only a couple of passes. When I moved over to the shorts, the roller started to get full of hair so it wasn't as effective. I then dipped the Stick It Roller into a bowl of hot soapy water, dried it off on a towel, and resumed hair removal.
I should point out that the instructions on the official website state to rinse the roller with hot water, although the man in the demonstration was dipping it in a bucket of soapy water. I decided to use hot soapy water to closely match what was shown in the demonstration.
My second pass on the shirt and shorts went well, although the roller filled up again and I was required to clean it off a second time. I was quite pleased with the overall results from this test, even though it took a couple of rounds to completely remove all of the hair from my shirt and shorts. To be fair, the amount of hair on that shirt and shorts were extreme, and probably not a realistic example of what most people would encounter.
Both the Sticky Buddy and the Stick It Roller come with a mini version that includes a small roller and carpet bristles. I decided to try that on some salt, and it did work – although not nearly as complete or impressively as the full-size Stick It Roller. When I tried some larger cracker crumbs, the Stick It Roller only picked up the smaller bits, leaving most of the large pieces behind. Their website shows it picking up cereal about that size, but I couldn't successfully duplicate that demonstration.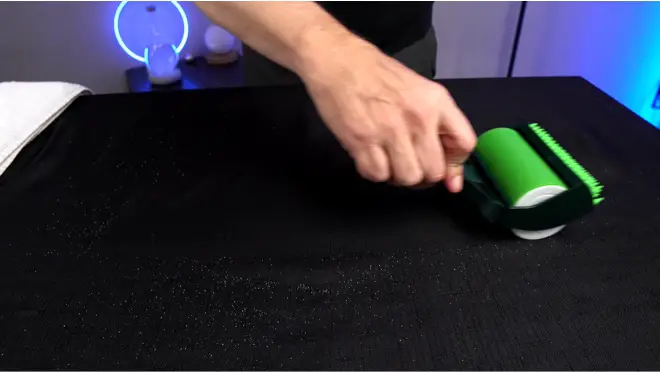 The makers of Stick It Roller state that it will last 10 years. They also note that if it loses its stickiness over time, all you need to do is rub some Dawn dish soap onto the roller and rinse it off in order to restore it to its original stickiness. Because my Stick It Roller was brand new, I couldn't really try it with that unit, but I did try it with my badly faded Sticky Buddy. While the results weren't impressive, there was some improvement in its ability to pick up salt from my table, so that technique does seem to be helpful.
In the end, I'd say the Stick It Roller generally lives up to the demonstrations, although it's not ideal for larger cleanup jobs due to the fact that you have to continually stop to rinse and dry it off. If you've used the Sticky Buddy or the Stick It Roller, tell me what you think in the comments below.