Today I'm testing out a unique travel pillow by the name of TRTL, pronounced "turtle." It sports an unusual design than supposedly puts it above standard travel pillows in performance and comfort. I took it with me on a recent trip to Kona, Hawaii to test it out.
Sponsored Links
Where to Purchase & About
You can pick up the TRTL travel pillow from Amazon or the official website for about $50. There are other models such as the TRTL plus or a junior model. They say it's the only travel pillow that will completely support your head and help prevent neck pain. It is lightweight and includes a soft machine washable cover.
TRTL Pillow Review
I've reviewed dozens of travel gadgets over the years, including several unique travel pillows, so when I saw ads online for the TRTL travel pillow, I knew I had to pick one up and take it with me on my annual December family vacation. My first impression upon ordering is that $50 is significantly more expensive than the standard U-shaped travel pillow. On the other hand, if those pillows don't work for you, then the extra cost could be worth it if the TRTL pillow offers a superior experience.
The pillow itself consists of a 27-inch strip of fabric that is about 8.5 inches tall. There is a 7-inch pocket on one end that holds a plastic insert which serves as the spring upon which your head will rest. To use the TRTL pillow, you extend it out, place the "pillow" side on your neck and shoulder, wrap it around your neck, and then secure it in place with Velcro strips.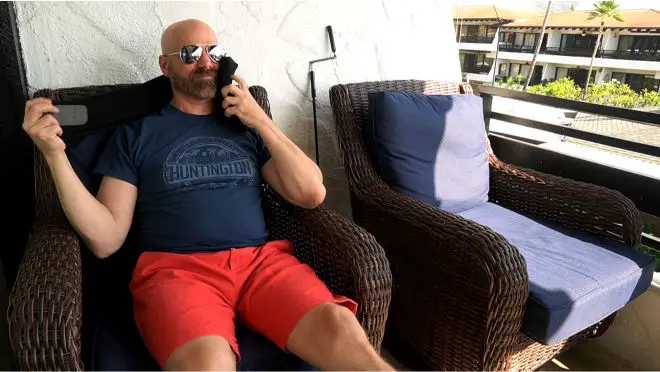 Instructions for the pillow show the material being draped just below the mouth of the user, although I read online that some people use it wrapped in different configurations, such as over the nose and mouth, over just the mouth, below the mouth, or below the chin.
I first tried the pillow at home in Las Vegas to see how it works, and I found that it was easy to put on and take off. It doesn't feel uncomfortable, and the fabric is nice and soft. I knew, however, that testing it for a few minutes on a couch at home is a lot different than taking in on a plane for hours – which I did.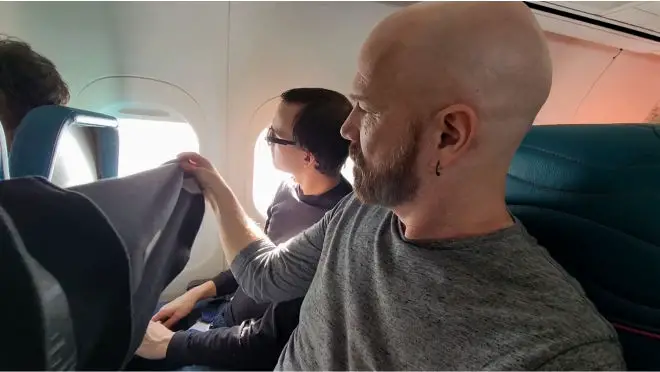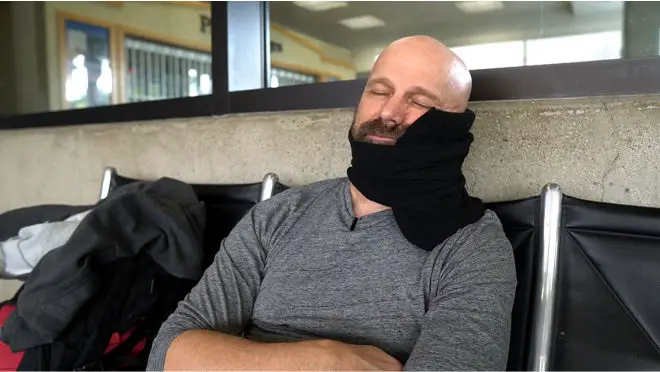 On my trip to Kona from Las Vegas, I tested it out for a large portion of my journey, not just on a plane but also during a layover in Honolulu. I also pulled it out on my way back to Vegas (after my video was completed) and actually slept while using it. Thus, after several hours of use on my vacation, I did come up with a list of pros and cons for the TRTL Pillow.
What I Liked
I like that it's so compact. I had it stuffed in my backpack where it took up almost no room at all. I also quite liked the feel of the material. It's soft and feels nice against your cheek as you rest or sleep. Generally, the pillow does work at keeping your head secured while resting. It is a very different experience than U-shaped travel pillows.
What I Didn't Like
You're mostly relegated to keeping your head to one side. I suppose you could take the TRTL off and switch sides, but that is less than ideal. I like to move my head around while sleeping or resting in my seat, but the TRTL restricts you to one side. There is also a space issue. The unfurled TRTL Pillow is 27 inches long. You have to full extend it in order to put it on, so if you have passengers on either side of you on a plane, you could encroach on their space. This may be a non-issue in some situations, but it's something to consider.
In the end, I'm not sure if the TRTL Pillow is for me, primarily because I can't switch sides easily. I can see why it has a legion of fans, however. If you've never found U-shaped travel pillows to fit your needs, I'd recommend giving this one a try.
If you've tried the TRTL pillow, tell me what you think in the comments below.