For today's review I'm taking a look at a product called the Broombi Brush. It is a portable squeegee brush that is said to be ideal for small messes around the home. Does it really work? Read on to see how my tests went.
Sponsored Links
Where to Purchase & About
Broombi Brush
You can pick up the Broombi Brush on Amazon for about $25-$30. You can also purchase it from the official Broombi website for about $25.
Shower Squeegee & Pet Rake Brush
In my review below you'll also see my comparison to my preferred shower squeegee. If you're interested in that item, you can find it on Amazon for about $12. I've been using it for almost 3 years, and it has held up quite well with daily use.
The pet rake brush that is also featured in my review is no longer sold, although the grooming rake brush by FURminator is pretty close and has a legion of fans.
Claims & Features
Quad-Blade Technology
Silicone edge creates static electricity to attract hair and dust
Ideal for wet or dry cleanups
Can be rinsed after each use
Broombi Brush Review
It was mid-2021 when I reviewed the so-called "Magic Broom," which was being advertised everywhere online at the time. However, by 2022 the magic apparently faded, as the product was nowhere to be found, probably because it was junk. As it turns out, that highly advertised item was similar to (or perhaps even a knockoff of) the Broombi. While I am not reviewing the Broombi, I did decide to check out another one of their offerings called the Broombi Brush & Dustpan. This is a small handheld squeegee with a dustpan designed to pick up small spills around the house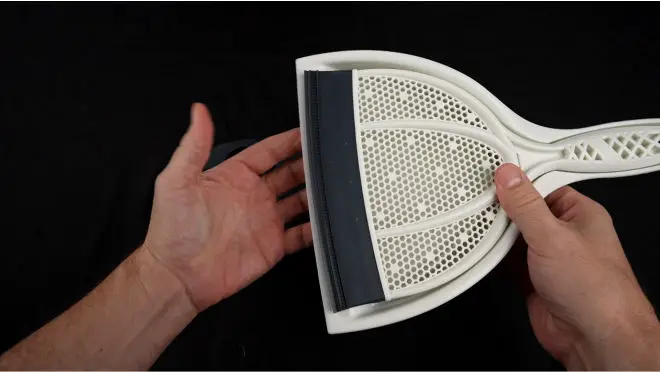 I realize that squeegees are rather common, but you don't see many marketed as a mini broom with a dustpan. How well a squeegee works can vary greatly depending on how well it is made. In the case of the Magic Broom, it was utter garbage due to cheap materials. So how does the Broombi Brush measure up? I put it through several tests to find out.
For my first set of tests, I ran it across a couple of spills on the counter, including flour, cracker crumbs, coffee grounds, and a few sets of actual spills on my floor. Here are my thoughts on each of those:
Flour: While the Broombi Brush did pick it up, the flour had a tendency to stick to the silicone, which made multiple passes necessary. It didn't pick up every last bit of flour, but the bulk of it did end up in the dustpan.
Cracker crumbs: For this spill, I would say every crumb did in fact end up in the dust pan with only one or two passes. This felt like the ideal use for the Broombi Brush.
Coffee grounds: I would say this performed closer to the crackers, due to the larger size of the coffee grounds. This was an easy mess to clean up.
Random crumbs: I found a couple of sets of random crumbs on my counter and under my couch. In these cases, the crumbs were picked up with a swipe or two of the Broombi Brush, and I was pleased with the results.
After this first round of tests, I ran the Broombi Brush under the sink to clean it off, and it came out looking good as new. A standard handheld broom would not be ideal to hold under the sink in this manner, so the Broombi Brush is certainly superior in that respect.
My next test was the Broombi Brush vs the Magic Broom and a shower squeegee on my glass door to see how they compared. I've been using the shower squeegee for a few years, and it has worked marvelously, while the Magic Broom was abysmal on windows when I reviewed it. So where does the Broombi fall between those? In my tests, I'm happy to report that the Broombi was much closer to the shower squeegee. It wasn't as wide and left a couple of streaks after one pass, but it felt like a competent (albeit rather small) cleaning tool for windows.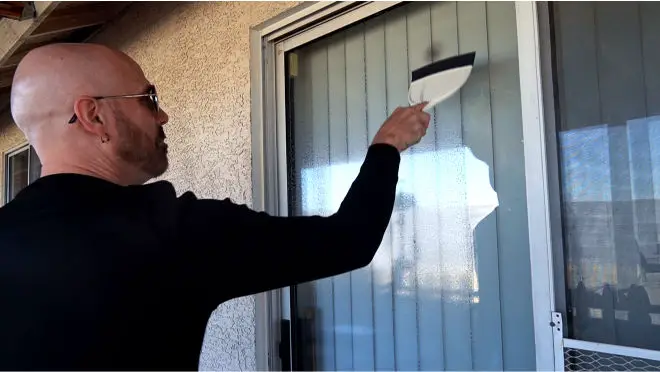 Broombi Brush is advertised as a way to clean up pet hair, and I have no doubt that would be the case on a hard surface such as a countertop or tile floor. They show it picking up pet hair on carpet and furniture, however. When I compared it to the Magic Broom in this test, the Broombi was better, but it didn't seem like the right tool for the job. I use a rake type pet grooming tool to get hair out from deep in the carpet, and even though it may not be recommended for carpet – I've found nothing that works better.
For wet spills such as soy sauce, ketchup, or a glob of pie, Broombi Brush yielded varying results. In general, it picked up the bulk of wet spills, but liquids on the silicone tend to get spread around so you'll most likely need to follow up with a paper towel or rag after using the Broombi Brush for these types of messes.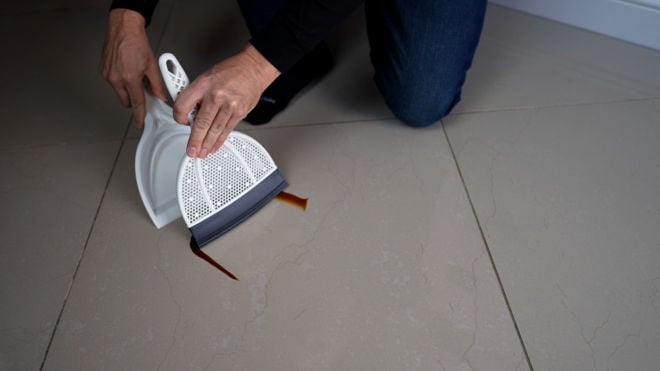 In the end, I think the Broombi Brush is a competent squeegee cleaner that is ideal for small dry messes. It can be used as a window squeegee, although it's not superior to a dedicated tool for that use. The price seems high, as this feels more like a $15 item to me. I believe that those who buy this product will probably like it, provided they have realistic expectations.
If you've used the Broombi Brush or another squeegee type brush, let me know what you think in the comments below.