Wonder Ears is a sound amplifying headset.
Sponsored Links
About Wonder Ears
Wonder Ears reduces noise and amplifies isolated noises to help you hear things clearly.
The product website is buywonderears.com, which was registered in November 2015. The screen capture below shows the official website in February 2016.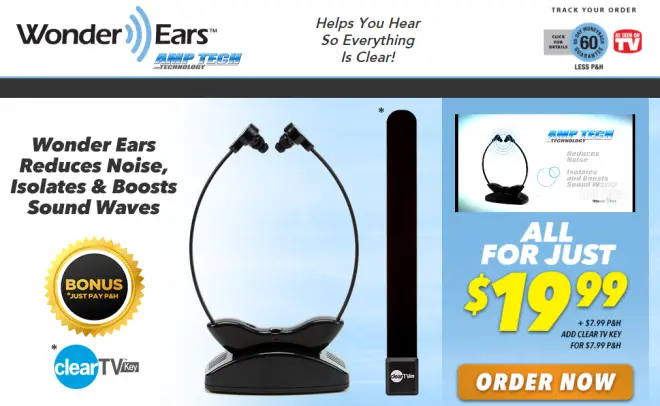 What They Claim
Reduces noise
Isolates and boosts sound waves
Helps you hear everything clearly
Soft and flexible headset
Lightweight
Adjustable volume
Comfort ear pads for custom fit
Wonder Ears Cost
$19.99 + $7.99 P&H, can choose to add bonus Clear TV Key for additional $7.99 P&H
Sponsored Links
Reviews
Wonder Ears is pitched by the "Clear TV" guy and is marketed as a way to amplify sound while reducing background noise. The makers are careful not to market it as a hearing aid alternative, which it clearly is not  based on its not-so-discreet design.
With the exorbitant cost of hearing aids, it is no wonder that hearing-assistance products are becoming more popular. In recent years, we saw a product called MSA 30X which was also advertised as a sound amplifier. That product was met with lukewarm reviews, with the background static being a major problem.
Wonder Ears does not sport the design of a hearing aid, and seems to be a knockoff of a product called TV Ears which has been around for years. That product can cost anywhere from $60 to $200 and has a moderate consumer satisfaction rating across all versions at around 3.5 stars.
While Wonder Ears could be described as an As Seen on TV version of TV Ears, it's a bit premature to describe it as an equal to that product. This is a very new product and consumer reviews are virtually non-existent. It would appear that Wonder Ears is only just beginning a light advertising campaign, and the jury is still out.
When we obtain a sample we will update this page. Our researchers will be looking at sound quality, ease of use, construction, and comfort in their assessment of the product.
Television Commercial
Your Wonder Ears Reviews
Let us know what you think of Wonder Ears by leaving a comment below and a star rating above.