Atomic Beam Dynamic Duo is a wireless LED security light with an infrared motion sensor. Does it really work? Here is my Atomic Beam Dynamic Duo review.
Sponsored Links
About Atomic Beam Dynamic Duo
Atomic Beam Dynamic Duo is a motion-activated security light that does not require electric power and adheres to almost any flat surface. The official product website is buydynamicduo.com, which was registered in June 2017. The screenshot below shows how the product website looked in January 2018.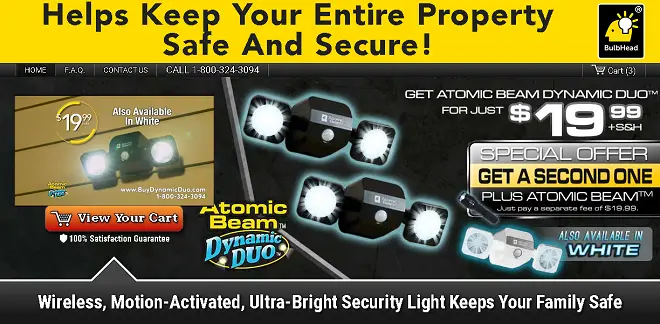 Claims & Features
Supplies light
Simple installation
No wires
Each light tilts and rotates separately
Secures to almost any surface
Cost
Atomic Beam Dynamic Duo costs $19.99 + $9.99 shipping for a total of $29.98. There is an optional double offer that also comes with an Atomic Beam Flashlight for a total of $49.97. Available colors include black or white. At the time of this writing, Atomic Beam Dynamic Duo is not available in stores.
Atomic Beam Dynamic Duo Review
I consider myself something of an As Seen on TV aficionado, and within that genre there have been numerous lighted products to advertise over the years. You've probably seen ads for EverBrite, Atomic Beam, TacLight, InstaBulb, and dozens of others. Now we have Atomic Beam Dynamic Duo, a battery-operated floodlight that can be placed almost anywhere you need light.
Sponsored Links
To use Atomic Beam Dynamic Duo, you must first install three AAA batteries which aren't included. Then it's a matter of peeling and sticking the mount where you want, then placing the unit on the mount and it's ready to go. You can adjust the direction of each light separately in order to illuminate areas you'd like, although you can't really adjust the angle of the motion sensor itself. You should expect at least a 10-foot range for the motion detection.
There is certainly a tradeoff when using a battery-powered floodlight as opposed to one that is wired. Those wired for power can deliver the best and brightest results, but they must be installed, which can be costly or time-consuming. Installing wired floodlights also requires you to cut holes for mounting. Thus, something like Atomic Beam Dynamic Duo is an attractive alternative because it is less intrusive and easier to install. The trade-off, however, is that battery-powered devices rarely compete with the brightness of wired counterparts because they must deliver results while considering battery life. And when the batteries do expire, you must replace them.
I would not expect Atomic Beam Dynamic Duo to be impressively bright. It would also be nice if you could choose how long the lights stay on because one minute may not be long enough for some people.
Night Eyes Security Lights
Atomic Beam Dynamic Duo seems to be related in some way to an older product called Night Eyes Security Lights by Ideaworks. I say that because the original Dynamic Duo (not the recent Atomic Beam branded version) is still being sold on the BulbHead website. That original version was pitched by Anthony Sullivan, and worked about the same as the newer version. That BulbHead listing includes the manual for Dynamic Duo, but the manual is for the "JB7115 Night Eyes Security Light" with an Ideaworks logo on it.
With that in mind, it looks to me like Night Eyes Security Lights was updated and rebranded as Dynamic Duo, which itself was again updated and rebranded as Atomic Beam Dynamic Duo.
Alternatives
You can get the older Night Eyes Security Lights for about $16, although reviews are not impressive. If you want a highly-rated competitor, this $39 model by Mr. Beams is currently list as Amazon's Choice and sports an impressive 4.4-star rating.
One of the first YouTube videos I ever did was for a similar As Seen on TV product called EverBrite. This is a solar-powered light that functions quite similarly to Atomic Beam Dynamic Duo. You can see that review plus all of the other "lighted" As Seen on TV products I've reviewed in the playlist below.
Your Atomic Beam Dynamic Duo Reviews
Have you used Atomic Beam Dynamic Duo or something like it? Leave a comment below and a star rating above to let us know your thoughts.